Clemens is just a sideshow; Astros' ongoing, unprecedented overhaul is the real story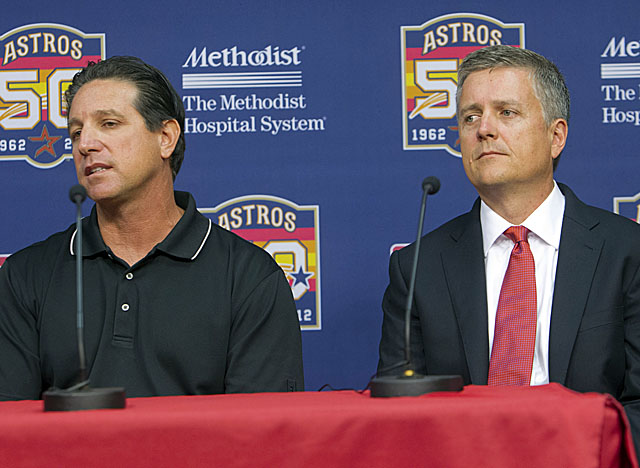 GM Jeff Luhnow (right) recently tapped Tony DeFrancesco as interim manager for the Astros. (Getty Images)
With Roger Clemens seemingly all but certain to join the Astros sometime soon -- Sept. 12 has been mentioned as the possible date for this middle-aged pitching stunt -- the real important baseball decisions that will foretell the future of the team on a sad path to beat its 106 defeats of a year ago are going on behind the scenes, where new GM Jeff Luhnow is quietly remaking the staff in an almost unprecedented overhaul after firing, letting go or not renewing about 15 non-playing employees, on-field and otherwise.
It's only quiet because 1) it's the Astros, and more to the point, 2) Clemens, the AARP-card-owning, perjury charge-beating all-time great pitcher, is dominating the national chatter.
Anyway, Luhnow, the charming, Wharton-educated executive who butted heads with Tony La Russa when he was in St. Louis and is firmly in the new school of baseball thinkers with an emphasis on data and well outside the old-school box is the key man, not Clemens. How outside the box is Luhnow's way of thinking? Well, for starters, he's showing a continuing interest in hiring baseball writers/bloggers (yes, writers!) for his front office, which is a new one for baseball front offices.
Months after Luhnow tried to lure Keith Law from ESPN and hired Mike Fast from Baseball Prospectus, the new name being heard is Kevin Goldstein, also from Baseball Prospectus. (Luhnow called Goldstein "very well thought-of" while declining to say whether he's joining the Astros; Goldstein, known for extensive prospect reviews and clever, sometimes sassy tweets, responded "no comment" via a direct message on Twitter.)
"We want people who are going to share our vision," Luhnow said. "It doesn't necessarily need to be a traditional-looking person. We're going to be open-minded."
Open-minded or not, they surely aren't like-minded, at least not with the baseball establishment, which more commonly views sportswriters as a necessary (or not) evil.
Luhnow has been given vast latitude (other than on Clemens, which is a pet project of new owner Jim Crane, and whose comeback one scout called "too much P.T. Barnum" while wondering if it "dampens the credibility of the reload"). Putting aside the side show, Luhnow has created a clean canvas by excising a large percentage of the front office and about a dozen mostly veteran players for what others around the game may view as a grand experiment.
Luhnow corrected my wording when I suggested he'd "fired" about 15 people, pointing out there were "contracts not renewed." But whatever you call it, gone in recent days are nine scouts, two scouting directors, a manager, two coaches and an executive assistant to the general manager. Luhnow said "they are all good baseball people," but weren't necessarily a match for what the new Astros want to do. He said, "It's not fun or easy. But I have a responsibility to take this organization where [Crane and new president George Postolos] needed it to go."
Turnover after a regime change is not unexpected, but in this case, the sheer numbers dwarf standard stuff. Within the club's ranks, there are questions whether the holdovers were given any real chance, plus special sympathy for the popular longtime executive assistant to the GM, Traci Dearing, who had worked in the Astros office for more than 15 years and was beloved as a feisty, knowledgeable and dedicated employee.
Of greater baseball curiosity is the scout cutback. However, Luhnow disputed any suggestion he is reducing the team's scout ranks, pointing out the same accusations were made in St. Louis, where he said he wound up increasing the scout list after initial cutbacks.
"H.R. is going to be very busy this fall," Luhnow said, suggesting many hirings are yet to come.
The GM also said the mass firings (or more nicely, non-renewals of contracts) isn't about cost cutting but rather a restructuring of the staff, going so far as to say the new Astros-Rockets TV undertaking should allow them to increase a player payroll that now features young shortstop Jed Lowrie, the very talented but injury-prone intellectual import who makes $1.15 million, as their highest-paid player likely to be back.
"We're going to have some additional resources," Luhnow said without specifying exact or even estimated dollar figures.
There's reason for some hope for the distant future, as Luhnow's first draft went spectacularly. He took advantage of their full $11-million allotment by importing hard-hitting Puerto Rico prep shortstop Carlos Correa with the No. 1 overall pick for $4.8 million plus also righthander Lance McCullers Jr., the top high school pitcher in the country, and Los Angeles-area infielder Rio Ruiz, who's described flatteringly as "an Eric Chavez type," and who were secured with above-slot deals of $2.5 million and $1.8 million, respectively.
As for their big-league team, the Astros are fielding lineups exclusively of 20-something players (which will change when Clemens is pitching, and Luhnow said they are indeed scouting his Sept. 7 start for the Sugarland Skeeters). MLB.com columnist Richard Justice pointed out their average age is 26.2.
That's great on its face, but of course the current roster can't de described as anything but futile, as they've gone an almost impossible 8-48 in their last 56 games -- the worst such stretch since the 1916 A's. The trades of high-priced veterans Carlos Lee, Wandy Rodriguez, Brandon Lyon and Brett Myers were necessary, but some Astros observers wonder if dealing away solid young players such as third baseman Chris Johnson and J.A. Happ is a sign their target date for contention is anytime within the next few years.
"It looks like six years, five if they're fortunate," one competing executive said.
"We're not putting a timeline on it," Luhnow said. "We're working as hard and as intelligently as we can. We've seen teams go from last to first, and we've seen teams take eight or nine years."
The former possibility seems like an impossibility for a team en route to a second straight season with 105-plus defeats, a team that's making the move from the average NL Central to the difficult AL West. (If they continue at their incredible pace of their last 56 games, the Astros would finish with a 45-117 record, one of the worst ever.)
In the same vein, Luhnow is expected to seek a new manager to replace the fired Brad Mills who utilizes stats more than gut. Luhnow only said he seeks someone who's "a good tactician," adding, "I hope they would use the information available to them." That's not intended as a slap at Mills, the longtime Terry Francona coach who never seemed to have a realistic chance from the start.
Nine possible Astros managerial candidates were listed in this space last week (Jim Riggleman, Sandy Alomar Jr., Joey Cora, Chris Maloney, Jose Oquendo, Mike Maddux, Tim Bogar, Joe McEwing and Joe Pettini), not counting interim Tony DeFrancesco, who looks like a well-intentioned placeholder.
That list was admittedly speculative (for what it's worth, Luhnow didn't deride that roster on the phone, though perhaps he was just being polite) and may not be too far off at least in the inclusion of few men with a vast big-league resume. Riggleman, a Cardinals-connected person who's had extensive experience in rebuilding situations, is in fact the only one on that list with big-league managing experience in his past.
Luhnow, who said he has a long opening list (his own) and no timetable, stressed, "Experience is important, but it may not need to be major league managing experience."
Everyone agrees on one thing: Luhnow better find someone who's greatest attribute is patience, because it looks like it'll be awhile before the Astros can compete, in the A.L. West or frankly anywhere. At the very least, from here that "eight or nine" year timeline seems a lot more realistic than that rare storybook last-to-first tale.