Giambi, Runnells, Williams, Weiss in mix for Rockies job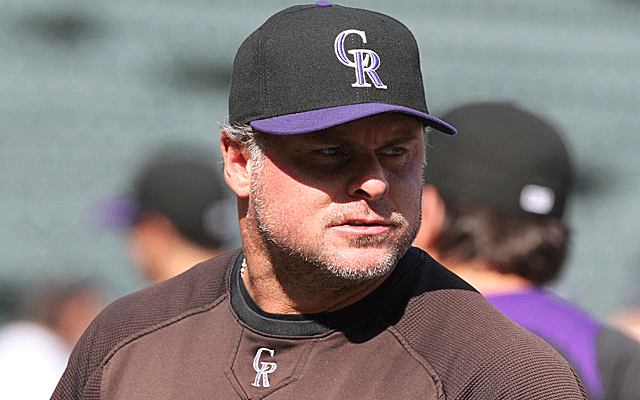 Jason Giambi is perhaps the most interesting candidate for the Rockies' managerial position.
(US Presswire)
The Rockies are considering at least a quartet of managerial candidates -- Jason Giambi, Tom Runnells, Matt Williams and Walt Weiss -- while also weighing whether to conduct more interviews from a second list of viable candidates.
Colorado has set no timetable and may add several more names to a short list that's getting longer. Sandy Alomar Jr., Brad Ausmus and Dave Martinez are thought to be names in the next group that may receive interviews.
Giambi is perhaps the most interesting candidate of a pretty intriguing list. The former A's and Yankees star impressed Rockies people with his baseball acumen and leadership ability while a part-time player in Colorado in recent years.
The Rockies have decided he isn't a candidate to remain a player with them, and there was no discussion about any thought of continuing his paying career in his interview (though he hasn't yet retired as an active player). He came clean about his BALCO ties, and that won't be held against him.
The big question is his lack of experience. But Giambi is a favorite of Rockies owner Dick Monfort, which should at least keep him in the running until the end, if not win him the job.
The Denver Post originally reported Giambi's inclusion in the hunt.
Runnells is well-regarded in the organization as a long-time coach and minor-league manager.
Weiss is a former Rockies player who has received favorable coverage in the Denver media.
Williams, recalled favorably from his days as a Giants star, has been a coach with the Diamondbacks and a manager in the Arizona Fall League.
Alomar, an Indians coach, has received many managerial interviews and is thought to be a Jays candidate, as well. Ausmus, a Padres employee and team Israel manager, interviewed with the Red Sox. Martinez, a Rays coach, has also had several major-league interviews.