Big win for Bay: Mets payments will be deferred over only two years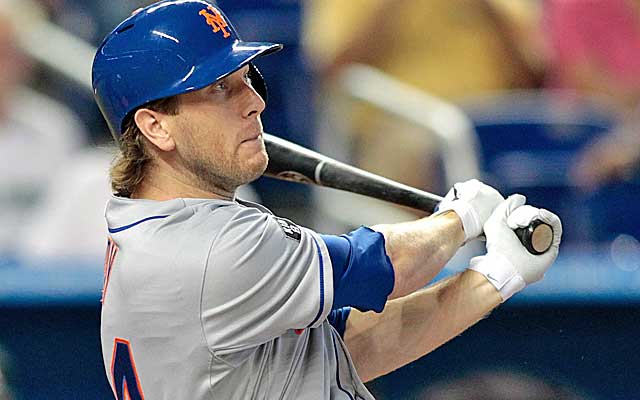 Bay batted just .165 with eight home runs and 20 RBI in his third season in New York. (US Presswire)
Jason Bay may have gotten a better deal for himself by leaving the Mets than he did when he initially signed with them.
Not only will Bay be paid the entire $21 million he is owed by the Mets, as has been reported, but the $15 million that is being deferred under the terms of the severance agreement is to be paid by the end of 2015, meaning the deferred monies will be paid only over an additional two years, CBSSports.com has learned.
Neither side would comment on the deferred payments, but sources familiar with the deal say the short deferral -- the deferred monies are to be paid in five installments -- means the present-day value of the contract is worth only about $850,000 less than the full $21 million. Had the team simply cut him, they would have had to pay him all the money by the end of 2013.
The Mets and the outfielder made the surprise agreement to part ways with a year to go on his $66-million, four-year deal. Originally, the Mets had said Bay would be coming to spring training.
Mets people will only say publicly that it's a positive arrangement for both sides. The new deal does give the Mets some immediate financial relief. However, the deal seems especially sweet for Bay, who may make up the $850,000 or so he loses in the deferred payments in decreased tax payments away from New York, depending where he winds up signing.
But the even bigger financial plus for Bay is that the Mets agreed to waive the usual offset provision, whereby the team would have been reimbursed the amount Bay signed for elsewhere. So if Bay can make a deal for more than $850,000 elsewhere, he's automatically going to come out ahead of the game.
It's also possible both sides figured Bay has a better chance to regain his old form if he goes elsewhere. Bay batted just .165 with eight home runs and 20 RBI in a stunningly poor offensive season in his third year in Flushing -- which represented far worse numbers in the year the Mets lowered the wall in left field.
Bay has suggested concussions suffered while running head-first into walls while making plays didn't negatively impact his performance, though it's clear something prevented him from playing anywhere near to the level he played before he came to New York.
Bay, 34, and the Mets made what seemed like a reasonable deal when he agreed to the $66-million, four-year contract when he was coming off a season in which he had 36 home runs and 119 RBIs for Boston. That deal set up his family for generations. But the recent one that severed ties with the Mets was in some ways an even better one for him.