Dickey, Pettitte, Wright, Braun among MLB stars for U.S. in WBC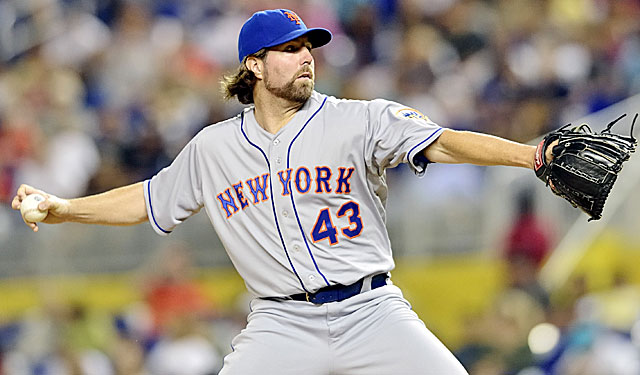 Cy Young-winner R.A. Dickey joins Andy Pettitte on a star-studded Team USA staff. (US Presswire)
LOS ANGELES -- Veteran starting pitchers R.A. Dickey and Andy Pettitte plus star closers Craig Kimbrel and Chris Perez are among top major leaguers who have committed to play for Team USA in the WBC.
Bullpen stars Luke Gregerson, Perez's Indians teammate Vinnie Pestano, and veteran outfielder Shane Victorino are among others added to Team USA, which will be managed by Joe Torre.
Mets third baseman David Wright, Twins catcher Joe Mauer, Brewers outfielder Ryan Braun, Reds second baseman Brandon Phillips, Yankees first baseman Mark Teixeira and Orioles center fielder Adam Jones are among other stars who committed to Team USA. Marlins star Giancarlo Stanton and Brewers catcher Jonathan Lucroy also have committed to play for Team USA.
Victorino considered it such an honor that he is said to have called up Torre and volunteered. His style, speedy and aggressive, is thought to fit the international game. That, combined with his enthusiasm, won him a spot in a star-studded outfield, though likely as a bench player considering the cache of the top outfielders playing.
"After I got the chance to play a few years ago, I knew I wanted to participate again," Wright said. "The biggest reason is obviously the opportunity to represent your country and wear the uniform with USA across the chest. It's an incredible feeling."
Some stars, such as Rockies shortstop Troy Tulowitzki, aren't going to be put on the team because of injury concerns. Dodgers center fielder Matt Kemp also is being held out for precautionary reasons.
Another major pitcher or two is considering joining the team but it will depend on a few outside factors. The entire Team USA will be unveiled Thursday.
"Also, I get to be around some of the best players in the game for a few weeks," Wright continued. "It's a great atmosphere and I try to learn and pick up some things from those guys."