Halladay allays some worries with his 200th career victory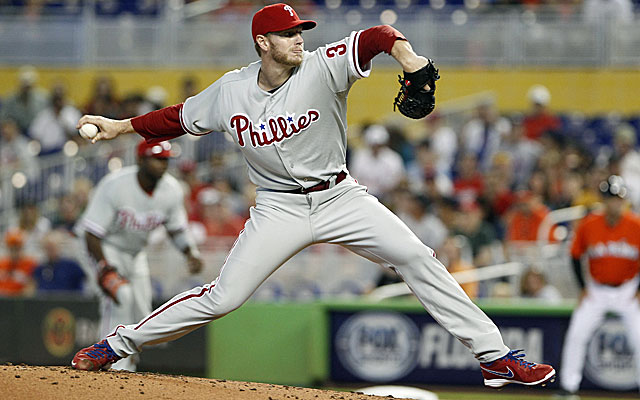 MIAMI -- Roy Halladay was awarded a big bottle of champagne by the Phillies in recognition of his 200th career victory after Sunday's win. But after receiving the bottle, Halladay explained he isn't ready to break it open. He wants to wait for a World Series win.
Halladay's not a celebratory fellow, anyway. But the Phillies' down-home, dry-witted manager, Charlie Manuel, swore he thought he saw Halladay "a grinnin" upon receipt of the bubbly.
Along the same lines, it's probably too early for the Phillies to go crazy over Halladay's performance on Sunday, a neat, eight-inning outing that looks good on paper but is mitigated by the fact that it came in a pitcher's park against a makeshift team's makeshift lineup. A Miami Marlins batting order without Giancarlo Stanton isn't worth Halladay's time when he's right.
The question, of course, is whether Halladay will ever be Halladay again. But in an efficient 87 pitches during a 2-1 victory at Marlins Park, he provided hope. After a spring training that was nothing short of a disaster, plus two poor starts to begin the season that left him with an unsightly 2.45 WHIP and bruised confidence, this was something to cheer, even if it's a somewhat muted cheer.
"I know it's the Marlins, but he pitched all right," one National league scout said. "The velocity wasn't great. But as long as he's keeping the ball down and finishing his pitches, he'll be OK."
More on Phillies-Marlins
Related links
More than anything, the Phillies need to know Halladay himself isn't on the road to being finished.
This was a nice "steppingstone," the scout said. This was big, Jimmy Rollins said. To see Cole Hamels and Halladay throw back-to-back gems, even if it's against a Marlins team that's missing Logan Morrison, Casey Kotchman (let's face it, every absence hurts them) and Stanton, is huge for a Phillies team expecting to compete in perhaps baseball's toughest division.
"We should be able to contend," Phillies GM Ruben Amaro asserted before the game.
They should. But realistically, it probably depends on Halladay. If they have him back as any semblance of his former self, they would have three big-time starting pitchers, which is more than just about anyone else can say. But if he's like he was his first two starts, the season could wind up seeming as long as last year, maybe longer.
One scout who recently saw Halladay, 35, said he appeared not only to be laboring but also tiring from the first pitch, if that's possible. Another scout who saw him this spring said he was so bad he wondered if they should skip him a start -- or, heavens, send him to the minors for a start or two. That's a suggestion that Amaro sniffed at.
"Scouts are very good at telling other organizations what to do," Amaro said, sarcastically.
The Phillies, Amaro asserted before the game, are committed to Halladay, no matter what. Amaro was asked how long he has. "About 32 starts, or 34," he said.
Well, if they go like this one, with Halladay allowing only five hits and walking one, that should be just fine. "I felt good," Halladay said. Even better, Halladay said that later in the game, "I felt like I could throw any one of my pitches for a strike."
That's a lot for Halladay because he has a curve, changeup, cutter and sinker, and changes speeds on all of them. Halladay had been worrying too much, he said. That's no surprise since that's his thing. He's a worrier.
"I had been putting a lot of pressure on myself," he said. "In the past, I tried to do too much. I tried to control too much. I tried to worry about too much."
The key, he said, was to simplify things. Then he gave a complicated explanation of how he did that. What he boiled down to, basically, is that he tried to stop worrying about things that he can't control.
One thing that he could control is a Marlins lineup that featured former Phillies who aren't typical middle-of-the-order candidates -- Placido Polanco and Greg Dobbs -- batting third and fourth. He wasn't hurt, either, by the big Art Deco ballpark or some baserunning shenanigans by the Marlins, who aren't exactly versed yet on all the fundamentals.
When Adeiny Hechevarria followed Chris Valaika's tying seventh-inning single with a long flyout to the warning track in center field, 400 feet away, Rob Brantly handed Halladay a gift out by seeming to get lost around third base before being doubled of at second. Rather diplomatically, Halladay noted the Marlins are "missing a few guys."
No one can declare that Halladay has his full act back together yet. Amaro said strike-throwing was the biggest concern in the first two games, not the velocity that hovered between 88 and 91 mph. In this one, he slipped back just a tick, to 87-90 mph. But the control was better, and so were the results.
Halladay said a key was him trying to narrow his focus, though no one ever imagined he was focused on anything other than baseball. This is one serious dude.
No surprise that Halladay was already in mid-workout when Laynce Nix crashed the winning home run off Marlins retread reliever Jon Rauch, and he only knew about it after hearing other Phillies players cheering from another room. You can just imagine Halladay continuing with his workout, after maybe a pause or two.
A half an hour later, in recognition of Halladay becoming the second active pitcher to reach 200 victories (Andy Pettitte is the other), Manuel and the other Phillies were handing him the champagne, which produced nothing more than a smirk from Halladay.
"The personal milestones are great for my [sons], my wife and my family. They're all excited about it," said Halladay, who added that he's only interested in winning a World Series.
"That's why I'm here," he said. "When that happens, I'm going to go in the back room and yell."
Until that happens, Halladay, the well-paid pitcher with the lunch-pail outlook, is just going to do what he does, which is try to outwork everyone else and try not to out-think himself.
Maybe every once in awhile, he'll even break out a grin.