Orioles, looking for an ace, now eyeing Peavy among others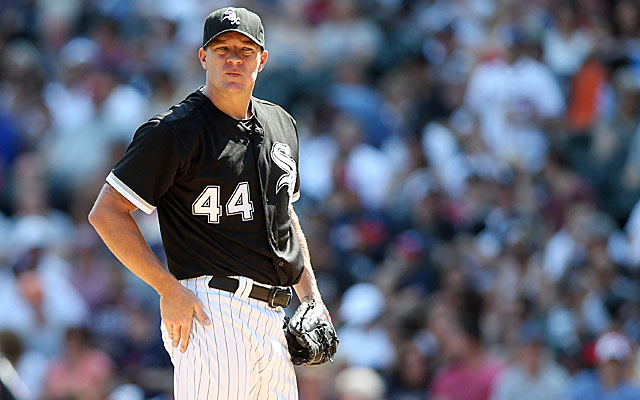 Locked in a tough, tight AL East race, the Baltimore Orioles are in the mix for Jake Peavy and the other top pitchers on the trade market, sources said.
There have been questions about whether the Orioles will have the money to enhance a team based around an excellent nucleus of 20-something position stars such as Manny Machado, Chris Davis, Adam Jones and others, but they are at least considering a major move.
The Orioles have been reluctant to trade their very top prospects such as pitcher Kevin Gausman and infielder Jonathan Schoop, but they showed their seriousness by parting with third base prospect Nicky Delmonico for reliever Francisco Rodriguez. It was suggested in this space a few weeks ago that it's possible the Orioles were "tapped out'' financially, but it's also possible, with the team in a hard race with the Rays and Red Sox, owner Peter Angelos may have loosened the pursestrings a bit.
The Orioles already acquired solid starter Scott Feldman from the Cubs but they are aiming even higher now. Peavy leads the list of starters very likely to be traded, and the Red Sox, Cardinals, A's and Braves are believed to be pursuing him.
Kansas City's Ervin Santana and Houston's Bud Norris are also available. Phillies ace Cliff Lee is drawing interest, as the Phillies have said they'd listen, but it's still questionable how serious they might be and also whether the usually cost-conscious Orioles could expand their $92-million payroll by $25 million. The Phillies have received a handful of calls on Lee, but it isn't known whether the Orioles made one of them.
The Orioles also look to be in need of a DH, and possibly an outfielder or bench help. They've talked to the Twins about Justin Morneau, as was noted again in a piece by Dan Connolly of the Baltimore Sun. It was noted in the previous piece that Morneau, in particular, was too pricey. But things may be changing with the Orioles.