A-Rod's curious attempt to settle may be a sign of desperation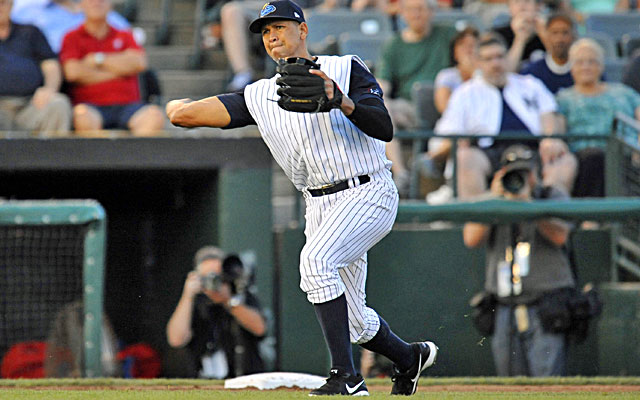 Embattled Yankees Alex Rodriguez's surprise late attempt to try to settle with MLB -- and oddly enough the Yankees, too -- regarding his Biogenesis involvement went nowhere Saturday, a day after he accused those two entities of conspiring against him in lightly veiled comments made after he homered in a rehab game at Trenton, two people familiar with the talks said.
It's curious how A-Rod would act conciliatory less than 24 hours after being accusatory, but that may reflect confusion in a difficult time, perhaps exacerbated by retaining three sets of powerful attorneys.
"He's now desperate. He's saying, 'Come to a meeting,'" one person familiar who was briefed on the calls said.
A-Rod's chance to settle for anything better than the 200-plus game ban (through the end of 2014) offered for days by MLB appears to have dimmed thanks to his latest sideshow where he suggested the team that signed him to his record $275-million contract and MLB are conspiring to get out from under his albatross of a contract. But MLB's goal all along has been to come to agreements with all of the 10 or so players involved who've never been suspended before.
A-Rod seemed to accuse the Yankees of misdeed when he said people are trying to find "creative ways to cancel your contract," in his memorably off-kilter soliloquy in Trenton.
"We never tried to get out of his contract. We want him to play," a Yankees official said. "What does it have to do with steroids, anyway? Did we hire Tony Bosch?"
MLB has been willing to discuss the settlement, but at the moment is disturbed by the "bullying tactics" employed by the A-Rod camp, according to people familiar with the dealings. The Yankees are not involved in the Biogenesis case so A-Rod's contact with his team is curious, except that it points to his keen interest in the $95 million remaining on his deal.
CBSSports.com has learned that A-Rod has insurance on his own contract in addition to the Yankees' insurance. It is unusual for a veteran player to take out insurance on a late-career deal; insurance is more commonly bought by young players who have yet to sign their first big deal, not someone in a second record contract.
A-Rod's attempt to settle, and MLB's decision to rebuff him, was first reported by the New York Daily News on Saturday afternoon.
A-Rod and MLB hadn't negotiated for at least a day, but MLB previously offered him a deal to take a ban through '14. While his camp has told some media outlets they had no interest in cutting a deal, they already had signaled a willingness to accept some punishment, believed to be not more than 100 games.
Rodriguez in previous talks argued that he should be "treated like everybody else," which seems to suggest a 50-game ban offer, as nine others linked to the now defunct "wellness clinic" were offered.
While Rodriguez's latest sideshow surely has annoyed MLB, people involved still don't rule out an agreement between A-Rod and MLB, as baseball prefers to have deals with those involved than keep this story dragging late into the summer and chance anything in an appeal. But Rodriguez didn't help his case with this latest monologue, delivered after homering off Phillies prospect Jesse Biddle Friday night.
With the evidence said to be overwhelming that Rodriguez used steroids every year since 2009, the very year he staged a seemingly heart-felt press conference in which he suggested to fans to "judge me from this day forward," Rodriguez also doesn't appear to be in a great position to win on appeal. MLB has also suggested the possibility of a lifetime ban, though sources say he has had the opportunity to take a ban through 2014, which would amount to 214 games if levied Monday.
Commissioner Bud Selig has at his disposal a "best interests" clause from the CBA he could use if he so chooses to remove A-Rod from the field immediately, though it is said he's reluctant to buck the players union, which has been said to be acting reasonably and responsibly as it, too, endeavors to get PEDs out of baseball. The specter of a lifetime ban isn't off the table, either, as A-Rod isn't helping himself by turning things into a charade -- though the offer of a ban through 2014 would still likely be OK'd by Selig.
Even though A-Rod's camp has been adamant that there's no deal coming, it still makes sense Rodriguez tried to forge a deal, considering what's believed to be a mountain of evidence against him. The twist this time is Rodriguez also reached out to the Yankees to try to make a settlement over the $95 million remaining. It's becoming clear that A-Rod's greatest interest at this point is in saving himself as much money as he possibly can.
It's still a bit odd he'd choose to make the call the day after he tried to publicly accuse the Yankees of insurance fraud in his veiled comments in Trenton.
Rodriguez's new PR man, Ron Berkowitz, didn't return messages. A-Rod is being advised by several lawyers, including David Cornwell, Jay Z's people and the New York labor law firm of Cohen, Weiss and Simon.
With MLB apparently not talking to Rodriguez at the moment, it seems likely they'd be prepared to announce his ban along with the nine or so players remaining who were linked and never previously suspended. Monday is the target date for the announcement, as it would allow the other players to contain their punishment within the 2013 season, and not drag it into '14. A few of the players in line for bans, including Rangers outfielder Nelson Cruz, are free agents after the year.
Among other things Friday night, Rodriguez said, "I think we all agree that we want to get rid of PEDs. That's a must. All the players, we feel that way. But when this stuff is going on in the background, and people are finding creative ways to cancel your contract, that's concerning for present players. I think it should be concerning for future players as well."
MLB is said to have paperwork, possibly including texts, connecting Rodriguez to Tony Bosch, the former Biogenesis proprietor who is baseball's star witness. Rodriguez previously admitted to failing MLB's 2003 survey test, and was connected to HGH doctor Anthony Galea.
Rodriguez is said to have claimed he shouldn't be "singled out" in past negotiations, suggesting a 50-game ban should be more in line with his part in Biogenesis. But MLB sees his involvement to be much more extensive than that of Ryan Braun, who agreed to a 65-game suspension.
MLB also may be pushing for a greater ban for Rodriguez based partly on the belief he told falsehoods when MLB interviewed him on past occasions, including when it quizzed him about Galea. Rodriguez invoked the Jenkins Rule, declining to cooperate or comment when called by MLB in to testify about Biogenesis.
But he had plenty to say Friday night in Trenton.