Eyes of 2 countries upon Tanaka, the Yankees' latest big-money phenom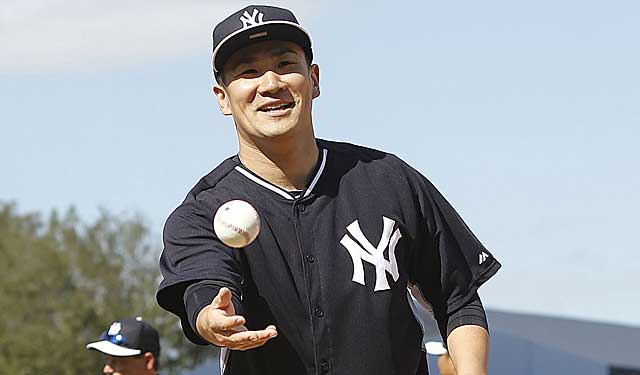 More MLB: Free agency tracker | Spring training schedule
TAMPA, Fla. -- This was the location to be in spring training Saturday; Masahiro Tanaka was on the mound for the Yankees. As for his location, it couldn't be better. The blacks of the strike zone was where he lived in the most-watched bullpen session, maybe ever.
"He was painting, like Picasso," said Yankees spring instructor David Wells, a master of command in his day. (Wells had a stellar 1.9 walks per nine innings in his career, same as Tanaka.)
Hordes of media and fans descended upon Legends Field to watch the every move of the Yankees' latest big acquisition, which in the early spring days for a pitcher ranks somewhere between mundane and downright boring. The bullpen session, seen at a distance (and for the fans, through a fence) was the highlight. There was also PFP (pitchers fielding practice), which is only interesting for that rare uncoordinated pitcher, usually a lefty reliever (Tanaka was not that), and a jog around the field that challenged them all on day one, Tanaka included.
Rarely before have so many witnessed anything less entertaining.
What matters, of course, is how the $175 million man pitches when it counts -- though for now it's fun to see the reactions to his tosses, and even the reaction to the reactions. Perhaps unbeknownst to catcher Francisco Cervelli, there was an outcry when Cervelli didn't speak exclusively in superlatives following Tanaka's first mound session, a couple days earlier.
Anyway, folks can relax now. Cervelli invoked the name Juan Marichal following the second session. There now, that ought to soothe everyone in New York -- for about five seconds, anyway.
So the evaluations have ranged from No. 3 starter (GM Brian Cashman's obvious attempt to curtail runaway expectations) to Hall of Famers Marichal and Picasso. No one has claimed he throws the gyroball, but his verifiable 24-0 record and 1.27 ERA in 2013 for Rakuten certainly can get the imagination going.
"Twenty four and oh -- he has to be good, right?" Cervelli asked.
And apparently, he was indeed much better the second time, at least in Cervelli's eyes. "So much better," was actually how Cervelli put it.
Noting that the first day was cold and windy (this day was just cold -- though not by New York standards), Cervelli remarked about the exceptional control Wells saw. That's where the Marichal comparison came in.
It's starting to sink in why Cashman felt the early need to corral expectations with his remark that he envisioned Tanaka as a "solid, No. 3 starter." Of course, when you think of it, that's silly. No one pays $175 million (plus additional tax money) for a middle-of-the-rotation grunt.
What the Yankees brass won't do is suggest he's a star, though -- not before he even hits the field for real. In the meantime, Tanaka doesn't appear to be the type to suffer from an especially thin skin.
"I'm really not worried about my number in the rotation," Tanaka said. "When I go on the mound the one thing I'm thinking about is winning."
Yankees manager Joe Girardi doesn't talk about lights-out stuff when he talks about Tanaka but rather raves about his ability to adjust in situations. That obviously is what's most needed now, as a 25-year-old with the eyes of the world upon him.
Tanaka expressed surprise at the number of media here to follow his otherwise routine day (though veteran Yankee watchers swear there were even a few more for Hideki Matsui 11 years ago). He also said he didn't feel nervous, which is the key.
Yankees veteran made things easy on him, even if he didn't need it. Veteran Japanese pitcher Hiroki Kuroda volunteered to play catch with him, which seemed to please Tanaka. The very relaxed, slimmed-down C.C. Sabatahia threw alongside, then begged out of the mile run by jokingly claiming he was too old (he certainly isn't too heavy anymore).
The one thing Tanaka (and all the other pitchers) seemed to struggle with was a mile run, which amounted to four times around the practice field, and it was no surprise when Tanaka noted that that run was perhaps the most memorable thing about the packed day.
"That was really hard for me," he admitted.
That's OK, this baseball season is a marathon, not merely a mile.
And besides, it's not his leg but his arm that has got everyone pumped up in Yankees camp -- even if some of them around here aren't quite saying so yet.