Dunn doesn't care about 500 homers, he just wants one playoff game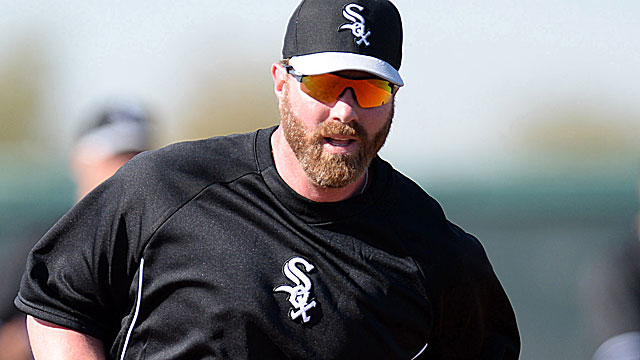 GLENDALE, Ariz. -- White Sox slugger Adam Dunn had no idea exactly how many home runs he's hit in the big leagues. He guessed "420 or 430 maybe." The answer: 440.
But Dunn knew precisely how many games his teams have played each year for 13 straight seasons without one single playoff game: 162.
One-hundred-and-sixty-two games. And those games add up. Dunn has now played 1,870 games in the regular season without one single playoff game. That's first among current players (or last, depending on how you look at it). It's also 22nd all time. Ernie Banks, a more famous Chicago athlete, is first on the all-time list with 2,528 games, none in the postseason.
"That's the number I remember, 162 games," said Dunn, speaking of his career-long quest to make the playoffs. "That's the reason you go through this junk, dude. It's hard to do it when you play only 162 games."
Dunn said he understands he "can never complain," as it's a very good life; but he is obviously quite frustrated to watch the postseason, year after year. Another 162 games this year, and he moves up even higher on the all-time list. He is currently 22nd.
As far as home runs, the 440 dingers put him 39th all time, two behind yet another former Chicago athlete, Dave Kingman.
"I don't care about the homers,' Dunn said. "What does it matter if you hit 700 home runs if you're only playing 162 games?"
Dunn won't technically play all 162 games this year, as he is ticketed to split the DH spot with friend Paul Konerko, who has 434 home runs and is tied for 42nd with Andruw Jones and Juan Gonzalez. Dunn foresees no problems being part of the only 800-homer-plus platoon, especially with good guy manager Robin Ventura making the calls.
"That's three guys with zero ego," Dunn said. "I get it. That's not raining on my parade. If I do what I'm capable of doing, that will take care of everything."
As for whether these young White Sox can end Dunn's unfortunate drought (Vernon Wells is next on the active list at 1,731 games, and old teammate Alex Rios is after that at 1,455; though Wells is only marginally active and Rios is all the way down at No. 72 on the list), Dunn aptly put it, "Who's to say?" Though the White Sox appear on the right track after acquiring four positional talents under 28 (Jose Daniel Abreu, Adam Eaton, Avisail Garcia and Matt Davidson), they'd need things to fall into place to make the playoffs following their 99-loss season last year.
And Dunn, well he said he's still having fun. The minute that stops happening, he said, "I'm gone." (With that phrasing, perhaps Hawk Harrelson could narrate his departure.)
While he didn't have much of a clue how close he was to 500 home runs, Dunn, 34, who's in the last year of his $56 million, four-year White Sox deal, admitted 500 would be "cool."
But 500 doesn't drive him. "I'm not going to stay around and chase it if I'm not having any fun," Dunn said.
On his list of things to chase, his home run total isn't the main one, anyway.