Speedy, humble Dee Gordon aids Dodgers (and his prodigy brother)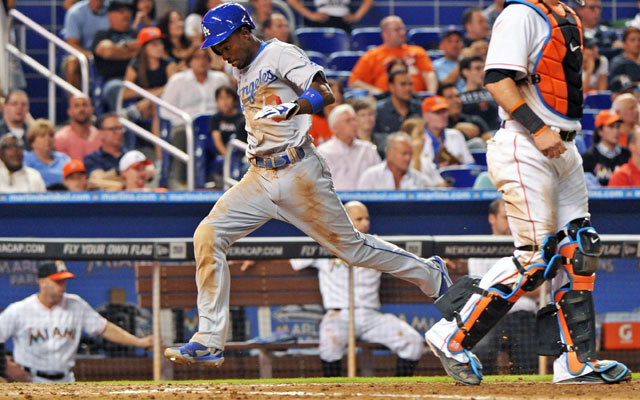 More MLB: Power Rankings | Expert Picks | Latest news & notes | Fantasy news
MIAMI -- Dee Gordon is doing things to amaze folks, even occasionally Gordon himself. Gordon, who became the first Dodgers player ever to record five hits and three stolen bases in a game, might have been more amazed recently to beat out a grounder to first base for a base hit. "That was crazy," he said.
If Devaris Strange-Gordon's start -- he led the NL in his against right-handed pitching and total stolen bases coming into Sunday -- isn't downright crazy, it's certainly a surprise on some level. While manager Don Mattingly, a big believer, said he actually saw Gordon doing great things on a regular basis even earlier, it should be noted that Gordon was a basketball player throughout his youth and didn't start to follow the footsteps of father Tom Gordon, a 21-year major leaguer, until he was a junior in high school.
Really, Dee is just catching up, something someone with all-world 3.8 speed to first base (he was clocked at 3.7 earlier this year) is adept at. But it still would have been hard to predict this, not after two rough seasons in the bigs following his attention-grabbing debut as a shortstop at the end of 2011, and certainly not after a spring-training tryout at the relatively new position of second base, where big-money Cuban import Alexander Guerrero, who also was trying to convert from shortstop, seemed like the favorite at first.
Gordon, now 26, turned out to be the easy call for Mattingly and other Dodgers higher-ups as he predictably showed much more range at second than Guerrero, and also more aptitude for the new position. But while Gordon won the position for his speed and arm, the Dodgers couldn't have expected an offensive dynamo when they made the call to send down Guerrero, who has a big bat but is a work in progress on defense. Gordon was batting .357 coming into Sunday's game, which is better than anyone in the NL who doesn't play in Coors Field, and had 19 stolen bases (in 21 attempts), which put him on pace for 99.
He is also combining with the multitalented Yasiel Puig, who's cutting down his mistakes lately, to form one of the most dynamic beginnings to any lineup in baseball. Puig is such a crazy speed-power combo that folks have to go back to Bo Jackson to find a comparable, but in terms of excitement, Gordon is seen by some, at least early and at least on the ballfield, as "this year's Puig."
Gordon, a soft-spoken, humble young man who never took for granted he'd become a star just because his father was a three-time All-Star with a well-known and wicked curveball, responded to a nice remark about his stellar start with two words, "Thank God." When he said it, it sounded like it came with an exhale of relief.
"I'm just grateful for the opportunity, and I'm trying to run with it," Gordon said.
As we all know by now, of course, running is the thing Gordon does best.
Which is why Dodgers folks finally have convinced him to try to hit the ball on the ground, which as much as anything may be the key to his resurgence. Gordon admits he resisted at first. But now that he has adapted, the results are obvious. He'll occasionally hit one out, even with his 5-foot-11 and still thin frame (he's listed at 172 pounds but that seems generous), like the surprise homer he hit off 2013 Cy Young winner Max Scherzer at Dodger Stadium earlier this year.
The biggest change is how much more relaxed he feels now, though. When he was given the job as Dodger shortstop in the spring of 2012, whether he knew it at the time or not, he felt pressure.
"I didn't want to make mistakes. I trusted my ability, but honestly, I just didn't want to make a mistake," Gordon said. "There wasn't any room for growing pains, especially with new ownership. I felt I had to come in and play at the highest level."
Make no mistake, he is blaming no one but himself for his consecutive seasons hitting .228 and .234 and occasionally shaky defense following the .304 debut in 2011, to the point where some wondered whether he needed a fresh start in a smaller town. "I might not have been mature enough,' " Gordon said.
There's no mistaking his maturity now, as he's leading a World Series favorite and stacked lineup in many offensive categories without the sign of a boast. Few 26-year-olds are more humble or grounded. And don't think he always had it easy just because his father was a big leaguer; Dee's mother Devona Strange was murdered by an ex-boyfriend when Dee was only 6 years old, as was recounted here.
Dee's dedication is obvious, as he has only one known diversion, a famous shoe collection, even by ballplayer standards (he admits having upwards of 500 pairs). He has no designs on reclaiming shortstop, as he says he's just here to help Ramirez as best he can. He has taken to second, and especially loves turning the douple play.
He also has no plan to break Maury Wills' team steal record, steal a 100 or any set number. He says he just concerns himself with trying to score runs. As for the steals, he says they aren't easy, certainly not as easy as it looks. The goal, he says, is to score, not to steal. Whatever steals he does get, he credits Dodgers coach Davey Lopes, a baserunning great and guru.
Gordon's only goal, he says, is to aid the Dodgers.
But in reality, Gordon's renaissance is aiding more than just his team. His younger half-brother Nicholas Gordon, a shortstop who is seen as a top-10 player in the June 5 MLB first-year (amateur) draft can only benefit from the bloodline association of Dee and Tom. The better Dee does, the better folks will imagine Nicholas doing.
While Dee says that he still can probably win a foot race against Nicholas, who followed in his and Tom's footsteps and is starring at Olympia High outside Orlando, Fla.
"He's a really good player. He has great tools, a great arm," Dee said, proudly. "He's getting better and better."
Dee added, "I can say, he has five tools."
Dee Gordon readily admitted he can never claim as much. "I have only four ... no power."
No worries, he is more than making up for that.