Stock Watch: Encarnacion's HR binge sends his price through the roof
More MLB: Power Rankings | Expert Picks | Latest news & notes | Fantasy news
There are months, and then there are months like the one Edwin Encarnacion just had.
Encarnacion is the second man in the Blue Jays' vaunted 1-2 punch behind Jose Bautista, but in May, Encarnacion was linked to an even bigger name. By hitting 16 home runs in the month (after only two in April), he tied the AL record for homers in May set by Mickey Mantle in his Triple Crown year of 1956.
Encarnacion still trails red-hot Orioles slugger Nelson Cruz by one home run and two RBI atop the AL leaderboard with 19 homers and 50 RBI. But on this week's Stock Watch, Encarnacion plays second fiddle to none. Here are all the Bulls and Bears ...
1. Edwin Encarnacion, 1B, Blue Jays: Amazingly, of Encarnacion's 16 May home runs, 10 came in five games, as he joined Harmon Killebrew and Albert Belle as the only AL players to have five two-homer games in a month (Killebrew in May 1959, Belle in September 1995). He finished with a flair, with five home runs, 10 RBI and a .417 batting average in the final week, and also started June off right, homering in the Jays' first game to continue his improbable hot streak.
2. Nelson Cruz, OF-DH, Orioles: Cruz had four homers, eight RBI and a .476 average over the past week, so the Orioles' $8 million bargain easily could have won the honor again. Cruz had a painful start to June, however, as he lost his 12-game hitting streak and left the first game of the month after he was hit by a pitch from the Astros' Scott Feldman on the left wrist (X-rays were reported to be negative). He leads the AL in every power category, including with his .672 slugging percentage and 1.055 OPS.
3. Tim Hudson, SP, Giants: One of the Giants' great winter pickups, Hudson lowered his ERA to 1.75 (just a bit more than half his 3.40 career mark) with two seven-inning, scoreless outings against the Cubs and Cardinals. Hudson's signing for $23 million over two years is maybe the second-best deal of the winter, after Cruz's contract, and it has helped the Giants to baseball's best record.
Honorable Mention: George Springer, OF, Astros; Khris Davis, OF, Brewers, Tommy Medica, OF-1B, Padres; A.J. Pollock, OF, Diamondbacks; Jose Bautista, OF, Blue Jays; A.J. Pierzynski, C, Red Sox; Josh Donaldson, 3B, Athletics; Ryan Braun, OF, Brewers; Lucas Duda, 1B, Mets; Giancarlo Stanton, OF, Marlins; Pablo Sandoval, 3B, Giants; Brock Holt, INF, Red Sox; Bobby Abreu, OF, Mets; Miguel Cabrera, 1B, Tigers; Adam Lind, DH, Blue Jays; Phil Hughes, SP, Twins; Jered Weaver, SP, Angels; Jorge De La Rosa, SP, Rockies; Madison Bumgarner, SP, Giants; Ryan Vogelsong, SP, Giants; Corey Kluber, SP, Indians; Yu Darvish, SP, Rangers; Julio Teheran, SP, Braves; Chris Sale, SP, White Sox; Will Smith, RP, Brewers; Tony Watson, RP, Pirates,; Sean Doolittle, RP, A's; Casey Janssen, RP, Blue jays; Pat Neshek, RP, Cardinals; Tony Sipp, RP, Astros; Wade Davis, RP, Royals; Jake McGee, RP, Rays; Ernesto Frieri, RP, Angels.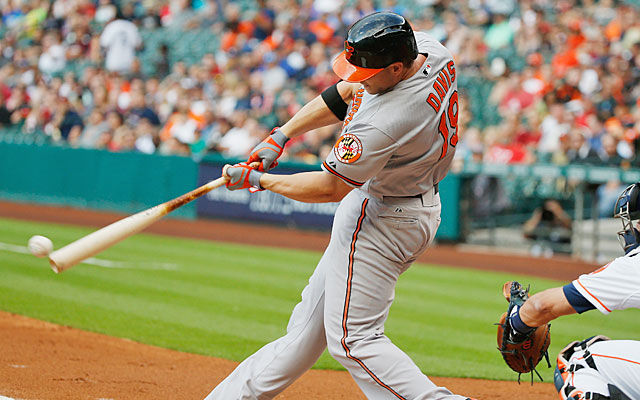 1. Chris Davis, 1B, Orioles: The defending AL home run champion is off to a rough start, and the past week didn't help. He was 2 for 25 (.040) with strikeouts in more than half the at-bats (13). Earlier, he missed 15 games (strained left oblique) and is hitting .230 with seven home runs. He is too talented to carry stats like that into June.
2. Curtis Granderson, OF, Mets: Granderson has run hot and cold early in his Mets tenure, so it's no surprise he's a Bear Market repeater. He has hits in his past two games, but still is only 2 for his past 28 (.071), including seven straight games without a hit but at least one walk. That ain't easy.
3. Matt Kemp, OF, Dodgers: Kemp also got hits in his last game, but before that he was 0 for 18 and at one point didn't start five straight games in the Dodgers' four-man outfield rotation before agreeing he was ready for the move to left field. Kemp's ankle injury has hindered his outfield play to the point manager Don Mattingly felt compelled to move him out of center field. Kemp should get a chance to improve on his .249 batting average now that Carl Crawford is out (ankle sprain). But so far they've only seen flashes of the runner-up for 2011 NL MVP.
Dishonorable Mention: Justin Smoak, 1B, Mariners; Mark Reynolds, 1B-3B, Brewers; Chase Headley, 3B, Padres; Albert Pujols, 1B, Angels; Starling Marte, OF, Pirates; Austin Jackson, OF, Tigers; Nick Franklin, INF, Mariners; Peter Bourjos, OF, Cardinals; Troy Tulowitzki, SS, Rockies; Adam Eaton, OF, White Sox; Cody Ross, OF, Diamondbacks; Brian Dozier, 2B, Twins; A.J. Burnett, SP, Phillies; Yordano Ventura, SP, Royals; John Danks, SP; White Sox; Chris Tillman, SP, Orioles; Franklin Morales, SP, Rockies; Brandon Maurer, SP, Mariners; Zach McAllister, SP, Indians; Brandon Cumpton, SP, Pirates; Travis Wood, SP, Cubs.