How Nats put Rob Manfred in MLB commissioner job on dramatic day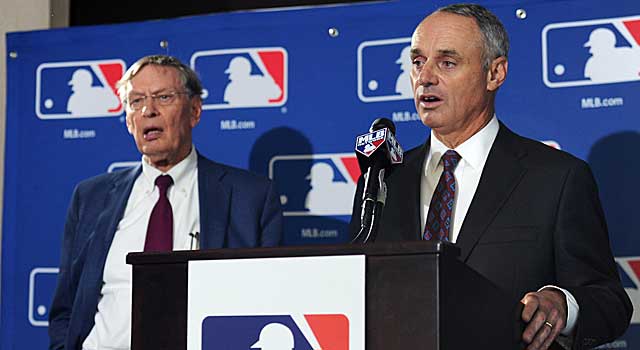 MLB commissioner elect Rob Manfred has told folks he's determined to aid all 30 teams and owners equally and has assured people there will be zero retribution based on the sometimes contentious commissioner debate and vote.
If he wanted to, though, there are a few candidates for favoritism or the opposite, based on a review of how things went down a week ago in Baltimore at the vote installing Manfred by a single vote after an afternoon marked by factions and sometimes seemingly fractious behavior.
Before one last tip of the cap to outgoing commissioner Bud Selig with the official 30-0 vote that elected Manfred, there was an afternoon of barb-trading that kept the owners and candidates in the dark about what might happen before the Nationals put Manfred over the top with the necessary 23rd vote, according to people familiar with the situation (the Nationals haven't lost a game since, with four victories coming in walk-off fashion, though that may be coincidental).
Here's an inside look at how the owners, with divergent needs, goals and beliefs, finally elected Manfred as the 10th commissioner, but not before an afternoon that included heated arguments, politicking and surprise vote-switching. Manfred, the longtime chief lawyer for MLB and a Harvard law grad who's worked on baseball's affairs for a quarter century, was the only one of the three candidates who seemed electable, at least in the two-day gathering in Baltimore. Yet it looked like he might be stuck at 22 votes -- one shy of election -- and owners were said to have started looking at their watches as they lined up private planes to depart Charm City.
The afternoon began with MLB EVP for business Tim Brosnan, the third commissioner candidate, bowing out, leaving Red Sox part owner and chairman Tom Werner as the lone challenger to Manfred. Werner is an affable gentleman and quick study but always seemed like a surprise candidate since he's viewed as only the third member of Boston's powerful trio of John Henry, the principal owner, and Larry Lucchino, the president and CEO.
Brosnan, who negotiated MLB's lucrative TV deals, was cited by one rival owner as being "very gracious" in his decision to depart the race, particularly in light of the fact he may not have a landing spot in the MLB office. Though his relationship and alliance with Jerry Reinsdorf, the powerful White Sox owner who by most accounts led the side to upset Manfred (Reinsdorf has downplayed his involvement, at least in interviews leading up to voting day), and other owners on the side opposing Manfred could potentially lead to a job with a team.
Here's another reason he left the race. "He's good at math," said an owner, citing the probability of Brosnan coming nowhere near the 10-vote minimum to keep him on the ballot (the Reds were the one known supporter).
The first ballot produced a 20-10 vote in favor of Manfred over Werner, leading some to wonder whether Manfred, Selig's righthand man and the chief MLB negotiator for the last three CBAs, would get the three votes he needed. Things appeared to start to turn in Manfred's favor when Stu Sternberg, owner of the Rays, became the first to switch and vote for Manfred, making it 21-9 and knocking Werner out of the running by virtue of falling below the 10 votes needed to stay on the ballot.
From that point forward, votes were seen as "up and down" votes on Manfred alone. Even so, things didn't get much easier, at least not at first.
It isn't known why Sternberg initially favored Werner. But it's a small surprise because the Rays and Red Sox are viewed as mortal enemies (the process was full of surprises, as Reinsdorf has been Selig's closest confidant in the game for decades). Some owners, in fact, suggested the only rivalry at the ownership level that carries as much seeming bitterness as Red Sox-Rays could be Dodgers and the Diamondbacks, which worsened after the Dodgers' NL West-clinching celebration in Arizona's Chase Field pool.
Anyway, next to switch to Manfred side was Brewers owner Mark Attanasio. While Attanasio is one of Werner's closest friends in baseball (the Brewers employ Werner's son Teddy), he was not seen as having any ax to grind with Selig or Manfred. That made it 22-8, bringing Manfred within a single vote.
Following the switch by Sternberg and Attanasio, the leaders on the side opposing Manfred convinced Sternberg and Attanasio -- generally viewed as two of the more reasonable and open-minded owners -- to switch their votes back to "no" votes, making the next vote 20-10. At that point, some in the pro-Manfred contingent got nervous, as any more retrenchment could lead to voting being delayed for weeks, or perhaps even months. That could have given the anti-Manfred side time to come up with a viable candidate to oppose Manfred.
The other issue was that a voting block of at least five teams seemed intractable in its opposition -- the White Sox, Red Sox, Blue Jays, Diamondbacks and Reds. Meantime, an effort was made to get Werner to "release" his supporters, and with Boston not seen as an obvious detractor of Selig or Manfred. As one owner pointed out, "Bud did more for the Red Sox than anyone," referring to the deal to get the team to the Henry-Lucchino-Werner group over the higher-bidding Charles Dolan – a move that benefited everyone since that Boston triumvirate has won three titles with the a storied franchise that didn't win for 85 straight years.
On ballot No. 5 after much back and forth, Attanasio and Sternberg switched back to support Manfred, bringing him back to 22 votes, one short of election. The next two targets became the A's and Nationals.
It was at this point that some of the strongest Manfred backs made a strong point not to drag this out further seeing as how Manfred once again had 73.3 percent of the vote (75 percent is the key number) and it wouldn't be in the "best interests of baseball" to continue this debate for weeks or even months. Manfred's most ardent and vocal backers included the Yankees, Giants, Dodgers and Twins (Jim Pohlad is said to have made some key points here) with the Cubs and Marlins also known as strong Manfred supporters.
Oakland was always seen as an unusual "no" vote for Manfred since A's owner Lew Wolff was a fraternity brother of Selig's at the University of Wisconsin. However, it appears the "no" vote was actually coming from majority owner John Fisher, who may be frustrated by the A's continuing inability to procure a new stadium (while an astounding 22 new stadiums have been built in Selig's 23 years, the Rays and A's are the two teams that remain in outdated facilities).
While the Nats may be suffering a bit of frustration over the MASN litigation at present, the Nats-owning Lerners at least seemed willing to listen to reason, and the "best interest of baseball" argument. And eventually, Washington cast the decisive vote, resulting in the tense walk-off win for Manfred, the logical choice from the start.