Stock Watch: High time for Yankees to drop Derek Jeter in order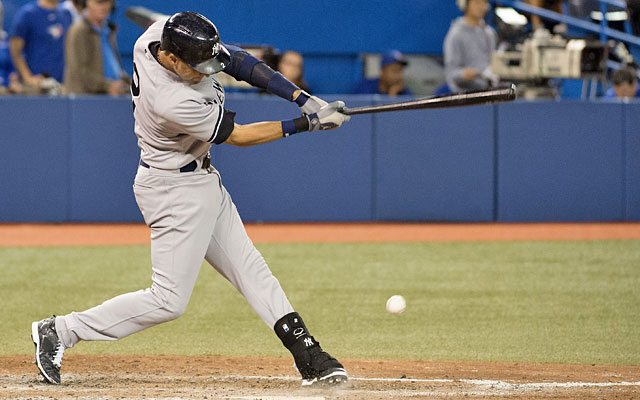 Maybe it's finally time now for Derek Jeter to volunteer to bat lower in the order. At this point, it seems clear that for whatever reason, Yankees manager Joe Girardi doesn't want to do it.
Perhaps Girardi thinks Jeter deserves the honor after such an iconic career on and off the field. Maybe he just doesn't want to tell him. It's hard to know.
Girardi hasn't said much on this topic but recently told Ken Davidoff of the New York Post, "It's not like we have a bunch of guys hitting .300."
No, but almost all of them are hitting better than Jeter. At this point, it seems pretty clear there is no good reason to keep Jeter in the two hole.
Girardi even kept Jeter batting second in a recent game where he moved Brett Gardner, one of the team's two most productive hitters (along with Jacoby Ellsbury), down to the seventh spot. That was a real head scratcher. One wonders whether anything would cause Girardi to make the move that seems logical to outsiders.
While no Yankees person has dared say it publicly, there are definitely people within the organization who have come to realize Jeter batting second is a liability. GM Brian Cashman declined to talk about the situation going into the weekend, saying it isn't appropriate to publicly discuss anything like that until after a move is made. If a move is made, of course.
Well, we've reached Sept. 1, and it is time.
No disrespect to an all-time great, but Jeter just isn't getting it done offensively, which is why he leads off this week's Bear Market. It is time for him to bat at the bottom of the Yankees' order, not the top.
The batting order shouldn't be about stature or fame. It should be a meritocracy. There's too much on the line for it not to be.
It may not make a big difference, as Jeter is hardly awful (a .261 overall batting average for a 40-year-old shortstop is commendable, almost historic). But with a month to go and the Yankees needing every edge they can get, it is finally time to bat all their best hitters at the top of the lineup.
It isn't like Girardi would be taking Jeter off shortstop -- he still is arguably their best option there considering Stephen Drew's own offensive struggles. But there doesn't seem to be a good case for Jeter near the top of the lineup.
A fair amount of damage may already be done. Jeter has more at-bats than everyone but Ellsbury despite having a .620 OPS, which is worse than the other nine Yankees who have at least 100 at-bats (including Brian Roberts, who was released weeks ago, and Kelly Johnson). Meanwhile, Gardner's .787 OPS is first on the team among anyone with at least 150 at-bats.
At this point, it is painfully apparent a move has to be made.
Here are all the Bulls and Bears ...
1. Jose Abreu, 1B, White Sox: The Cuban import hasn't slowed down one bit in a longer season for him, enhancing his MVP candidacy (we suspect the South Siders' non-contention will make it tough for him to win). Anyway, he was 21 for 42 during a recent 12-game hitting streak, bringing his batting average to .320 and giving him an outside chance at a Triple Crown. He leads the AL with 99 RBI, while sitting two home runs (33) behind Baltimore's Nelson Cruz and is fifth in average, trailing leader Jose Altuve of Houston by 17 points. He also was the deal of the winter, at $68 million for six years.
2. Matt Shoemaker, SP, Angels: As Alden Gonzalez, the Angels beat writer for MLB.com, tweeted, "Raise your hand if you had Matt Shoemaker winning 14 games with a 3.14 ERA and 117 2/3 innings by the end of August when the year began." Of course, no one did, not if they are telling the truth. Shoemaker (14-4) also became the first Angels pitcher to post three straight games with at least seven innings and no earned runs since Nolan Ryan in 1976-77. That caused manager Mike Scioscia's remark that the late-blooming Shoemaker, a 27-year-old rookie (with no chance at the award thanks to Abreu), thinks he's Ryan when he's on the mound. Well, confidence isn't such a bad thing.
3 (tie). Madison Bumgarner, SP, Giants: He made the NL All-Star team largely on the respect of rivals. But now he is truly pitching like an All-Star. He is 4-1 in August with a 1.57 ERA and has a remarkable 56 strikeouts compared to only three walks. The Giants have won six straight as they look like a threat again to make it three titles in five years.
3 (tie). Jose Bautista, OF, Blue Jays: The beloved Joey Bats recently had a couple disagreements with his own team, first complaining about no moves being made at the trade deadline, then taken to task by manager John Gibbons for getting thrown out of a close game. But he hasn't stopped playing. He has homered in five straight games and is putting together another fine season. For the record, I agree: The Jays should have done something at the deadline considering all the injuries (word was, they had no money to spend, though they haven't admitted as much).
Honorable mention: Giants 2B Joe Panik, Royals OF Alex Gordon, Marlins OF Giancarlo Stanton, Braves OF Justin Upton, Tigers DH-1B Victor Martinez, Red Sox DH David Ortiz, Rockies 3B Nolan Arenado, Pirates C Russell Martin, Astros DH Chris Carter, Angels SS Erick Aybar, Yankees OF Jacoby Ellsbury, Dodgers INF Justin Turner, A's 3B Josh Donaldson, Cubs OF Jorge Soler, Giants C Buster Posey, Giants RP Sergio Romo, Nationals RP Matt Thornton, Royals RP Wade Davis, Indians RP Bryan Shaw, Giants SP Yusmeiro Petit, Orioles RP Andrew Miller, Orioles SP Chris Tillman, Rays SP Alex Cobb, Marlins SP Jarred Cosart, Dodgers SP Clayton Kershaw, Twins SP Phil Hughes, Nationals SP Jordan Zimmerman, Nationals SP Doug Fister.
1. Derek Jeter, SS, Yankees: He was 23 for 111 for August, which doesn't sound quite as bad as it is. He had only two walks and one home run, and what's worse he scored only four runs. The August slash line was .207/.226/.261/.487. He still is worthy of starting, just not batting second.
2. Yasiel Puig, OF, Dodgers: Something must be bothering Puig because this isn't him. For the month he hit .217 with no home runs and four RBI, dropping his batting average below .300 for the first time in a long time (he's at .299).
3. Ubaldo Jimenez, P, Orioles: Nearly everything GM Dan Duquette and manager Buck Showalter have done has turned to gold as the Orioles have built baseball's biggest division lead despite injuries to Matt Wieters and Manny Machado and a subpar season from Chris Davis. Jimenez stands as the one glaring disappointment. Removed from the rotation, Jimenez couldn't even make it through mop-up duty Sunday when Showalter had to go to closer Zach Britton to save a 12-8 victory over the Twins in a game they led 11-2. The up-and-down Jimenez looked so good last season, especially late for the Indians, but he may have to go back to the drawing board once again.
Dishonorable mention: Mets 3B David Wright, Astros 3B Matt Dominguez, Diamondbacks INF Aaron Hill, Mets OF Curtis Granderson, Rangers OF Alex Rios, Red Sox SS Xander Bogaerts, Astros 1B Jon Singleton, Cardinals SP Justin Masterson, Giants P Tim Lincecum, White Sox SP John Danks, A's SP Scott Kazmir, Rockies RP Rex Brothers, Blue Jays SP Mark Buehrle.
>> Want more MLB ratings? Weekly Grades: 'A' for Halos