Nathan's return to peak form helps Rangers ease pain of losing Feliz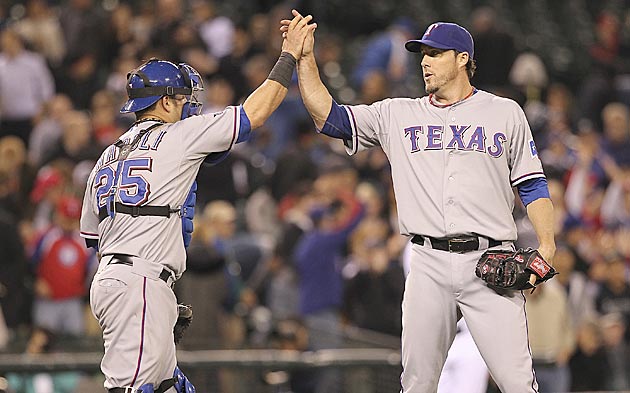 Nathan (2.41 ERA, WHIP under 1.00) is pitching as well as he did before he had Tommy John surgery. (Getty Images)
Even with starter Neftali Feliz out for the next few weeks and the
Rangers
contemplating adding veteran Roy Oswalt, things could be a whole lot worse in Texas.
But they're not, because the corollary move to installing Feliz into the rotation -- signing closer
Joe Nathan
last winter -- is working out spectacularly.
Nathan has converted 10 of 11 save opportunities so far in 2012. He had retired 13 consecutive hitters and worked five consecutive scoreless innings into Wednesday afternoon's series finale at Seattle. He had fanned eight hitters over his past five games and surrendered a run in only two of his past 15 games.
But the numbers are only an indicator of the most important fact: Now more than two years past Tommy John ligament transfer surgery (March 26, 2010), Nathan, 37, finally is fully healthy and back to his old self.
In fact, there's a buzz among scouts who say he may even be better than he's ever been. Which is a mouthful when talking about a four-time All-Star who, between 2004 and 2009, led the majors with 246 saves.
"I don't want to say I'm better than ever, because if I just got back to where I was, I was going to be happy with that," says Nathan, who has 23 strikeouts against only two walks in 18 2/3 innings this season. "But it's nice to come in and then not have to get a day off the next day, not be able to pitch in back-to-back games."
That was forced upon him last season as he returned from the elbow surgery in Minnesota. There's simply no substitute for time, and Nathan had to ease back into his workload as the elbow continued to heal.
Now? Last week, he pitched in four consecutive games for the Rangers in four days, from May 15-18.
"And he was at 95 mph with a good slider and a good curveball," says a scout who watched the Rangers last week. "When he pitched that fourth day in a row [last Friday], I thought, 'He's got to have a drop-off today.'
"And he looked just as good as he did the three days prior."
Nathan's dominance and Texas' ninth-inning consistency is even more notable given that this has been such a wildly inconsistent year for closers.
The Yankees' Mariano Rivera, the Giants' Brian Wilson, the Royals' Joakim Soria and the Reds' Ryan Madson have been lost for the season to injury. The Nationals' Drew Storen, the Rays' Kyle Farnsworth, the Red Sox's Andrew Bailey, the Blue Jays' Sergio Santos and the Padres' Huston Street are injured. The Marlins' Heath Bell, the Cubs' Carlos Marmol, the Angels' Jordan Walden and the Nationals' Henry Rodriguez are among those who have lost their jobs due to ineffectiveness (Bell since has been re-installed).
"His stuff is good and crisp, and he's using all of his pitches," Rangers manager Ron Washington says. "If we can get one of our pitchers into the sixth inning, we've got a pretty good threesome to go to from there."
In
Alexi Ogando
,
Mike Adams
and Nathan, it set up pretty good on paper this spring.
But with Nathan passing every test so far, the Rangers are dominant in the late innings.
"I think I am" as good as ever, Nathan says. "What are you looking at? Velocity? Then I'm back. It's been 92 to 96. My velocity on the breaking ball has been the same.
"Last year, the pitch that did not change a lot was my breaking ball. My slider needed some work. Last year really helped. I know I didn't have my fastball, but my breaking balls didn't get hit too often."
In 48 appearances in his final season with the Twins in 2011, Nathan was 2-1 with 14 saves and a 4.84 ERA.
"It gave me confidence," he says. "I'm a big believer in getting something positive out of a negative thing."
All indications in 2012 are, he did. And now, so are the Rangers.