Rangers get rotation help with Feliz out: Oswalt deal done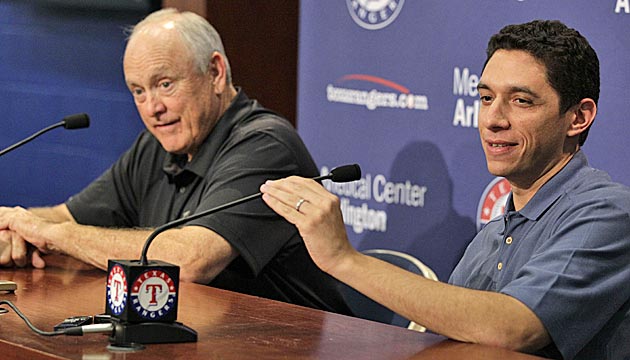 Rangers president Nolan Ryan and GM Jon Daniels have not indicated how they plan to use Oswalt. (AP)
Roy Oswalt is back in business, and the Texas Rangers have a reinforcement on the way with Neftali Feliz on the disabled list.
Oswalt and the Rangers have agreed to a deal that will pay the veteran right-hander $5 million for the rest of this year, with $1 million available to him in incentives, according to sources with knowledge of the deal.
The deal speaks to Oswalt's desire to win a World Series and to his affinity for Rangers president Nolan Ryan: Oswalt had better offers on the table from the Dodgers, Phillies and Cardinals, according to a source with knowledge of the talks.
The Red Sox and Orioles also were among those clubs in pursuit of Oswalt. But the career National Leaguer was very choosy about where he would pitch in the American League, and preferred to avoid the AL East.
Oswalt was 9-10 with a 3.69 ERA with the Phillies last season. At 34, he's reached that creaky point where health always is a concern: Last season, he was disabled twice with back problems.
He has told friends he would like to be pitching in the majors by June 15, as colleague Jon Heyman has reported. There is no word yet as to the Rangers' plans for him. That date could be pushing it, though Oswalt is said to have been working out and throwing hard at home in Mississippi for the past several weeks.
Texas long has been a preferred landing spot for Oswalt, given his respect and admiration for Hall of Famer Ryan. But during his talks with the Rangers last winter, they had so much starting pitching depth that they didn't have room for him.
He spoke with several other clubs during the winter and spring, including the Angels, who, according to sources, were very close to signing Oswalt. But by then, Oswalt had reservations about leaving his family for an extended period of time, especially to play with a team so far from his Mississippi home.
That pull now no longer exists, because with school out, Oswalt's wife and children can join him in Texas for the summer.