Illness latest reminder to Rangers: Long-term planning with Hamilton comes with risk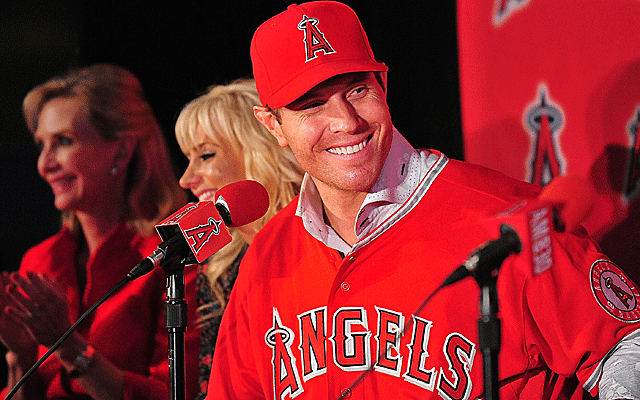 Josh Hamilton returns to the Rangers' lineup after being hospitalized with an intestinal virus.
(Getty Images)
Josh Hamilton returned to the Rangers on Tuesday night. Texas is back in business.

Ron Washington can relax again when writing the lineup. Elvis Andrus again will see more fastballs and fewer breaking balls. Hamilton undoubtedly will resume swatting big flies and Texas, now a season-high 15 games over .500, can reach even greater heights.

Yes, the Rangers are back in business.
But where oh where, eventually, will that business lead?
With Hamilton's return comes certain thunder and lightning at the plate ... and his continuing drumbeat toward free agency.
With his absence came the latest reminder of the danger of a making him a gazillion-dollar, long-term commitment.
For all of the oohs, Hamilton also brings a lot of aahs ... more than a few of which turn into ouches.
If you were told that a premier major-league player had been hospitalized with an intestinal virus and was receiving fluids, odds are it wouldn't take you long to guess which player.
The virus that hospitalized and knocked Hamilton out for three games rampaged through his family. Earlier this year, he sat out a series in Toronto with back stiffness.
Hamilton knows what you're thinking. He knows what the Rangers probably are thinking.
But as he lay in that hospital bed, he said thoughts of his own fragility never occurred to him.
"It always goes back to what I tell everybody," Hamilton told me Tuesday. "I play 30 games less than everybody else, but I'm still putting up the same numbers -- if not better."
So I'm not worried about playing 160 games or playing 150. I just want to be healthy enough to make a playoff run, and finally be healthy for the playoffs."
As the Rangers lost a heartbreaker of a World Series to St. Louis last fall, Hamilton, by his own estimate, was only at about 50 percent physically because of a sports hernia. He had that fixed in November. In 2010, he missed most of the season's final month with a rib cage injury and still was named as AL MVP. His 133 games played were the fewest for an MVP since Barry Bonds played in only 130 in 2003, and the sore ribs continued to hamper him into October. Against the Giants in the World Series, he batted only .100 (2 for 20) with one homer and one RBI.
So, if you were the Rangers, would you offer your treasure chest this winter in a deal comparable to, say, Albert Pujols (10 years, $240 million) or Alex Rodriguez (10 years, $275 million)?
Or do you lower that several notches because you view him as an old 31-year-old with a risky transmission?
Hamilton does everything with a flourish, including physical ailments. He hasn't played in more than 133 games since 2008. His list of injuries over the years reads like something out of a medical school journal: Right humerus bone, right wrist, gastroenteritis, right knee, lower back strain, left quadriceps, rib cage, left elbow, left shoulder. Then there's his well-known addictions -- to crack, cocaine and alcohol -- that kept him in the gutter for years before his heroic comeback.
Yet. ...Less than a week after sitting out the Toronto series, Hamilton surged into an all-time power display when he crushed four home runs in one game in Baltimore, produced six homers and 16 RBI in a six-game span and finished the month of May with an astounding 12 homers and 32 RBI.
Coming back Tuesday night in San Diego, he figured running the bases would be his most difficult task because "you don't have time to recover. Playing the outfield, you do. When you're batting, you can step out."
Nevertheless, he turned on the afterburners for a stand-up triple in the third that knocked in two runs. Then, before he had time to catch his breath, he was sprinting across the plate on Adrian Beltre's fly ball to medium right field.
Rangers president Nolan Ryan predicted in May that it would be sometime in November or December before negotiations between Hamilton and the Rangers turn serious. Sources close to the Rangers predict that, in the end, Texas will sign him and what has been a very good relationship on multiple fronts will continue. But you never know. The Cubs? The Orioles? Free agency is Crazy Season.
Just when you begin to rack up the number of games Hamilton has missed, he roars back, and there is no question this guy is the best all-around talent in the majors. "A freak show," says one American League executive, who means that as the highest compliment.
But just when you expect him to carry the Rangers to their first World Series title, he slams into a wall ... or suffers a sports hernia.
"Do you miss Hamilton?" Washington asked. "Of course you do. But one guy don't make our team. Everybody in that clubhouse makes our team."One guy don't make this team. He can't do what he does if the other guys don't do what they do."
It's worked, beautifully, for Hamilton's five seasons in Texas. And it's worked spectacularly for the past two as the Rangers became the first AL club to play in back-to-back World Series since the 1998-2001 Yankees.
Even football fans in Texas have fallen in love with baseball. Go to a game, and you'd swear Arlington was a baseball town.
The Rangers themselves currently aren't concerning themselves with where Hamilton may be playing a year from now, or how much money contracting intestinal viruses or sports hernias should or shouldn't cost him.
"You want him as a teammate," Andrus said. "You sure don't want to play against him."
"I don't worry about it," said Beltre, who signed with the Rangers over the Angels two winters ago because, in his opinion, Texas was closer to winning a World Series.
"We're all playing this year to accomplish what we want to accomplish, which is to win the World Series."
Then comes the real business ... and the spoils.Or, the spoils ... and the real business.