Two groups push to buy Padres, sale could be agreed to by All-Star break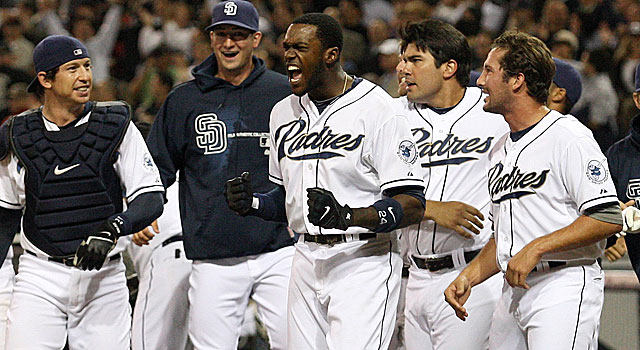 Owner John Moores' asking price for the Padres is in the neighborhood of $800 million.
(US Presswire)
Is the O'Malley family close to returning to baseball ownership, a couple of hundred miles south of where they built their hardball legacy in Los Angeles?

Negotiations to purchase the Padres continue to push forward and now essentially are down to two principal groups talking with owner John Moores, with optimism that the sale will be agreed to before the All-Star break, sources with knowledge of the talks told CBSSports.com.

This does not preclude a third or fourth party from entering talks with an eleventh-hour bid, one person familiar with the negotiations emphasized Friday. But indications are a deal is close, and it's down to two finalists.

As of now, the O'Malley family and Gary Jabara, who runs an Orange County, Calif., communications empire, are the two entities in position to purchase the Padres from Moores, who remains a motivated seller. The two groups are working through financial details and negotiating on a final sale price, according to sources. Moores, who had agreed to sell the club to Jeff Moorad in March, 2009, for about $580 million.

With a new local television deal with Fox Sports San Diego in place, Moores' asking price now is in the neighborhood of $800 million.

Peter O'Malley is the former longtime owner of the Dodgers and, though he remains Los Angeles through and through, he is interested in purchasing the Padres for his children and those of his sister. Golfer Phil Mickelson is part of the O'Malley group and was in the stands at Petco Park for a game last week against the Rangers.

Jabara is associated with several companies and is has been described as a communications "magnate."

Padres fans hoping for a quick sale that will pull the team out of its current malaise be cautioned: The transfer of the club from Moores to a new owner will not necessarily be immediate upon the announcement of a sale. Major league baseball likely will require a couple of months to complete background checks and financial studies before approval.
The earliest the club would transfer to a new owner likely would be the owners' meetings scheduled for August.