Dickey may ride knuckleball all the way to All-Star start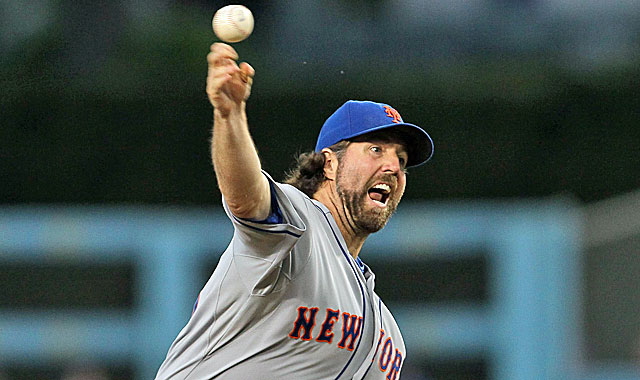 Dickey improves his record to a major-league best 12-1.
(US Presswire)
LOS ANGELES -- With each fluttering, floating, free-styling knuckleball, R.A. Dickey is framing an already highly intriguing conversation even more clearly.

Has he pitched his way to the front of the line among the pitchers National League manager Tony La Russa will look at to start next month's All-Star Game?

"Man, just getting to the All-Star Game would be fantastic," Dickey said after pitching the Mets to a 9-0 whitewashing of the Dodgers here Friday night.


More on Mets-Dodgers
Stories
For every knuckleball that was whacked by the Yankees last Sunday, leading folks to say "Oh, come on" ... there was a gorgeous knuckler to answer against the Dodgers.

In eight dominant innings, Dickey lowered his ERA to 2.15, third in the NL, and ran his record to a major-league best 12-1.

As sparkling as Gio Gonzalez, Stephen Strasburg, Matt Cain and the rest have been this summer, and as much as Buster Posey and Yadier Molina may cringe at catching the darned pitch ... Dickey at this point deserves the starting assignment as much as anyone else -- and, quite possibly, more than anyone else.

"It would be a tremendous honor," he said. "I think it would give real legitimacy to the knuckleball. A lot of people think the knuckleball is a gimmick.

"I'd like to prove it's more than that. Nobody likes to be demeaned. A lot of fans out there demean the pitch as a way to explain it."

There is no more demeaning this pitch. Not the hard, "angry" knuckler Dickey throws. He's now won 10 consecutive decisions, and he's produced a 1.54 ERA during this run. He whiffed 10 Dodgers on Friday, the fifth time this season he's hit double digits in strikeouts.

Dickey's 116 strikeouts rank second in the NL, behind Strasburg's 118.

Mets manager Terry Collins says La Russa has not yet phoned him to inquire about Dickey but said he "wouldn't be surprised when all is said and done and named if Tony called me to talk about him."

As Collins said, aside from the Yankees game on Sunday, he hasn't seen many good swings against Dickey from anyone this season.

At 37, with nearly two decades as a pro behind him, it's almost unimaginable Dickey not only is in line to make his first All-Star appearance, but to start the game.

"It gives everybody that ever played this game and had to deal with adversity and finally got here a ray of hope," Collins said. "All the guys hanging on in the minor leagues and looking for a cup of coffee ... you reach down inside, it's something to hang onto.

"The fact that it can be done, that you can achieve great things if you put your mind to it."

Your mind, and maybe even your knuckles.

"Amen," Dickey said. "If I can alter the picture with my performance, that's a real honor."

A lot of people in his own life, he said, have represented that ray of hope.

And now that ray extends out from here to Kansas City. What a story.