Badly in need of offensive help, Orioles hope Thome becomes their homey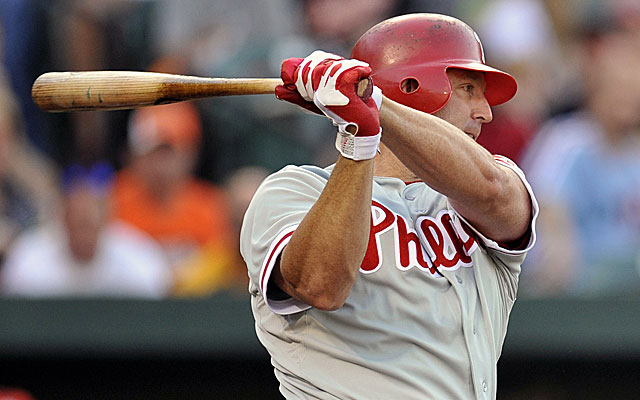 Even at 41, Jim Thome will be a valuable addition to Buck Showalter's Orioles.
(US Presswire)
Jim Thome can only bring good things to the Orioles, who are in need of a bat and looking at every conceivable option to parlay their shockingly good start into a summer-long ride.

His bat, clubhouse presence, veteran leadership, revered character ... there is a reason why Thome has been beloved at every stop along his highly decorated, 22-year career. There is a reason why his five-city tour through the majors has included encores in both Cleveland and Philadelphia.

As much as anybody playing today, Thome has always left 'em wanting more. More moon-shot homers. More wise clubhouse chats. More photo ops with fans.

Even at 41, Thome will be a valuable addition to Buck Showalter's Orioles, whose fantasy season is threatening to crash-land in the wake of injuries to Nolan Reimold (neck, out until at least mid-July), Nick Markakis (hand, out until after the All-Star Game) and Nick Johnson (wrist, out until late July). Toss in outfielder Endy Chavez (hamstring, out until mid-July) and it's a wonder the dogged Orioles remained in second place, just four games behind the Yankees, entering Saturday's games.

Credit general manager Dan Duquette with not waiting to pull the trigger. Offense for Baltimore lately has become a volunteer activity: The Birds have scored more than three runs in just two of their past 13 games. Over the 13 games into Saturday's, the O's were taking their nickname far too literally, batting just .120 (9 for 75) with runners in scoring position.
Almost as bad, Baltimore designated hitters rank ninth in the AL in slugging percentage (.439), eighth in batting average (.258) and tied for eighth in homers (10). And, as a team, the Orioles are hitting only .235 with a .296 on-base percentage against right-handed pitchers.
In 50 plate appearances against right-handers this season, Thome is hitting .262 with two homers and 10 RBI.
With his fatherly presence, Thome can turn boys into men and mediocre fastballs into home runs. The only place a club could even consider using him every day is at designated hitter. So blame the Phillies for leading him to the one place in all of baseball he never should have been at 41: The National League.
Phillies general manager Ruben Amaro Jr. admitted as much on a conference call with Philadelphia beat reporters on Saturday.

"To be frank, when it was very evident he wasn't able to play first base for us, it was difficult to carry this type of a player on our club," Amaro said. "We tried to do it with Ross Gload last year. He played limited first base. It ties our hands.

"That said, Jim was going to be, and has been, a guy that was a threat for us. We were hopeful we would have him play enough on our club to stay sharp. It didn't work out."

Thome and Philadelphia manager Charlie Manuel have conducted one of the game's longest-running bromances, but even at that, Thome couldn't do much more than produce a gleam in the old skipper's eyes. In Philadelphia's grand plan, Thome would be in the mix at first base early this season while Ryan Howard recovered from Achilles tendon surgery. But given the condition of Thome's back, he was at risk to break down every single time he bent over to pick up a ground ball.

As it is, Thome was disabled with a back injury after just 18 at-bats this season. He returned earlier this month and, for the season, was batting .242/.338/.516 with five homers and 15 RBIs in 30 games.

The Camden Yards warehouse will seem like a chip shot to him. In an interleague series earlier this season, Thome went went 6 for 13 with four RBIs in a three-game series. No doubt, that series alone tempted Duquette to blow through his cell phone monthly minutes plan.

Now, the future. Which is sort of a funny thing to say about an old-timer like Thome, who tied Sammy Sosa for seventh place on the career list with his 609th home run earlier this season.

But that's exactly where Thome figures into the Orioles' plans as they claw to stay in the AL East race for the first time in forever, and exactly what remains questionable in Philadelphia. With another loss in Miami on Saturday, the Phils completed a 9-19 month of June, their worst month since they went 9-20 in September, 2000.

"This wasn't a trade that had anything to do with a message," Amaro told the Philadelphia reporters. "This is a trade that is beneficial for us later on and, hopefully, beneficial to Jim.

"If people think this is the start of us selling players off, that's incorrect. We are in a tough spot because we have no played well and are behind. But we're not throwing in any towels."

The Orioles? They hope this is just the start.