Lingering knee soreness could keep Joey Votto from All-Star Game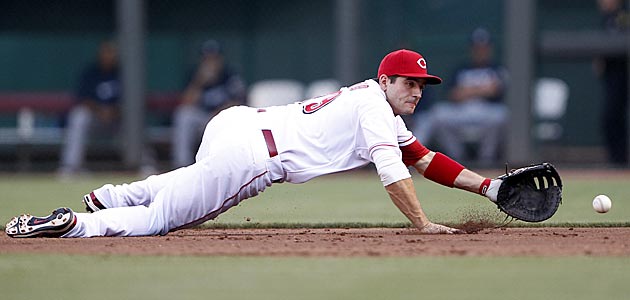 Joey Votto, a Gold Glove winner last year and NL MVP in 2010, might have to pass on the All-Star Game. (US Presswire)

LOS ANGELES -- Reds slugger Joey Votto sat out a second successive game with a sore left knee Monday. And though both Votto and the Reds are confident that the first baseman will not be disabled, lingering soreness could become a tremendous source of irony for Cincinnati.
Might a club griping about having a couple of All-Star snubs ... wind up nixing one of the players it is scheduled to send to Kansas City?


"Yes," Cincinnati general manager Walt Jocketty said of the possibility of holding Votto out of the All-Star Game if his knee hurts. "The All-Star Game is important. But our season is more important."

Under the mandatory participation clause in the new Collective Bargaining Agreement between the players and the owners, it more difficult for a player to skip the All-Star Game short of a significant injury. Either the player has to miss both of his team's Saturday and Sunday games before to the All-Star Game, or a team doctor must certify that the player needs time off because of a "chronic injury or condition."

Votto said Monday that he feels better, but "not much better."

"It's improved," he said. "Not to the point where they're comfortable with me starting. Ultimately, it's how I feel and whether the knee reacts positively."

Monday's was only the third game this season that Votto did not start. He left Saturday's game in San Francisco with inflammation in his left knee, an injury that occurred when he slid into third base during Friday night's game.

He currently is on pace for a major-league record 68 doubles, which would break Earl Webb's 81-year-old record of 67 set in 1931. Since May 25, Votto leads the majors in hitting (.419), doubles (16) and on-base percentage (.504). He has reached base via a hit or a walk in 71 of 76 games.

Manager Dusy Baker said the Reds will "give him whatever time we think is necessary" to heal. Votto said he would be "surprised" if he were to end up on the disabled list. But he also understands the importance of taking an extra day or two before returning to the lineup if he needs it.

"We've got a long season to go," Votto said. "I don't want to risk banging up the knee some more because of it."
If Votto's knee does preclude him from playing in the game, the NL starting first baseman would be ... Bryan LaHair of the Cubs. The start automatically goes to whichever player finished next in the players' poll.