Dodgers acquire Hanley Ramirez from Marlins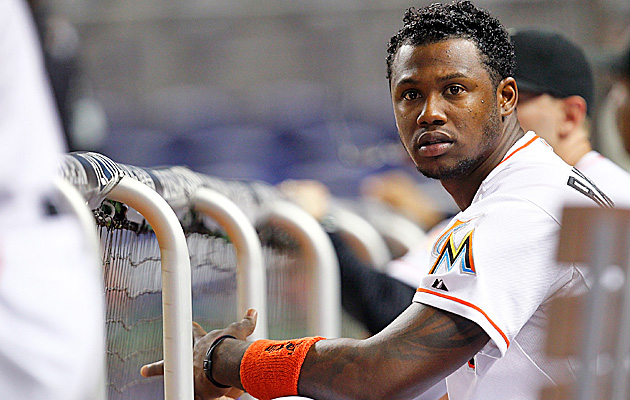 The Dodgers are reportedly picking up the remainder of the $38 million Ramirez is owed through 2014. (Getty Images)
In a dramatic and blockbuster move overnight Tuesday, the Dodgers acquired All-Star Hanley Ramirez and left-handed reliever Randy Choate from the Marlins in exchange for young right-handed starter Nate Eovaldi and minor-league pitcher Scott McGough, sources told CBSSports.com.

The move strengthens the Dodgers for the pennant race, furthers the shocking dismantling of a disappointing Marlins club and sends an already overheated trade-deadline week into the stratosphere.

The Dodgers, who also have been talking with the Cubs about starting pitchers Ryan Dempster and Matt Garza, have been searching for an impact bat to go with sluggers Matt Kemp and Andre Ethier. Buoyed by new ownership that took over the club at the beginning of May, the word at Dodger Stadium was that, while the Dodgers were not exactly overloaded with prospects to deal, the new owners had deeper pockets and would approve an expensive acquisition or two.

Bingo. Ramirez is owed roughly $38 million for the rest of this year, 2013 and 2014, and it is believed that the Dodgers are picking up the entire tab. He will play "wherever the Dodgers need him" to play, one source said, meaning both shortstop and third base are possibilities.

Ramirez has been Miami's longest-running soap opera, a highly-talented diva who has repeatedly clashed with his superiors with the Marlins. Most recently, he angrily punched an electric fan in the dugout and cut up a hand, which caused him to miss time and manager Ozzie Guillen to lash out at him.

A lifetime .300 hitter, Ramirez was batting just .246 with 14 homers and 47 RBI in 92 games for the Marlins.

Choate is a situational lefty who will give manager Don Mattingly bullpen depth.

In Eovaldi, the Marlins have acquired a talented young starter for a second consecutive day. They obtained Jacob Turner from the Tigers in a deal that sent Anibal Sanchez and Omar Infante to Detroit.

Eovaldi is just 1-6 with a 4.15 ERA in 10 starts for the Dodgers this season while receiving very little run support.
Even after this deal, the Dodgers still have both the interest and the wherewithal to acquire a starting pitcher, sources say. Meaning, there is the very real chance that Dempster, Garza or someone else will be headed their way in addition to Ramirez by Tuesday's non-waivers trade deadline.