A swing and a big miss, and it's another black eye for the Marlins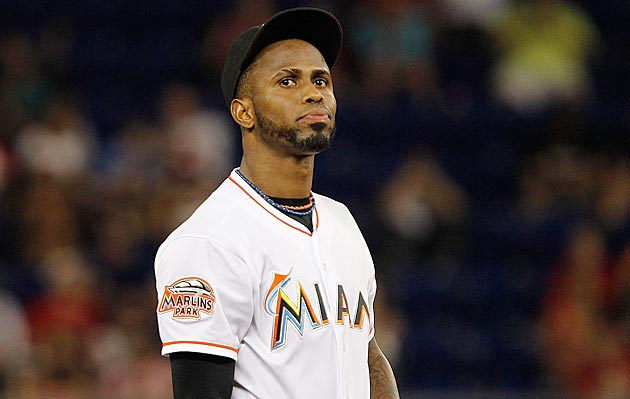 The Marlins spent big money for Jose Reyes, but the new stadium's not filling up and they're rebuilding again. (Getty Images)
The Marlins swung for the fences last winter ... and struck out this summer.
Now, as they dismantle a criminally underachieving and eminently unlikeable team, what's the responsibility of owner Jeffrey Loria to the South Florida taxpayers who paid good money to construct the fancy playpen the Marlins opened this summer?

The Marlins unloaded Hanley Ramirez to the Dodgers on Tuesday night, shipped pitcher Anibal Sanchez and infielder Omar Infante to the Tigers on Monday and are still listening to offers in their latest dramatic off-loading of players.

Even after the most pricey shopping spree in club history over the winter -- some $191 million on Jose Reyes, Mark Buehrle and Heath Bell -- and hiring controversial manager Ozzie Guillen, the season landed in the dumpster nearly before it began.

Baseball sources with knowledge of the club's thinking say that the Marlins aren't so much stripping the team for financial reasons as they're rearranging lots of furniture because the pieces don't fit.

Still, you can't help but believe disappointing attendance is triggering much of this as well.

On Tuesday, the Marlins ranked 11th of 16 National League clubs in overall attendance at 1,419,894.

On a per-game basis, it was even worse. The Marlins' average attendance of 28,398 ranked 14th in the NL.

So where's the responsibility here?

Did the Marlins fail their fans by putting together a losing and unlikeable team?

Or did a lukewarm fan base that is not exactly flooding the turnstiles at Marlins Park force the issue by their apathy and cause Loria to bail early?

Either way, it's another ugly chapter in Marlins history.

Either way, it's another embarrassing situation for Major League Baseball, which with each passing year looks like it made a bigger and bigger mistake by expanding into Florida in the first place.