Dodgers' Ramirez, energetic and healthy, swinging hot stick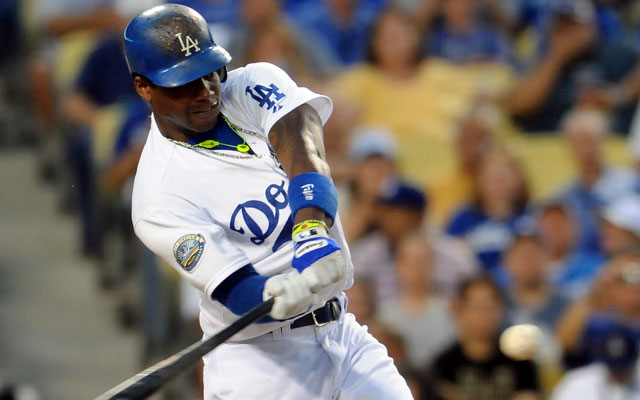 Since donning the Dodger blue, Ramirez is hitting .311 since a .368 on-base percentage.
(US Presswire)
LOS ANGELES -- He resides in the corner of the home clubhouse in Dodger Stadium, hanging his belongings in a locker that is out of the way and almost unnoticeable.

But what Hanley Ramirez has done in the month since the Marlins shipped him west is anything but unnoticeable.

Over his first 26 games in Tinseltown, Ramirez has knocked in 28 runs.

With Andre Ethier having a subpar second half (.245/.323/.331 and just two homers) and with Matt Kemp having had a rough past week (1 for 21), Ramirez's bat is helping keep Los Angeles steady. He's also hitting .311 with a .368 on-base percentage for the Dodgers, as opposed to .246 and .322 over 93 games with the Marlins.

One National League general manager says Ramirez has been a completely different player with the Dodgers, and observes that his energy level -- among other things -- is much better.

Ramirez's take? Among other things, he says his surgically repaired left shoulder is much better now than it was at the start of the year.

"It's getting better and better," says Ramirez, who underwent the surgery, performed by noted orthopedist Dr. James Andrews, last Sept. 15.

Ramirez says that doctors told him that he would have to endure much soreness through the initial phases of his rehabilitation, and that he would feel some degree of soreness through much of the first year.

That's what Ramirez is referring to when he says the shoulder is improving.

"Sometimes, it would slow my swing down because my shoulder wasn't 100 percent," Ramirez says. "But it's different now. No pain."

Ramirez says that the pain has significantly dissipated over the past month as he approaches the one-year anniversary of his shoulder.

"I can't complain," he says. "Everything is good."

The only drawback to the trade, he says, is that his family is back in Miami. But the Dodgers have "a good group of guys here," he says. "Everybody plays hard."

Marlins fans who remember Ramirez loafing at times in Miami should particularly enjoy that last comment.

As for Ramirez, hitting .464 with runners in scoring position since joining the Dodgers on July 25, he declines to discuss the past, preferring to only look toward the future.

A future, he hopes that includes a trip to the postseason.

"It would be my first time," he says enthusiastically.

And how much would that mean to him?

"Oh man," he says. "A lot."