Giants' Posey on comeback: 'I couldn't be happier with the way it's gone'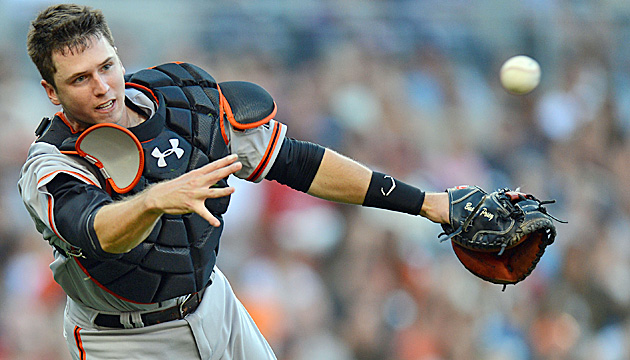 Posey looks like the favorite to win NL Comeback Player of the Year. (US Presswire)
With every day this season, Buster Posey has answered questions positively about his ankle that was severely and grotesquely injured a year ago May.

The answers have been so good, in fact, that Posey has blown right past Comeback Player of the Year talk and has plopped himself right into the thick of the NL MVP race.

"I couldn't be happier with the way it's gone," says Posey, who is hitting .327/.403/.538 with 19 homers and 79 RBI for the Giants this season. "I think if you asked our training staff whether they thought I'd have as many at-bats as I do, I don't think anybody would have thought I would."

Indeed, manager Bruce Bochy spent part of his spring trying to determine how often he should give Posey a rest from catching duties and play him at first base instead.

As things have turned out, Posey has been able to take on a bigger workload than anybody would have imagined. He has spent the majority of his time behind the plate, starting 87 games at catcher this season, 18 at first and three as designated hitter.

Since the All-Star break, Posey has made 29 of his 34 starts behind the plate, and 25 of his past 27.

But that's not what's most notable about Posey since the All-Star break. This is: The man has been the most difficult out in the majors in the second half of the season.

Since the break, Posey, is hitting .408 and has posted a .487 on-base percentage, both of which lead the majors. His .712 slugging percentage since the break ranks third in the majors, and his 36 RBI are tied for second in the bigs.

Posey, who sat out Wednesday's game in Los Angeles with tightness in his right hamstring, has pounded nine homers and 11 doubles in 35 games since the break and, at this pace, very well could follow up his 2010 NL Rookie of the Year award with an MVP award.

Overall, he's compiled 398 at-bats (462 plate appearances) over 112 games.

"I'd say we're even a little surprised at how well he's bounced back," Giants manager Bruce Bochy says. "It's a credit to Buster and to our medical staff."

Instead of counting Posey's games behind the plate, folks are more intent on counting how many games ahead the Giants are in the NL West. After sweeping the Dodgers in Los Angeles this week, that number is 2 1/2.

It's a far different life for Posey than it was last August, when he was still early in the rehabilitation process and changing diapers (twins Lee and Addison were born last Aug. 14).

"I've been fortunate," says Posey, who suffered three torn ankle ligaments and one broken leg in the play at the plate against the Marlins. "I've been able to play normal. Does it still get cranky? Some days, sure.

"But for the most part, it's all been good."