Dodgers must upgrade at first base -- either now, with Gonzalez, or soon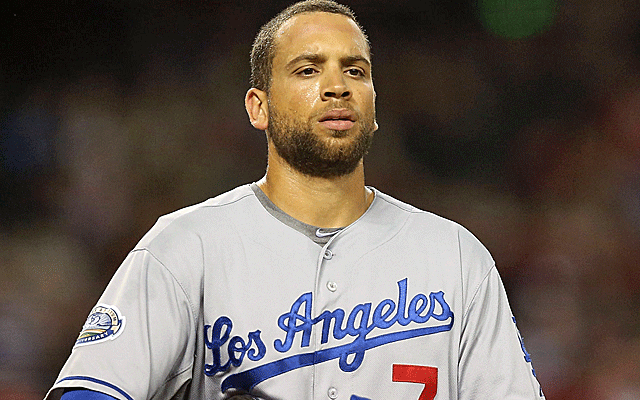 James Loney isn't giving the Dodgers what they need at first base.
(Getty Images)
Adrian Gonzalez isn't the power threat he once was, but he would be a significant upgrade to the Dodgers lineup at first base if they can pull off what would be another blockbuster summer deal.

Of course, "significant upgrade" for the Dodgers is a very relative term when it's applied to first base.

James Loney has been a crushing disappointment, and the combo of him and Juan Rivera employed this summer by manager Don Mattingly hasn't been much better.

Across the board in nearly every offensive category, Dodgers first basemen rank among the bottom three or four of the National League's 16 teams.
Some of the gory details: Dodgers rank 13th among NL first basemen in home runs (9), 14th in RBI (54), 14th in runs scored (45), 16th in on-base percentage (.289), 15th in slugging percentage (.352), 15th in OPS (.641) and 15th in total bases (169).

That's all bad enough on its own. It's even more non-productive when compared to the NL average. NL first basemen have combined, for example, for a .775 OPS. Loney, Rivera and Co. are more than 100 points below that mark.

As colleague Dayn Perry points out, some of Gonzalez's power numbers have been in decline since 2009. He's not hitting the ball as far this year as he once did, nor is he using the opposite field as often as he did in the past.


Put a steep price tag on that -- Gonzalez is owed more than $125 million -- and it unquestionably is a gamble.

Enter the new Dodgers ownership group, and evidence in the short term since it purchased the club that these guys aren't afraid to gamble. They claimed the Phillies' Cliff Lee, speaking of exorbitantly expensive players with declining numbers.

Aside from his age (30), the mystery of his power decline includes this chapter: Gonzalez underwent a significant surgery on his right shoulder following the 2010 season to repair his labrum. Still, he hit 27 homers and had 117 RBI last season for the Red Sox, and he participated in the Home Run Derby at the 2011 All-Star Game in Arizona.

Still, he's hitting .300/.343/.469 with 15 homers and 86 RBI for the Red Sox this season, which would rank him among the most productive hitters in Los Angeles. If the Dodgers were able to pull off the deal, for example, Gonzalez immediately would become their RBI leader. Their current leader is Andre Ethier at 69.

When the Dodgers added Hanley Ramirez and Shane Victorino to a lineup that essentially had been Ethier, Matt Kemp and the Seven Dwarfs, they figured it could be an NL West-deciding statement.

However, both Kemp and Ethier have struggled recently and rival San Francisco made an emphatic statement of its own this week by sweeping three games in Dodger Stadium, pushing Los Angeles to three games back in the NL West entering the weekend with just 37 games remaining.

With the Aug. 31 waivers deadline looming, the Dodgers clearly are continuing to look for ways to close that gap.