Gonzalez investment begins paying immediate dividends for Dodgers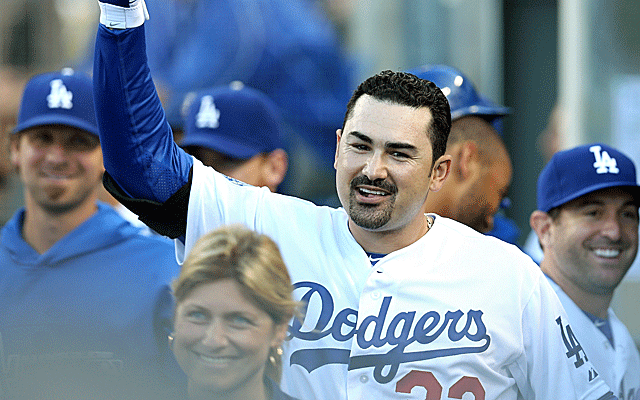 Adrian Gonzalez is back at home in Southern California.
(Getty Images)
LOS ANGELES -- The e-mail popped into owner Mark Walter's in-box Friday shortly after 10 a.m. It was from general manager Ned Colletti, and Walter froze.

One click, and the revelation would be the difference between spending millions more dollars and unlocking a potential avenue to the World Series ... and little more than a loud foul ball.

Colletti had been talking off and on with the Red Sox about Adrian Gonzalezsince April. The Dodgers took a strong run at acquiring him at the July 31 trade deadline, just as Colletti had taken another run at the big first baseman when he was still with the Padres, but the Red Sox weren't budging.
More on Gonzalez, trade
Related links
"A couple of times in the last few months, your hopes started to rise," Walter said. "And then they'd get dashed. Three or four times it had happened."

Now, the Red Sox were budging. Following Thursday night's humiliating 14-13 loss to the Angels, they had fallen to 13 1/2 games out of first place and the air was gone from their season. The Dodgers knew this, knew Boston was ready to deal ... but, frankly, could not believe that Gonzalez and Josh Beckett would clear waivers (Crawford, injured, already had).

Now, here came Colletti's e-mail, Walter knew it contained answers.

"I bet I let it sit there for 30 minutes," Walter said, smiling. "It's fun to dream."

Dreaming was all that Dodgers fans could do under old owner Frank McCourt, who dragged the club into bankruptcy and turned the franchise into a Banana Republic. By the end, the choppers were dropping in over the hills and troops had him surrounded.

Now, by the time Walter opened that e-mail telling him that waivers had been cleared, Colletti, buoyed by a new ownership with pockets as deep as Santa Claus' generosity, had sprung into action.

The results ... well, you know the results by now. Ain't no dream.

Either the Dodgers have a printing press rivaling that of the U.S. Mint stashed somewhere near the mailroom, or George Steinbrenner has been reincarnated as Magic Johnson and Guggenheim Baseball ownership.

"We did this for our fans," the Magic man said at a news conference Saturday afternoon. "Of course we want to win now."

The pinch-yourself moment came not when the chartered plane the Dodgers sent to retrieve their new players from Boston landed in Los Angeles around 3 p.m. Saturday, nor when Gonzalez, Beckett and Nick Punto walked into the clubhouse here at 4:10.

It came when Gonzalez tied into Josh Johnson's 0 and 1 pitch in the first inning and hammered it into the second deck in right-field for a three-run homer, becoming just the sixth player in Los Angeles Dodgers history to homer in his first at bat wearing the uniform of Jackie Robinson and Tommy Lasorda.

"A lot of adrenalin," Gonzalez said following an 8-2 Dodgers win that pulled them to within two games of the first place Giants in the NL West. "Getting warmed up in the on-deck circle, my mentality was just to try and get the guy in from third base, try to get a fly ball."

"Pretty cool, really," manager Don Mattingly said. "The fans, right away, were excited about him being here.

"It's storybook."

Since July, the Dodgers have added nine new players in trades: Gonzalez, Beckett, Punto, Carl Crawford (who is out until next year following Tommy John ligament transfer surgery), infielder Hanley Ramirez, outfielder Shane Victorino, starter Joe Blanton and relievers Randy Choate and Brandon League.

Before any of that, hyperactive and with open wallets, they had a deal with Houston for Carlos Lee, but Lee invoked no-trade powers. Then tried to work a deal with the Cubs for Ryan Dempster but couldn't (partly because they wouldn't include Webster, who went to Boston in Friday's deal). They took a run at the Phillies' Cliff Lee.

They are now obligated to pay some $261 million to Gonzalez, Crawford and Beckett beginning in 2013.

They are on the hook for $292.5 million to those three plus Ramirez.

Add the deal Andre Ethier signed in June (five years, $85 million) plus the signing of Cuban defector Yasiel Puig earlier this summer, and new ownership has committed some $432 million just this summer.

"When we came in, we made it clear that we wanted to build the Dodgers back to what they once were," said president Stan Kasten, a part of the ownership group. "

That's all well and good, except ... the old Dodgers were never this loaded with dough.

"We made the deal we felt comfortable with," Kasten said.

Throughout the industry, they're still attempting to scrape jaws off of floors.

In the NL West, you'd better check emergency rooms in San Francisco, Phoenix, Denver and San Diego. You're liable to find a few rival executives in Intensive Care Units.

In their zeal to acquire Gonzalez, the Dodgers left no check unwritten. You're so hot to acquire Gonzalez, the Red Sox said. Fine. But you're taking Beckett and Crawford, too.

"Who takes on a $100 million deal for a guy who just had Tommy John surgery?" one incredulous industry source asked.

No problem, said the Dodgers. They had no pause, even considering that Gonzalez's power has been declining for the past couple of seasons (from 40 in 2009 to 31 in '10 to 27 in '11 to 15 through 124 games this year). But he still had 117 RBIs last year, and now has 89 so far this summer. In that first at-bat, his power looked just fine.

"When he was in San Diego, I never looked at him as a home run guy," Mattingly said. "I looked at him like a guy who drives in runs. He has a pure swing. Smooth, direct.

"I never looked at him as a home run guy. I looked at him as a guy who used the whole field and drove in runs."

So do Mattingly's bosses, which is why Gonzalez, Beckett and Punto were ferried across the country so they could be here by first pitch Saturday. There is no time to lose. The days are ticking away, and the Dodgers are playing from behind.

In Gonzalez, Crawford, Beckett, Ramirez, Victorino and League, the Dodgers added a combined total of 17 All-Star appearances to their clubhouse over the past four weeks. When you pay $2.15 billion for the club, it's how you roll.

It is a new world order, and there's no telling what's next the way things are going around here. Probably by tomorrow, the Dodger Stadium concourses will be re-modeled in precious metals, and the Dodger Dogs will come in 24-karat gold wrapping.