White Sox hold first place as rain chases finale with Tigers into next week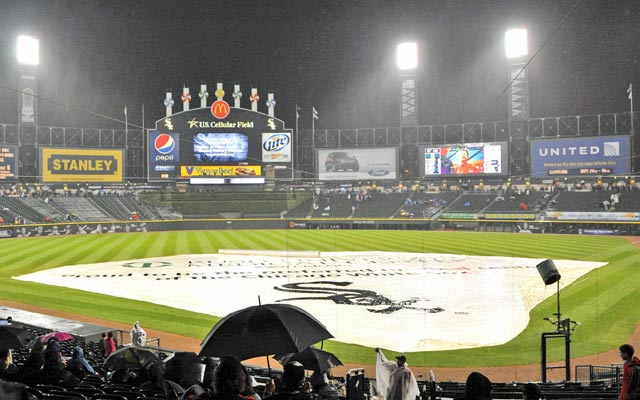 With the help of Mother Nature, the White Sox miss Tigers ace Justin Verlander.
(US Presswire)
CHICAGO -- Verlander vs. Sale ... and pray for no hail?

Turns out, the last head-to-head matchup between the Tigers and White Sox is not this week.

In a baseball season chaotically careening toward the finish line -- here come the Phillies and Brewers? How about those Athletics and Orioles? -- Mother Nature threw a sharp breaking ball Thursday night into the AL Central race.

Following Thursday night's rainout, the Tigers and White Sox now will play a makeup game Monday afternoon at 1 in Chicago ... the White Sox avoid facing Tigers ace Justin Verlander one last time ... and each of these contenders now will play 20 games in 20 days to finish the season.

Advantage White Sox?

Tigers?

Who can tell, the way this crazy season is going.

"We're in good position right now," Sox starter Chris Sale said. "We've just got to keep it going."

The second-place Tigers wound up taking two of three from the White Sox in what was supposed to have been a four-game series. They chopped Chicago's division lead to one game this week, but the Sox still got what they wanted: They said adios to Detroit while still in first place.

"I'd obviously rather just play," Sox catcher A.J. Pierzynski said. "We're here. We came. It kills our last off day of the season [Monday].

"I'd rather play."

The finale of this series, Verlander and Sale, was going to be a treat. Verlander won the AL MVP and Cy Young awards last year. Sale, Chicago's young (23) up-and-coming ace, had won eight consecutive home starts, during which he had produced a 1.20 ERA.

"I think it's a great thing for baseball," Tigers manager Jim Leyland was saying before the game. "It's good for the fans, TV, the talk shows to see two real good pitchers like this going at each other."

Leyland paused, grinned, and continued: "I can tell you, I'm not particularly tickled to death to have to face Sale tonight."

Wish granted. Now, the Tigers are expected to get Gavin Floyd again on Monday.

As things stood Thursday night, they expected to pitch Verlander in Cleveland on Friday night, followed by Anibal Sanchez and Rick Porcello, and the Sox will draw Doug Fister in Monday's makeup game.

The White Sox may have gained a slight edge in the rainout for two reasons:

1. They avoid Verlander, always a good thing for a Detroit opponent.

2. By Monday, maybe they'll have thumper Adam Dunn (oblique) back in the lineup.

Truthfully, however, the way the Kansas City Royals have spanked the Sox and the way the Cleveland Indians have taken it to the Tigers this season, all bets are off.

Verlander will pitch Friday in Cleveland ... and he's 0-2 against the hapless (against everybody else) Indians this season.

Meanwhile, he beat Sale 4-2 in Detroit on Sept. 2.

"I wanted to face him," Sale said Thursday night as the Sox dressed for their charter flight to Minnesota. "The time before didn't work out too well."

Sale's last chance washed away on a rainy, chilly night that felt like autumn moving in.

But for both of these teams, there was no choice but to digest it and move on.

"Everyone will be fresh now," Pierzynski said. "We'll have a fresh bullpen. An extra day off.

"Twenty games left. Three weeks. Let's go."