Nationals, Tigers, A's clinch on a night of champagne and crowns and ... Triple Crowns?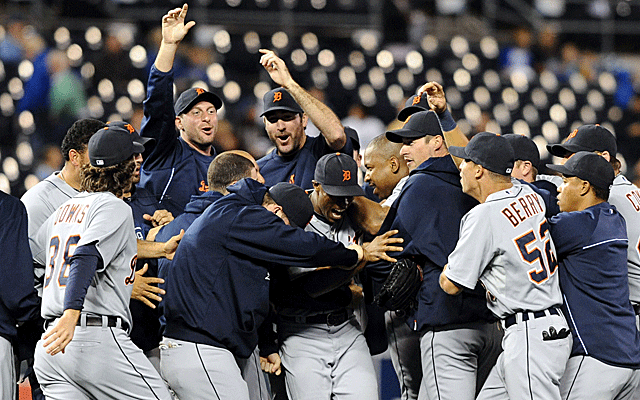 The Tigers will make back-to-back postseason appearances for the first time since 1934-35.
(US Presswire)
It was a night of champagne and crowns ... division crowns and, maybe, Triple Crowns.

It was a night for history and a night for anxiety.

The Nationals and Tigers clinched division titles on an evening hearkening back to the 1930s. Miguel Cabrera moved into prime position to win the game's first Triple Crown since 1967. The Athletics clinched a playoff spot with a win over Texas while simultaneously eliminating both the Rays and the Angels.

And the Rangers, A's, Orioles, Yankees, Cardinals and Dodgers -- barely -- all continue jockeying for position, some in better stead than others.

By night's end, what we had were nine of the 10 playoff slots locked up, including all five in the American League: Yankees, Orioles, Tigers, Rangers and Athletics. But the Yankees and Orioles still need to decide which is the AL East champ and which is the wild card entry, as do the Rangers and A's in the AL West.

Four of the five NL playoff slots will go to the Nationals, Giants, Reds and Braves. The Cardinals own a two-game lead over the Dodgers for the final NL wild-card slot with only two to play, thus leaving Don Mattingly's club with not much else to do but win and pray to Tommy Lasorda's Big Dodger in the Sky.

"Oh my God, unbelievable," Cabrera said after his Tigers clinched their second consecutive AL Central title, and after he produced another monstrous evening that put him first in the American League in batting average (.329), home runs (44) and RBI (137).

Speaking on the postgame victory celebration show on Tigers television, Cabrera continued: "We believe we can do it. There was a lot of expectations, [people saying] that we don't have a chance to catch the White Sox. But we did it.

"It's unbelievable. An unbelievable feeling, man."

You want unbelievable, it is starting to appear in multiple locations across the baseball map. Not only in Cabrera's 4 for 5 night that moved him ever so closer to becoming the first man since Boston's Carl Yastrzemski in 1967 to win a Triple Crown, but halfway across the country from the scene of Detroit's latest celebration, in Kansas City.

Over in Washington, D.C., eight years after a ragged band of Expos brought baseball back to the nation's capital for the first time since 1971 -- just four years after Yastrzemski's feat -- Davey Johnson, Jayson Werth, Bryce Harper and Co. hoisted the franchise's first-ever division flag.

Even though the Nationals would lose to the Phillies 2-0, they clinched when the Braves went down in Pittsburgh 2-1. At 96-64 and tied with the Reds for the best record in the majors' there was no concern with them backing in with a loss.

The Nationals have either led the NL East or owned a piece of first place for 163 of the season's 173 days, second only to the Rangers (170 days), who were attempting to clinch their third consecutive AL West title later Monday night in Oakland.

So we will watch a postseason game in Washington, D.C., this month for the first time since October, 1933, the same month a man name Albert Einstein fled Nazi German for the United States and a position at Princeton University.

And the Tigers will make back-to-back postseason appearances for the first time since 1934-35.

Of course, we've seen the Tigers playing in October a few times since, most notably in 1968 and 1984 (their two most recent World Series titles) and in 2006 (their most recent World Series appearance).

What we have not seen is a Washington team at this time of year, not since Joe Cronin's 1933 club fell to the New York Giants in five games.

This is the sixth team Davey Johnson will take into the postseason as manager, following the Mets (1986, 1988), Reds (1995) and Orioles (1996, 1997), and do you know what?

"This one's bigger than any of them," Johnson proclaimed on Nationals television during Monday night's celebration. "Because I grew up over here, they haven't had it here and they all deserve it."

They may argue with that in New York, Cincinnati and Baltimore, but they'd better dig in for that one. Just as hard as they're digging in from St. Louis to Oakland.

Crazy and wild, all over. And just the very first evening of October.