Indians hire of Francona their biggest win of 2012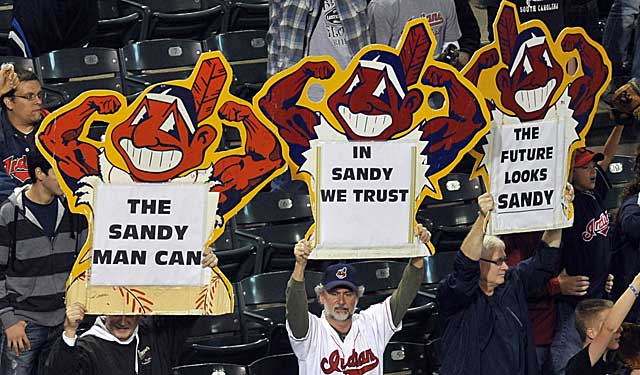 In the end, these Indians fans didn't get Sandy Alomar Jr., but Francona will do in a pinch. (US Presswire)
A year later, it's Terry Francona who looks pretty darned good.
And it's the Boston Red Sox who look pretty stinking awful.
We don't need to establish the latter, the Sox did a spectacular job of doing that themselves this year.
Turned out to be not as easy as simply dumping the entire mess at the door of the manager's office in Boston. And good for Francona, emerging cleanly and in one piece from the Fenway Park Scapegoat Dept. and Smear Campaign Room.
More on Francona to Indians
Stories
Cleveland is a great fit for Francona, and vice versa. Too bad things didn't work out for Sandy Alomar Jr., who would have been perfect as Indians manager and who presumably will be perfect as someone else's manager, and soon. But if you're the down-in-the-gutter Indians, how can you pass on Francona?
The Red Sox have won exactly two World Series since 1918, and Francona was pulling the levers for each. Guy handled his team, his bosses and the media with class, grace and intelligence for a sustained run in Boston, before suddenly everything became his fault. In some Red Sox Fantasyland narratives.
Now, Francona is tasked with turning water into wine, or, more accurately, chicken you-know-what into chicken salad, in Cleveland. The Indians haven't won a World Series since 1948.
Given what Francona did in Boston, how hard can it be in Cleveland?
Well-l-l-l-l-l-l. ...
The Indians aren't talking, not yet, not until Monday. But here's one thought: Francona surely didn't come cheaply, and he surely didn't come without soliciting a promise from owner Paul Dolan, whom Indians fans rightfully are ready to send into Lake Erie in a rowboat with no oars.
The guess here is, that Francona agreed to take over in Cleveland if Dolan agreed to shake more change loose from his pockets.

The Indians ranked 21st in the majors on opening day with a $78 million payroll, and 29th in the majors at season's end in attendance. Both a far cry from when they had it going in the early days of Jacobs Field in the mid-1990s.
The Indians' last World Series appearance, in 1997? They started that season with the fourth-highest payroll in the majors.
Now, it's not all about money, we know this, and this year's Oakland A's are only the latest example. As Indians president Mark Shapiro said at season's end, the club's crash-and-burn in August and September was an organization-wide failure.
Going into this season, Baseball America ranked the Indians' farm system 29th in the majors.
Last winter, they were out-bid by the Cardinals for free agent outfielder Carlos Beltran.
You're fallow in the minors, you're not a player in the free agent market, it's going to get ugly fast.
So here comes Francona, and let's see what changes in Cleveland now. No question, the job he's inheriting is a big one.
But as long as Dolan, Shapiro and Co. back him with the proper resources, this thing has a chance to work.