Beltran, Molina offer much different reaction than Feliciano received 44 years ago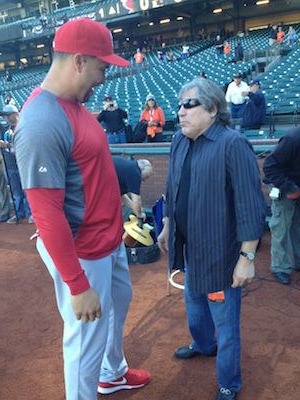 SAN FRANCISCO -- A slice of American history by way of Puerto Rico arrived here before Game 1 of the Giants-Cardinals NL Championship Series, and judging by the reaction from Carlos Beltran, Yadier Molina and several others, you bet music is the international language.

And you can be sure that when Jose Feliciano pulls out his guitar to perform the national anthem, the reaction will be vastly different from the one he received 44 years ago.

It was 1968 when the legendary, late Tigers broadcaster Ernie Harwell first heard an intriguing young Latin singer and recommended him to the ballclub for a national anthem before one of the World Series games.

So the Tigers brought Feliciano to Tiger Stadium to perform before Game 5 against the Cardinals. The reaction was swift, intense ... and ugly. Feliciano's interpretation -- done slowly and with Latin and jazz accents -- was the first non-traditional performance of the anthem in a national setting. In the upheaval of the Vietnam-era '60s, the result was outrage, and the singer quickly became a target.

"My records were even stopped from playing on the radio," Feliciano said here at AT&T Park after soundchecking a beautiful rendition of the anthem. "Nobody else dared do something different at that time.

"I didn't do it to cause controversy. It was my way of expressing my love for the United States. I'm proud to be Latin, but I'm also [very] proud to be an American."

The Giants asked Feliciano, 67, to perform at the last minute, of course. Because until midnight or so Friday, they had no idea they would be hosting Game 1 on Sunday. Feliciano, who lives in Connecticut, flew to San Francisco from New York on Sunday to perform.

On that frozen-in-time day in 1968, he flew to Detroit from Las Vegas, where he was performing. Harwell even wound up in hot water with the Tigers, and there was talk that he was close to being fired in the aftermath.

"They wanted to deport me from the United States," Feliciano said of some of the fans. "How can you deport a Puerto Rican from the United States? I was devastated when it happened.

"Now, everybody does it differently. I opened the door for people to express themselves. That's what this country is all about."

Feliciano and Harwell remained good friends for more than 40 years, and the Tigers brought the singer back to perform the anthem at a tribute game after Harwell passed away in 2010. He also performed the anthem on opening day this season in Florida when the Marlins debuted their new park.

Best known for his hits Light My Fire and Feliz Navidad, his latest record is entitled The Kingand features his interpretations of 12 Elvis Presley songs. Among his favorites: Teddy Bear, and I'll Remember You. He said he did every bit of the record by himself, at his home studio in Connecticut.

"I have the balls to do certain songs of Elvis' that no other artist will," Feliciano said, chuckling. "He's only Elvis."
Beltran and Molina were among a handful of players who warmly greeted Feliciano during batting practice.
And as for the baseball, Feliciano was crestfallen with Derek Jeter's season-ending broken ankle.

"I know Derek, not as well as I'd like, and he's devastated," Feliciano said. "I also really think Boston screwed up this year by trading their whole team away."