Little time to celebrate: Giants must prepare quickly for Tigers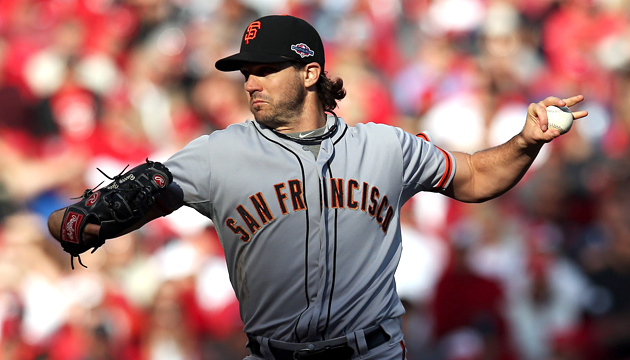 Barry Zito shut the Cardinals down in Game 5 of the NLCS. (Getty)
SAN FRANCISCO -- So the Giants win the pennant, the Giants win the pennant ... and now they get the Tigers in the 108th World Series beginning Wednesday.

What's amazing, among other things, is that the Giants started as the New York Gothams in 1883, the Tigers have been playing baseball in Detroit since 1901, the first World Series was played in 1903 ... and the Tigers and Giants have never met in a World Series.

"I'll have to learn a lot about them real soon, to be honest," San Francisco manager Bruce Bochy said late Monday night. "I was totally focused on [the Cardinals]. And now we have to turn the page because we're playing a game here in a couple of days.

"So I'll come in early tomorrow and get to work."

First question facing the Giants is their Game 1 starting pitcher. The Tigers, who will come in with close to a full week's worth of rest, have ace Justin Verlander lined up.

The best guess regarding the Giants' Game 1 starter is Barry Zito, with Tim Lincecum remaining a possibility.

The betting is on Zito, given that he is coming off of 7 2/3 shutout innings against the Cardinals in Game 5 of the NL Championship Series and the Giants continue to rave about how he pitched the game of his life.

"It just feels good to be able to deliver for the San Francisco Giants," Zito said in the delirious clubhouse late Monday. "I'm very grateful that I had the opportunity to do that."

As for Game 1 against the Tigers, Zito essentially said, "Beats me."

"I don't really know what's going on yet," he said. "It's such a blessing to be able to have the opportunity to help this team. That's what I'm so adamant about."

Bochy said he will meet with pitching coach Dave Righetti and general manager Brian Sabean on Tuesday to figure it out.

"We'll talk about how we're going to work the rotation," Bochy said. "But right now, I can't answer that."

Bochy, by the way, has some World Series experience against the Tigers. As a backup catcher for San Diego in 1984, he went 0 for 1 as the Tigers steamrolled the Padres in five games during that World Series.

As for the 2012 Tigers, he's familiar with them more on a general basis.

"I know what a great club they are," Bochy said. "And we know all about the guy we're going to be facing [in Game 1], and their whole staff.

"They swept the Yankees, that tells you how good they are. But it's similar to St. Louis. I mean, they have such a great lineup. We're going to need to pitch well. We know it."