Firing Ozzie speaks more to Marlins than it does to Guillen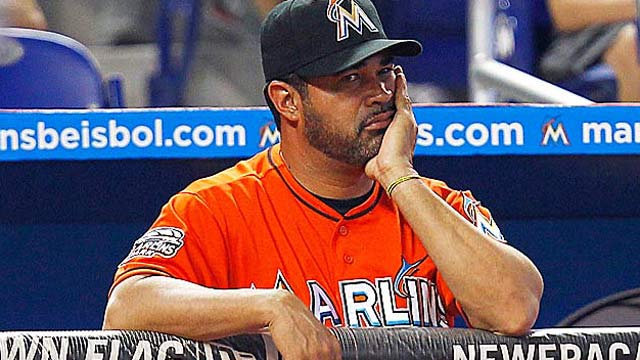 Ozzie Guillen, fired after one season in Miami, is owed $7.5 million over the next three years.
(US Presswire)
Any other team, this decision comes within days after the season ends.

Leave it to the Marlins to bide their time, let three weeks pass ... and then decide to fire manager Ozzie Guillen.

He lost no more games during those three weeks. He uttered no more philosophical ramblings about Fidel Castro since the regular season ended. He fired no more verbal shots at Heath Bell or anybody else.


More on Marlins
Related links
These are the Marlins, and this is the way they do things. Scattershot. Lurching into the future, vision as foggy as Mr. Magoo's, making things up as they go. Even when they produce a long-range plan, as they did last winter on the brink of moving into a new ballpark, it burns to ashes.

The "perfect fit" for South Florida turned out to be a public relations disaster on Day One, when Guillen professed his admiration for Cuba dictator Fidel Castro. The area's strong Cuban community -- including many Marlins fans -- went ballistic.

Things only got worse. By July, the Marlins were ripping apart their club-record payroll team. By September, they were crashing-and-burning to a humiliating 69-93 record, finishing 29 games -- twenty-nine! -- behind the Washington Nationals.

Was all of this Ozzie's fault? No.

Was a Giancarlo Stanton-sized home run portion of it Ozzie's fault? Yes.

This bizarrely strange chapter fits right into the Marlins' history book, right alongside the time in 1997 when a U.S. Navy Seal was to parachute into Pro Player Stadium in a Billy the Marlin outfit but lost the head on his way down. The Seal landed outside the stadium; the head was found near the Florida Turnpike some two months later.

See? From the beginning, this has been a headless franchise landing in the most unexpected places.

Guillen's demise especially fits snugly into the Jeffrey Loria years as owner. Even Marlins people are not always sure what is coming next with their impetuous leader.

There was some belief within the organization that Guillen would rate at least the beginning of a second season given how the team that he managed in 2012 was torn apart at midseason. After Hanley Ramirez (Dodgers), Anibal Sanchez (Tigers) Edward Mujica (Cardinals) and Randy Choate (Dodgers) were traded in July, it was back to the drawing board.

As the days passed since the season ended, even given rampant rumors of a rift between key Marlins officials and Guillen, that belief was slowly reinforced -- especially when the Marlins dealt Bell to the Diamondbacks on Saturday.

Part of this was because, in firing Guillen, the club owes him $7.5 million over the next three years. And few things speak to the Marlins like money flushing down the toilet.

So firing Ozzie, even given the dough owed him, emphasizes how badly he alienated his employers in such a short time and dramatizes the Pacific Ocean-sized rift between him and them.

Club president David Samson was said to have wanted Ozzie out, unequivocally. Club president of baseball operations Larry Beinfest, who in September was rumored to have been on the chopping block himself, is described as not liking Guillen in the least. And Loria is said to be appalled by how much Guillen delegated to bench coach Joey Cora (who was fired along with Guillen).

Those all are legitimate reasons to can Guillen.

But the really telling part of this regarding the Gang That Couldn't Shoot Straight is this: The Marlins knew what they were getting into in the first place. Or should have known. There were no secrets.

Guillen always has been the complete opposite of politically correct. He's made comments about Castro and many, many others in the past.

For some, he got himself into trouble. With others, the White Sox and general manager Kenny Williams did a professional and skilled job of covering for him. Williams spent an inordinate amount of time behind the scenes in Chicago trying to school Guillen on what he shouldn't say.

So this is the important part. This is the part that cannot be emphasized enough. The Marlins knew what they were getting into. Or they should have known.

And to hit the eject button after one season speaks more to them and their helter-skelter existence than it does to Guillen and his character.

So what now?

"Our managerial search begins immediately and our hope is that a new manager, along with roster improvements, will restore a winning culture," Beinfest said in a statement.

Yeah, yeah, yeah. Whatever. Even the Red Sox already have fired and hired a manager this offseason. The Marlins, a lost ball in tall weeds, again are following a beat only they can hear.

Who will succeed Guillen and earn the right to be the fifth consecutive Marlins manager fired after Joe Girardi, Fredi Gonzalez, Edwin Rodriguez and Ozzie?

"There are a million names who should be considered," one NL executive said Tuesday. "Who knows?"

Who knows, indeed. It's the Marlins. They have a culture, all right.

It's just hard to see the baseball through the flying trapezes and circus elephants.