Verlander's All-Star exhibition, exiled Melky's heroics tilt World Series home-field advantage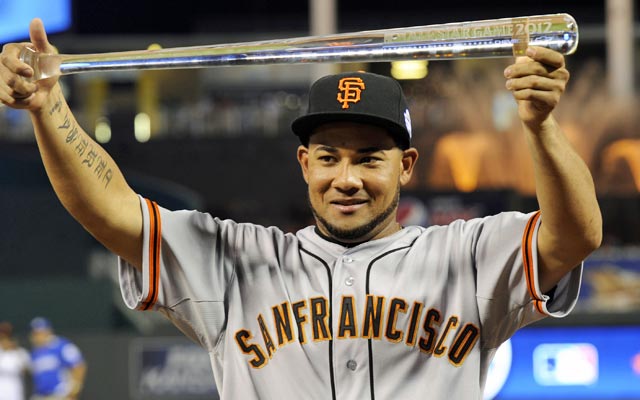 Melky Cabrera was named All-Star Game MVP shortly before his 50-game suspension. (US Presswire)
SAN FRANCISCO -- If defending AL Cy Young winner Justin Verlander had pitched in the All-Star Game in Kansas City instead of trying to light up the radar gun, maybe the Tigers wouldn't have had to fly all the way here Tuesday to start the World Series.

Maybe, you know, Verlander could have won the All-Star Game and, as things turned out, earned home-field advantage for the Tigers as they aim for their first World Series title since 1984.

"He was feeling bad about that," reliever Octavio Dotel told me shortly after the Tigers' arrival here Tuesday.

And Dotel should know.

As the Tigers were in the process of pureeing the Yankees in the AL Championship Series, Dotel innocently asked Verlander a question in the clubhouse before one of the games. According the Dotel, this is how it went:


More on World Series
Stories
"Where do we go if we're in the World Series?" Dotel asked.

"We have to go to the National League to start," Verlander told him. "It's all my fault. I didn't pitch right in the All-Star Game, and I should have done it."

"Now he's feeling bad about it," Dotel said. "He wasn't thinking at the time we would be in this position."

Publicly on Tuesday, Verlander wasn't nearly as contrite.

"I tried to throw the ball hard. I wasn't not trying to get people out," Verlander said. "There's a difference. You know, when I'm throwing 100 mph in the ninth inning, I'm trying to get people out, too. It just so happens I wanted to do it in the first and it didn't work out well. It wasn't for lack of effort."

Verlander succeeded in lighting up the radar gun that July night in Kansas City, throwing five 100 mph fastballs and one more at 101. But he was torched for five earned runs and four hits in just one inning.

The entire experience was different, Verlander said.

"Normally, I'm not just pitching one inning, two innings at the most," he said. "So it was a different opportunity for me. I treated it almost like I was coming out of the bullpen, knowing I could go one or two innings. It was just a different scenario altogether.

"Do I wish it would have worked out a little bit better and we'd be at home right now? Absolutely. But it didn't, and we're here."

The entire All-Star Game home-field advantage thing worked out in totally bizarre fashion this year.

Verlander, it turns out, helped lose home-field advantage for the Tigers.

And Melky Cabrera, All-Star Game MVP, helped win it for the Giants.

Then Cabrera was popped for a failed performance-enhancing drug test and disappeared in July.

"It's awkward, obviously, not having him be around," Giants reliever Javier Lopez said. "But he did give us home-field advantage. Nothing can take that away. That's a big advantage for us.

"He's a big reason why we're here. I don't think anybody is going to deny that."

Verlander will not be pitching to Cabrera in Game 1, because the Giants will leave Cabrera off of their World Series roster. He became eligible after serving his 50-game suspension during the NL Division Series, but the Giants opted not to activate him in the NLCS or for the Tigers.

As for the Tigers, they're not exactly harboring ill will toward Verlander's Not-So-Excellent Kansas City All-Star Adventure. How could they?

"Honestly, for me, I feel the All-Star Game shouldn't give home-field advantage for the World Series," catcher Gerald Laird said. "He was just trying to light up the gun.

"He's kind of made up for that, getting us through the A's [Division] series and shutting the door on the Yankees. I don't care where he pitches. We feel good wherever it is."

Laird said he razzed Verlander a bit right after the All-Star Game, asking him about allowing five runs in one inning. But overall, most of the Tigers are way past that.

"It's an All-Star Game," Prince Fielder said. "Stuff happens."

"It is what it is," Dotel said. "Home-field advantage is good. But if you believe in what you have, it don't matter."