Jason Bay never could tame Mets' CitiField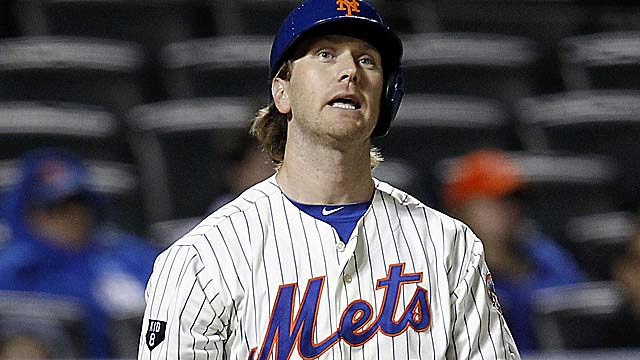 Jason Bay managed 11 homers in 134 games over his three seasons in Mets' ballpark.
(Getty Images)
Jason Bay, at least in New York, has gone the way of Pamela Anderson, Carmen Electra, Erika Eleniak and David Hasselhoff.

Baywatch has been formally canceled.

The business of cleaning up the Mets continues.

Bay says he fully intends to play again in 2013 but, in an extraordinary joint statement and by mutual agreement, the Mets fully intend to play 2013 without him.

The Mets will pay Bay to go away.

Call it making the best of a bad situation, for both sides.


He'll get every penny of the $21 million owed to him, colleague Jon Heyman reports, including the $16 million he was owed for '13, a $3 million buyout for '14 and the remaining $2 million on his signing bonus.

The Mets, in turn, will receive the freedom to go and find themselves another left fielder capable of doing something Bay never was: taming CitiField.

Now it's up to the Mets to not repeat the same mistake twice.

It's darned hard to do anything quiet in New York, but the Mets managed deafening silence with this one almost from the moment they and Bay hooked up in Free Agent Land before the 2010 season. On the field, that is. Beyond the white lines, little about the booing was quiet.

Part of it is Bay's nature. In saying adios on Wednesday, chief operating officer Jeff Wilpon called Bay a "true gentleman." Never will Wilpon utter words more honest. Both highly respected and genuinely liked in clubhouses from Pittsburgh to Boston to New York, Bay is a consummate professional and a genuinely good guy.

But the Mets didn't fork over $66 million for four years for smiles and photo ops. And in the end, general manager Sandy Alderson's assessment is equally as true as Wilpon's: "Jason has a tremendous work ethic. There never was any question about it. Unfortunately, the results weren't there and we are in a results-oriented business."

At 74-88 and finishing 24 games behind the Nationals, the results business pretty much no-hit the Mets in 2012.

Which only emphasized their need to move past Bay and figure out a lineup that works.

Bay came advertised as someone who could conquer the vast canyons and faraway walls in CitiField. During his only full season in Boston, 2009, he clubbed 36 homers and collected 119 RBI.

Even accounting for rougher stadium dimensions -- CitiField never will be known as the "lyric little bandbox" that Fenway Park is -- the Mets never dreamed that Bay would top out at 12 homers and 57 RBIs in a season (2011) for them. Not even for a New York minute.

But at 34, age and, especially, multiple concussions, combined to eat around Bay's edges, and he simply never was the same player in New York.

In 134 games over his three seasons in CitiField, he managed just 11 homers.

Even after the Mets moved the fences in this summer, Bay hit just two homers in 34 games (89 plate appearances).

As colleague Danny Knobler notes, over the past three seasons, even light-hitting infielder Omar Infante out-homered Bay 27-26.

When the Mets zeroed in on him over the more expensive free-agent option, Matt Holliday, in the winter of '09-'10, neither could have imagined an ending like this.

Now, both the Mets and Bay will have one last common bond in 2013, and that is to relegate to footnote status the haunting question that New Yorkers already had been asking for the better part of three years:

Whatever happened to Jason Bay?