Second chance in hand, Melky Cabrera will be under microscope in Toronto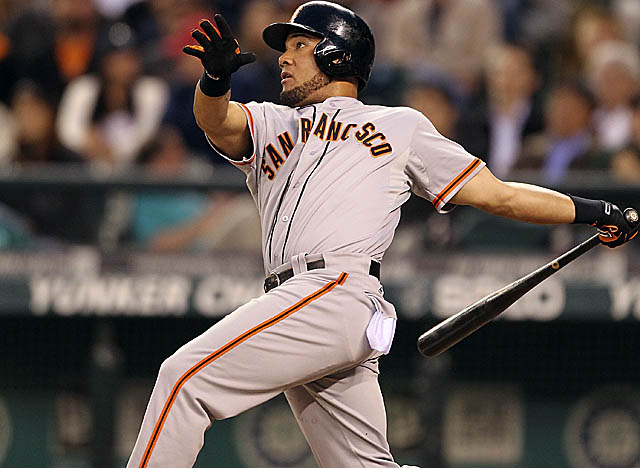 Is a clean Melky Cabrera capable of producing anywhere near his 2012 All-Star Game MVP level? (Getty Images)
And things were going so well for the Blue Jays this week, hauling in all of those sweet gifts from that two-bit huckster of an owner down in Miami.
But now will they get pinched by the Smuggler's Blues?
As an encore to Tuesday's blockbuster, the Jays have agreed to a two-year deal believed to be worth $16 million with disgraced outfielder Melky Cabrera, best known in 2012 for dabbling in illicit substances and website design. As opposed to the National League batting title he had been on track to win with the Giants.
Look at Toronto general manager Alex Anthopoulos go, swinging for the fences, movin' on up just like George Jefferson, now clearly positioned for a piece of the pie in the AL East.
But will Melky stay clean?
And is a clean Melky capable of producing anywhere near the .346/.390/.516, All-Star Game MVP-level he was at in '12?
When you're at the Jays' pay grade, you've got to gamble. And if Anthopoulos has shown us anything during his brief three years in charge, it's that he's not afraid to roll the dice. Especially when it comes to questionable characters.
They just shipped one away in shortstop Yunel Escobar, whose bizarre anti-gay slur scrawled onto his eye black during a game in September could only have struck a chord with Neanderthals.
They appear to have hit paydirt with excitable infielder Brett Lawrie, who flings helmets (he was suspended for four games last May when one hit an umpire) and who may or may not have alienated the entire Brewers farm system before they dealt him to Toronto two years ago.
And the jury is still out on Colby Rasmus, who did some good things (23 homers, 75 RBI) and some bad (.289 on-base percentage) last summer in Toronto after his desire and drive never did match the expectations of Tony La Russa and Albert Pujols in St. Louis.
Point is, the Jays are a welcoming place, and the organization is not afraid to take you for a test spin if it thinks you can help. Because of this and other aspects of Anthopoulos' approach, the talent pool in Toronto is better than it has been in years, and the Jays are a sleeping giant in the AL East.
Now it is incumbent upon the one-time PED-gobbling Giant not to screw it up.
Melky has lots to prove. And the more he proves, the better the Jays' chances next summer. And with Lawrie, Jose Bautista, Edwin Encarnacion, Jose Reyes and the rest, they already are starting from a position of strength.
As for Cabrera, there is a reason the Giants didn't allow him anywhere near their playoff roster in October. And it wasn't only because they went 30-15 down the stretch after he was suspended for 50 games.
No, Cabrera alienated the entire organization by fleeing after his failed performance-enhancing drug test. As in, literally: Nobody from the Giants ever saw him again. He just disappeared.
There was no clubhouse meeting in which he spoke with teammates. No explanation. No apology. No private meeting with general manager Brian Sabean or field manager Bruce Bochy. Just, poof! Gone.
The September debate about the Melk-man's place in October was a waste of breath. The Giants never were going to activate him because of his chicken run in August.
You might say that's all in the past, and maybe it is. But the way Cabrera handled that speaks directly to his character -- or lack thereof.
Winning requires character, mixed right in there with the RBI and two-out hits and big-time relief appearances.
By sticking their beaks out with a two-year deal, the Jays are betting that Cabrera has more character than he has shown so far. And they're betting that those great numbers he posted before disappearing in August were not all PED-aided.
It's the politics -- and the minefield -- of contraband in modern-day team building. A decision the Jays hope will not stick them with the Smuggler's Blues.