Kendrys Morales squeezed out as retooling Angels add pitching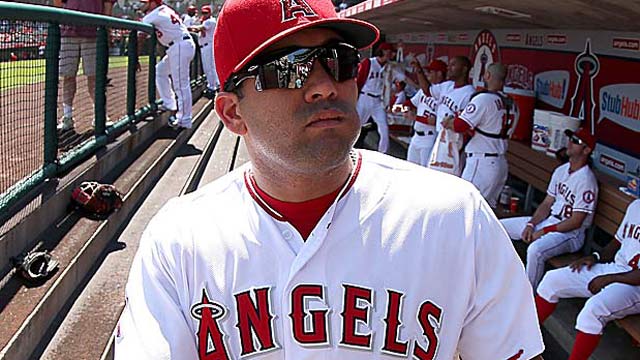 Kendrys Morales being dealt means that Josh Hamilton and Albert Pujols can get at-bats at DH, if needed.
(Getty Images)
There always was going to be another move after Josh Hamilton . Had to be. Once the Los Angeles Angels plopped him under the Rally Monkey's Christmas tree, they were top-heavy with outfielders and still short of starting pitchers.
So now comes left-hander Jason Vargas from the Mariners for slugger Kendrys Morales , and now the rest of the blanks are filled in.
And Angels fans, have at it: Hamilton or Zack Greinke?
More on Angels
Related links
You like your Halos better with Hamilton protecting Albert Pujols and Vargas, Tommy Hanson and Joe Blanton in the rotation?
Or would you have liked them better with Greinke protecting ace Jered Weaver, and Morales still hanging around in the middle of the lineup with Pujols?
Slick general manager Jerry Dipoto, master of deception (in more ways than one), has remade an underachieving Angels club with bold moves, a grand vision and a vault full of owner Arte Moreno's money.
While everyone expected the Angels to work hard toward retaining Greinke, they put on the ol' bait and switch. They were so serious about Greinke that the right-hander said at Dodger Stadium this week that he really hadn't had much contact with them since the World Series.
Nope, as it turns out, Greinke never was Option A, be it because of his price ($147 million from the Dodgers, ultimately) or because Dipoto decided that the Angels needed rotation depth more than a would-be ace post Dan Haren and Ervin Santana.
The result will be an eminently entertaining high-wire act.
If the Angels swing and miss again, it probably costs manager Mike Scioscia his job, and knowing Moreno's tendency to go all Donald Trump on people, Dipoto could follow him right out the door, too.
Hamilton is sexy, but the Angels came up short last year because of shoddy pitching, especially in the bullpen.
Have they improved themselves enough for 2013? Vargas adds rotation depth, which was badly lacking even after the Angels acquired Tommy Hanson from Atlanta and signed journeyman Joe Blanton from the free-agent pile.
Vargas lives and dies with the change-up, which is an awfully tough way to survive in the powerful American League. In one way, he'll pick up right where Santana left off: Vargas' 35 homers allowed in 2012 tied for second in the AL with the Yankees' Phil Hughes. Santana was first at 39.
He also benefited greatly from Safeco Field, holding opposing hitters to a .592 OPS there while getting blitzed for an .805 OPS on the road last year.
Dipoto rightly thinks that Angel Stadium will be a good fit for Vargas, given that it, too, can be pitcher-friendly. Just ask Pujols about the marine layer last April and May that knocked down all sorts of fly balls he thought would be gone.
And, with Morales out it appears Peter Bourjos (center field) and Mark Trumbo (designated hitter) will be given room to fly, and you can take that literally in speedy Bourjos' case. With Mike Trout in left and Hamilton -- who mostly has played center field -- in right, the Angels' outfield defense will be premium.
Trading Morales also makes it easier to Scioscia to give Pujols and Hamilton DH at-bats when he thinks they need a break.
As much as anything, what is important with Vargas is that he did work 217 1/3 innings for the Mariners last year (going 14-11 with a 3.85 ERA). Blanton checked in at 191 and Hanson at 174 2/3. What the Angels lack in dominance -- none of those three can match an in-his-prime Haren -- they get back in plowhorses. If nothing else, that should keep the bullpen settled in specific roles.
That didn't happen for the first two months last season, and that's why the Angels were home in October.
Still. In the You Can't Have It All Dept., you would think a team with both Pujols and Hamilton would be a lock to go deep into the postseason, but you can't say that with this rotation. It's still not as good as Detroit's (Justin Verlander, Doug Fister, Anibal Sanchez, Max Scherzer, Rick Porcello), Toronto's (R.A. Dickey, Josh Johnson, Brandon Morrow, Ricky Romero and Mark Buehrle), Tampa Bay's (David Price, Jeremy Hellickson, Matt Moore, Jeff Niemann and Alex Cobb) and, quite possibly, Oakland's (Brett Anderson, Jarrod Parker, Tommy Milone, A.J. Griffin and Dan Straily or a Bartolo Colon with, theoretically, a way lower testosterone level) and the Yankees' (CC Sabathia, Andy Pettitte, Hiroki Kuroda, Phil Hughes and Ivan Nova).
And if Texas (Yu Darvish, Matt Harrison, Derek Holland and Martin Perez) signs Kyle Lohse or Edwin Jackson, that still could relegate the Greinke-less Angels to the third-best rotation in the five-team AL West.
From the start this winter, Greinke or Hamilton always was going to be an intriguing choice. That all of the Angels' parts were ill-suited to fit together last summer became clear early on.
Whether Hamilton and an overhauled pitching staff fit together any better, we're about to find out. From here, it looks like the Angels are going to have to win a whole lot of 9-6 and 8-7 games to ensure that the answer is yes.