Skills and smarts in place, what Profar needs now is Texas space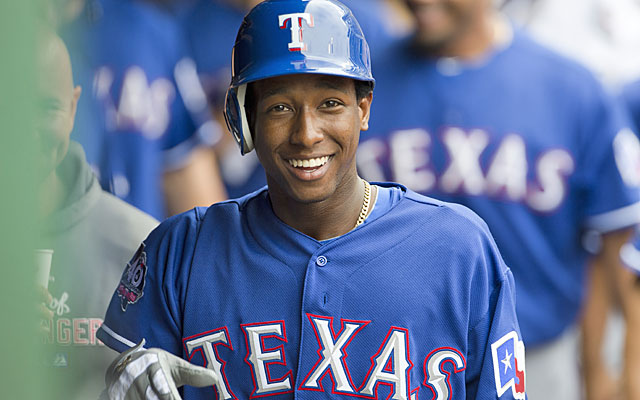 Jurickson Profar made an immediate impression during his September callup, going deep in his first at-bat. (Getty Images)
SURPRISE, Ariz. -- Stand back and give the guy some room already. He's just a kid. Nineteen. Wednesday, they will put 20 candles on his birthday cake. And he'll still look like he's about 15.
So give the guy some space. And then, more importantly, maybe the Rangers will, too.
Space. Room. Not to go all Ikea on you, but that's where this spring is headed for Jurickson Profar, Texas and phenom watchers everywhere.
The consensus No. 1 prospect in all of baseball, Profar right now is a supremely talented man -- er, kid -- looking to break into a well-stocked lineup with no room to spare.
Here's two-time All-Star Elvis Andrus, the incumbent at shortstop. There's three-time All-Star Ian Kinsler at second base.
Here comes Profar, the hot young shortstop racing up the charts with a bullet ... and where does he fit?
"I played with him in the minors when he was 17, and you couldn't tell his age," another hot Texas prospect, Mike Olt, said. "That's how good he is."
"The kid's obviously got talent," Kinsler said. "A lot of players in this organization have talent and can contribute to the big-league team. Hopefully, he leads the group and continues to progress the way everyone wants him to."
"It's very exciting," Profar said.
The Rangers have seen this coming since signing him as an amateur free agent in 2009. Then he jumped from low Class A to Double-A Frisco last year ... then he skipped Triple-A to land in Texas for a few fleeting moments last September.
First at-bat of his first game? He drilled a Zach McAllister pitch over the right-field wall in Cleveland.
"When he got to the plate, you just knew he was going to do something special," Olt said. "His first at-bat in the Futures Game [home run, last July in Kansas City] ... he's got that about him.
"He gets in certain situations, and he comes through."
Question this spring is, will there be a situation that lands him on Texas' opening-day roster?
The Rangers have investigated various paths that would lead to that.
Andrus' name was involved in the Justin Upton trade talks with Arizona this winter. That would have opened a spot.
Texas spoke with Kinsler about shoving over to first base, which would have opened second base for Profar. But Kinsler is reluctant to switch.
If they can figure out a utility role to keep Profar in a rotation to play semi-regularly, the Rangers will be open to that.
If all else fails, there's always Triple-A Round Rock.
It's clear the Rangers think Profar is ready. And don't underestimate the kid's ability to force the issue with his play this spring, too.
"We will wait until the process starts to play itself out," manager Ron Washington vowed regarding final decisions.
Profar is a lithe switch hitter with an above-average arm and way-above-average baseball acumen.
A native of Curacao, he started playing baseball when he was 6, and he helped lead his team to the Little League World Series championship in South Williamsport, Pa., when he was 11.
He is skilled across the board. But what separates him from much of the rest of the talented pack is his smarts.
"That's what makes him special," Washington said. "He's not afraid of baseball, No. 1, and No. 2, the kid has a tremendous awareness of his surroundings."
Like the four-game series in Frisco last season during which a familiar pitcher was scheduled to start the fourth game.
"He told me, 'I'm not going to swing at the first pitch in any at-bat until the fourth game of the series,'" Olt said. "And he didn't. He didn't swing at any first pitch until we saw that guy."
Then, boom! He cracked a first-pitch fastball for a base knock.
"He set the guy up four games in advance," Olt said.
Right now, Profar, lockering right next to Andrus, is in a different work group than Elvis, Kinsler and Co. But as the spring moves along and the games begin, Washington says he will move Profar into the regulars' group so he can watch and learn.
Smart move, to keep the kid in the shade for as long as possible. Because expectations are outlandish. Someone asked Washington if Profar will make the team if he hits .450 this spring. Profar has never hit .450 in any of his previous springs while playing with the minor leaguers. Now he has a chance to do that facing major leaguers in the Cactus League?
Washington shakes his head, a combination of disbelief and disgust creeping across his face.
Is the hype maybe just a tad over the top?
"Are you serious with that?" Kinsler asked. "I think every single player in the game is too hyped. And every prospect is extremely hyped.
"Performance speaks for itself. The kid hasn't even played at the Triple-A level yet. He's done some good things so far. But he needs to continue to prove himself -- like everyone else has."
Besides, it's difficult enough for a kid to gain a foothold in the majors on a losing team -- look at, say, Alex Gordon's first couple of seasons in Kansas City.
It's that much harder for a kid to establish himself on a team that expects to win every year.
"It should be," Kinsler said. "We had Jon Danks, Edinson Volquez and Thomas Diamond when I came up, and they were called DVD and were supposed to be the next saving grace in baseball.
"Danks is probably having the best career. Volky is still in the big leagues and I think Diamond made it for a little while. But at the time, it was like these guys were going to be Hall of Famers, the next Roger Clemens.
"I think this game is about patience. It's hard to develop talent early. I think he's a great young player, and the level he's at at 20 is extremely impressive."
He also has a lot coming at him right now. Not only is the prospect of winning an opening-day job dangling out there, but he's agonizing over whether to join the Netherlands team for the World Baseball Classic.
He says he's getting bombarded daily with phone calls from his would-be teammates. The pressure started during the winter from one of his old Curacao heroes, Andruw Jones.
"He asked me to play maybe two or three months ago and I told him yes," Profar said. "But now, I don't know."
Profar, who batted .281 with a .368 on-base percentage, 14 homers, 62 RBI and 16 steals at Frisco last summer, is worried that taking an extended leave of absence from the Rangers' camp will guarantee him an assignment in Round Rock on opening day.
Time is running out on his WBC decision -- he'll have to make that in the next few days.
As for whether he can carve out some opening-day space on the Rangers' unforgiving roster ...
"When the time comes to make a decision, whether he has a chance to make the team or if he needs more seasoning, we'll make that decision and we'll feel good about it," Washington said. "He does one thing: play baseball. And that's what we do here."