Last October's Bronx hero Raul Ibanez on Granderson: 'It's terrible'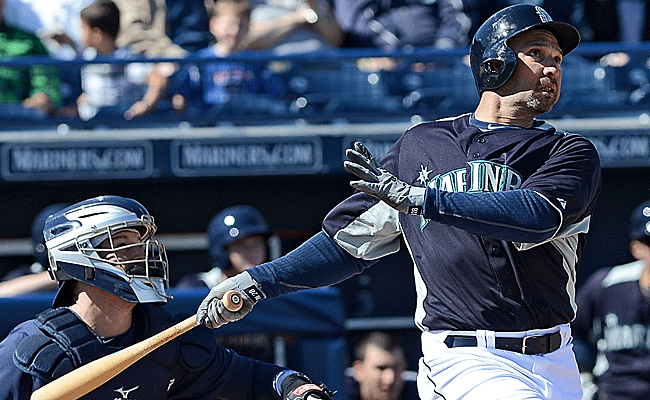 With Curtis Granderson now injured, the Yankees may regret letting Raul Ibanez go.
(Getty Images)
PEORIA, Ariz. -- Echoes from his October homer pinch-hitting for Alex Rodriguez still reverberating in the distance, Raul Ibanez was watching his old team in the Mariners' clubhouse here Sunday when Curtis Granderson went down.
"I knew the spot it hit him, that was not a good spot," Ibanez said. "It's terrible. I feel for him. He's a great player. A great guy. A great human being.
"I wish him the best."
Ibanez was watching in the Seattle clubhouse just before the Mariners-Padres Cactus League game Sunday afternoon.
Granderson is expected to be out until May. It would be too much to suggest that his injury probably causes the Yankees to re-think their decision to let Ibanez walk after last season, because with Ichiro Suzuki and Brett Gardner, they're already lefty-heavy in the outfield.
But, regardless, there suddenly is a big gap in the Yankees' outfield now.
"I had a great time there," said Ibanez, who signed a one-year, $2.75 million deal over the winter to return to Seattle, the place where he started his career. "I wish them the best. Or second-best. I wish us the best."
Ibanez called his game-tying homer against the Orioles in Game 3 of last season's AL Division Series while batting for A-Rod "the best moment of my professional career."
Then he crushed the game-winning home run in the 12th inning.
"That was awesome," Ibanez said. "Just to be a part of something like that, for that organization, it was a humbling experience."
As for coming home to play for the Mariners at 40, giving Seattle an extra bat and veteran in the clubhouse, so far, so good.
"Great," Ibanez said. "I'm loving it. It's a great group of guys. I like our team. I like or talent, the way guys are going about their business.
"Very professional, hard-working kids."