Red Sox's Bard looks for meaningful innings, return to 2010 form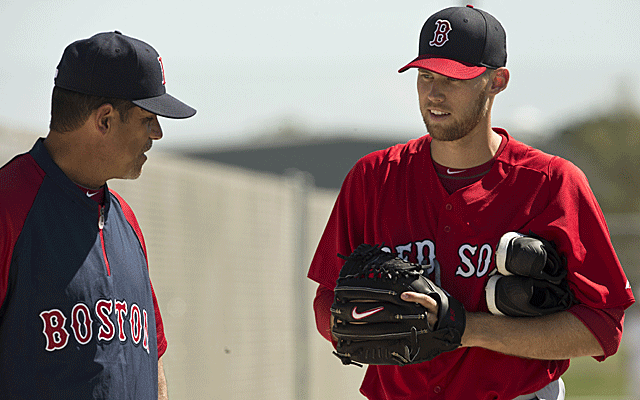 Daniel Bard had his worst year as a big leaguer last season, going 5-6 with a 6.22 ERA.
(Getty Images)
FORT MYERS, Fla. – Spring training is for making adjustments, and in few places will you see more earnest work than on a back field here Monday as Daniel Bard searched for … 2010?
Well, that might be a bit of a stretch, but this isn't:
Following an uneven spring last year that left him seriously confused somewhere between starting and relieving, it's clear eyes and clear mind for Bard this March.
He hasn't pitched in a game for a week because he's working on "stride direction" (among other things). Monday, he threw a simulated game before the Red Sox faced the Rays later at Jet Blue Stadium.
So far, so good.
"I felt good, like I was on top of the ball and powering it down," Bard said after his brief outing.
Under Bobby Valentine last spring in a transition year that quickly went sour, Bard was one of Boston's projects. The team decided to convert him into a starter, though not everyone was on board with that.
The manager, for one, could not stop envisioning how dominant Bard could be as his closer. But Red Sox brass nixed that, and the experiment lurched forward.
As it did, Bard had his worst year as a big leaguer, going 5-6 with a 6.22 ERA in only 17 games (10 starts).
"I think it was just one of those things where I got into bad habits last year trying to create velocity from bad places," Bard said.
This spring, even with free agent Joel Hanrahan locked into the closer's role and former closer Andrew Bailey projected as a set-up man, Bard is back in his comfort zone.
"It's easier to focus when you know the organization knows exactly what it wants to do," Bard said. "And not where it's a hopeful experiment-type thing, which was kind of the feel last year.
"I didn't go into it that way, but the amount of questions I got asked made me think I didn't have a starting job."
Hey, it's Boston -- Bard should have been prepared for that.
Or, the Red Sox should have communicated more strongly exactly what their plans were for him.
Either way, bygones.
New year, new spring, new manager.
Hanrahan signed a one-year, $4.1 million deal over the winter with the Pirates, only to be traded to Boston.
And though the closer's role is Hanrahan's for now, if Bard can regain his 2010 form (1.93 ERA, 1.004 WHIP over 74.2 innings pitched), or even his 2011 game (3.33, 0.959 WHIP) in 73 innings, who knows?
Maybe after his rotation detour last spring, Bard still will wind up as Boston's closer, eventually.
"I don't see why at some point down the road that's not a real possibility," Bard said. "I don't think I could throw the ball much better than I did in '10 and '11."
With proven closers Hanrahan and Bailey working ahead of him now, and with no impending rotation move creating extra noise, Bard feels little pressure to do anything else but recapture his old form.
He does that, and he pitches the "meaningful innings" he's hoping for ... well, it would be a start.