Orioles' pitching good enough that there is no reason to rush Bundy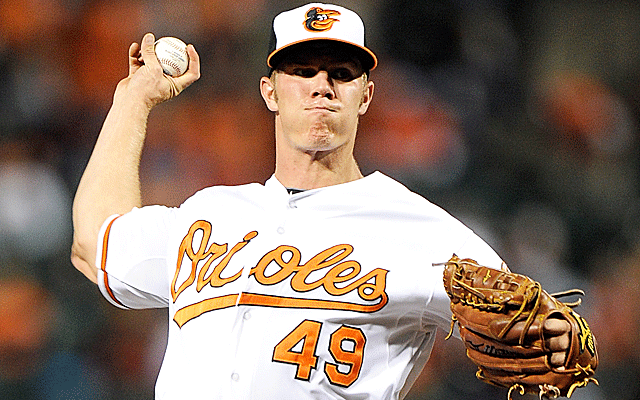 Dylan Bundy raced from low A ball to the majors last season by age of 19.
(Getty Images)
SARASOTA, Fla. – The Orioles farmed hot prospect Dylan Bundy to Double-A Bowie over the weekend, and they hope not to see him for a long, long time.
Nothing personal.
And no, Bundy certainly hasn't pitched himself out of the Orioles' plans. Far from it.
A couple of things here.
One, Bundy is still only 20, and more minor-league seasoning always has been part of the Orioles' plan with him (even given his late-season recall in 2012).
Two, manager Buck Showalter is hoping the veteran starters ranking ahead of Bundy -- Jason Hammel, Wei-Yin Chen, Chris Tillman, Miguel Gonzalez, Brian Matusz, Steve Johnson, Jake Arrieta and Jair Jurrjens – consistently get deep enough into games that the Orioles don't even have to give Bundy a second thought until he's ready to rock.
That happens, the Orioles most likely are following their spirited 2012 run by contending again in the rugged AL East in 2013.
"He knows after being around pro ball that his secondary stuff is what's going to take him to the next level," Showalter said of Bundy, ranked this spring as the No. 2 prospect in the game (behind Texas' Jurickson Profar) by Baseball America.
Bundy raced from low Class A ball all the way to the majors in '12 at the age of 19, stopping at high A and Double A along the way. He has a killer fastball (95 mph) and a plus curveball, and he also throws a changeup and a slider.
He was so dominant in high school and in the low minors that he rarely had to work with baserunners aboard. As such, the Orioles want him to work on his repertoire out of the stretch and his time to the plate, plus his secondary pitches.
"He could always go back to the fastball," in the past, Showalter said. "But he's going to reach a level where people are going to square up his fastball. People can turn around a bullet in the big leagues."
The Orioles also opted to send him out ahead of a couple of other prospects because they're seen more of him. Showalter wants another look at highly touted right-hander Kevin Gausman, 21, the first college pitcher taken in the 2012 draft.
The club also is exceptionally high on left-hander Eduardo Rodriguez, 19.
As for Bundy, another thing Showalter likes about him is that he "is a very good self-evaluator. Some guys aren't."
As the manager likes to say, you can't hide talent. When the Orioles will next see Bundy "is up to Dylan. He's got the ability to help us."
Up to Dylan, yes.
But Baltimore's current logjam of candidates vying to fill out the bottom half of the rotation will have something to say about it, too.