Scorching Royals the talk of the Cactus League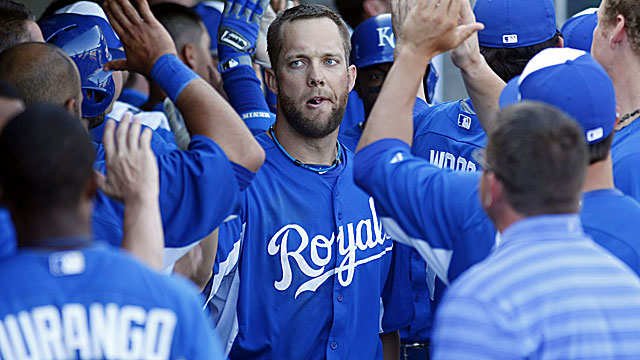 SURPRISE, Ariz. -- They are the talk of the Cactus League. The Big Blue Machine. The Kansas City Klobberers. Step right up and watch them whack their next opponent.
Or, as opposing managers and longtime scouts are joking, "Geez, they'd better save some of those wins for the regular season."
The Royals, hoping to contend behind a revamped rotation, are 22-6 this spring.
Yes, it's only spring training.
And yes, these numbers all get power-washed away by this weekend.
But as veteran Bruce Chen says, "I'd rather be 22-6 than 6-22."
The Royals' spring success on the heels of acquiring James Shields, Wade Davis and Ervin Santana over the winter is notable because they've finished under .500 in 17 of the past 18 seasons. Few baseball-mad cities are starving for success like Kansas City.
But the Royals also went 20-10 in Cactus League play two springs ago … and finished fourth in the AL Central at 71-91.
"The way we've done it this spring, pitching is the key," says Jeff Francouer, whose first season as a Royal came in 2011. "We've scored a bunch of runs, too. When you're ahead 6-1 or 6-2, that's a great feeling.
"And with this pitching, you're not going to have extended losing streaks. That's why the A's did so well last year, too."
True. And while everyone knows the Royals have been desperate for pitching, last year's lineup ranked only 12th in the American League in runs scored (and 13th in homers). Among other issues, Eric Hosmer was highly disappointing, batting .232 with 14 homers and 60 RBIs.
That said, two in-spring moves bear watching:
The first came when manager Ned Yost moved longtime starter Luke Hochevar to the bullpen as a setup man. Greg Holland remains as closer, but who knows? With his stuff, maybe Holland eventually will channel Dennis Eckersley.
The second came when the Royals this week named Luis Mendoza, who finally appears to be maturing at 29, the fifth starter.
Chen, who has won 35 games for the Royals over the past three seasons, will work as a long reliever.
No question, these Royals will break camp feeling good about themselves. Yost says flat-out that camp could not have gone better.
"For me, you define a successful camp by everybody staying healthy and by giving people the opportunity to compete for a job," Yost says.
Mendoza won the fifth starter's job, Chen didn't lose it.
And Chris Getz earned the second base job, hitting .392 with a .446 on-base percentage.
Yost has stuck with his script for preparing players for the season throughout. In other words, he hasn't left veterans in an extra inning or two to pad the spring record.
And though you can develop a winning culture in the spring, and knowing that few places are as desperate for that as Kansas City, Yost says the winning this spring is just happening.
He has not made it a point to emphasize winning at the expense of ensuring that each player on the roster gets in the proper amount of spring work.
"Zero," he says. "These players are all about winning. James Shields, Wade Davis, Miguel Tejada , Mike Moustakas, Eric Hosmer … they've won everywhere they've been. And in the minor leagues. They're all about winning.
"Emphasizing winning in the Cactus League … that hasn't even been muttered. Or uttered. Or said."
Now, if the Royals can mutter it and utter it beginning with their season-opener Monday against the White Sox in Chicago, they'll really be onto something.