Buster Posey right man at right time for Giants to tag franchise player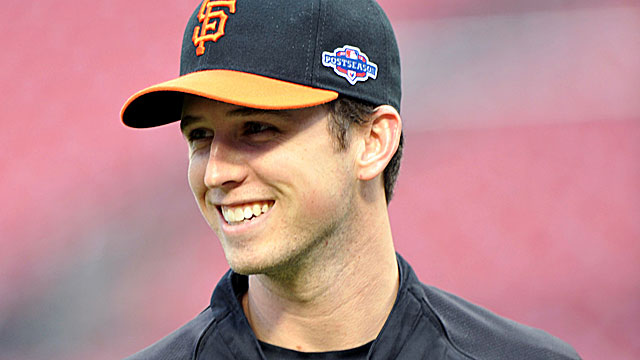 What were the Giants going to do?
Lowball Buster Posey the way the Angels went cheap with Mike Trout?
Different team, different player, completely different circumstances.
If I'm the Giants, when Posey sits down to sign this nine-year, $167 million deal that will run from 2013 through 2021 with a team option for 2022, I make a copy of the keys to the franchise and present those to him as well.
More on Posey
Related links
More MLB coverage
(Which, on second thought, they maybe already did. This is the largest contract in franchise history).
Then I ask, "Buster, what else do you need? Water? Maybe a smoothie from Jamba Juice? Your own personal parking place in North Beach?"
It doesn't always take Branch Rickey to recognize a franchise player.
And if Buster Posey wasn't carved for the ages in San Francisco, then Willie Mays was just another journeyman.
We've not seen anything like Posey in this generation. Derek Jeter comes to mind -- both he and Posey led their teams to two World Series titles in what essentially were two of their first three full seasons (though Posey wasn't recalled in 2010 until the end of May). Each man won a Rookie of the Year award (Jeter in '96, Posey in '10).
But Jeter doesn't have an MVP award. Nor a Comeback Player of the Year trophy.
At 26, Posey is straight from the pages of those classic old Chip Hilton sports stories from Clair Bee.
And here's the thing: Posey wasn't going anywhere anytime soon. He wasn't even eligible for free agency for another four years.
Now, he's not going anywhere for a very, very long time. This deal buys him out of four arbitration years and his first five free-agent years.
It is the longest contract ever for a catcher, and it ranks second among catchers in both total value and average annual value. Joe Mauer scored the eight-year, $184 million deal from the Twins a few years ago at an average annual value of $24 million.
More significantly, this is the largest contract in Giants history, eclipsing Matt Cain ($127.5 million over six years) and Barry Zito ($126 million over seven).
Right player, right man, right place.
In winning two of the past three World Series titles, the Giants have ascended into one of baseball's elite franchises.
To get there -- and to stay there -- it takes elite players and, yes, elite contracts.