Hyun-Jin Ryu's Dodgers debut mostly a step in right direction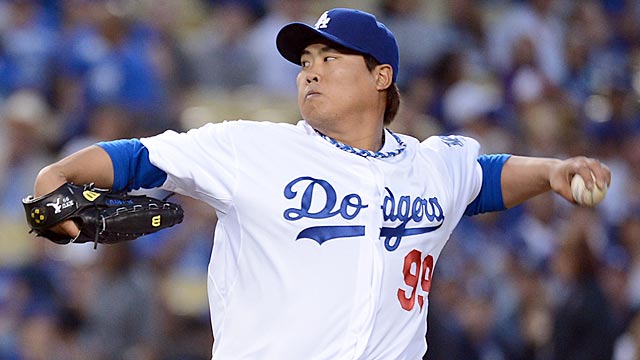 LOS ANGELES -- First glimpse of Hyun-Jin Ryu, and the Dodgers will take it.
He didn't win. He was extraordinarily lucky. And he better work on running hard to first base.
Call it a learning experience. Call it (mostly) a step in the right direction.
Call it a 3-0 Giants win Tuesday night.
The game was televised live back to Korea (first pitch: 11 a.m. Wednesday morning), and Ryu turned in a Clayton Kershaw performance neither here nor there.
Manager Don Mattingly had cracked after Monday's season opener that the Dodgers' new Korean starter had a lot to live up to after Clayton Kershaw's smash-hit 2013 debut.
What the Dodgers didn't count on was Giants starter Madison Bumgarner living up to Kershaw's level. Or, at least, close.
Bumgarner was sensational, retiring 22 of the first 23 Dodgers he faced.
Ryu wound up going 6 1/3 innings, surrendering 10 hits and one run. He fanned five and didn't walk anyone.
It could have been better, yes, for the big lefty who cost the Dodgers a small fortune. They signed him to a $36 million, six-year deal and paid a $25.7 million posting price to his Korean team. Ryu -- pronounced "Ree-YOU" -- became the first player ever to go directly from the Korea Baseball Organization to the U.S. major leagues.
It could have been -- and probably should have been -- worse. Ryu was saved by his infielders turning three ground balls into double plays in the first five innings. But for that, he easily could have been in the showers by, say, the fourth inning.
Mattingly said he saw a lot of the same thing Ryu showed during spring camp.
"A guy who knows what he's doing," the manager said. "A guy who changes speeds, who will continue to make adjustments during games to different hitters and who changes the game plan as the game goes on."
Ryu admitted (through a translator) to "getting hit around a lot" but was "still glad" to just give up one run. For that, he should be grateful.
The Giants seemed to catch him off guard by swinging early, coming out aggressive and never really allowing him to get ahead in too many counts.
"I don't think he was as sharp as he was in spring training," Mattingly said. "But he rolled a bunch of ground balls when he needed them."
As Mattingly said, Ryu is a pitcher who "gives up a lot of hits, but gets himself out of stuff because he knows what he's doing."
The worst part of Ryu's evening, by far, came when he jogged slowly to first after grounding a ball to third base in the sixth inning. And by jogged, we mean moved barely more than at a walking pace.
It was so blatant that the first reaction was to wonder whether he slammed the ball off of a foot with his swing. He did not.
"He was slow down to first, but he can't be that slow," said Mattingly, who added that he intended to speak with Ryu about the matter.
Ryu seemed to have grasped the error of his ways by the time he hit the interview room following his outing. Maybe it was the boos that rang out from many of the 45,431 in Dodger Stadium that exacerbated his understanding.
"Actually, it was my mistake," Ryu said through his translator. "Now I know I have to run a lot harder.
"It wasn't a well-hit ball. At the time, I felt like I should conserve energy. I learned my lesson. It's not a good thing."
It was not a cultural misunderstanding, Ryu explained, because pitchers do not hit in Korea.
Ryu heard the boos.
"It was embarrassing," he said, adding that he feels "like I should apologize about that."
Mattingly surely will get that part of things straightened out.
And as long as Ryu builds on the pitching part of Tuesday night, he shouldn't have much to apologize for the rest of the summer.