Angels' ace Weaver strains elbow, next start uncertain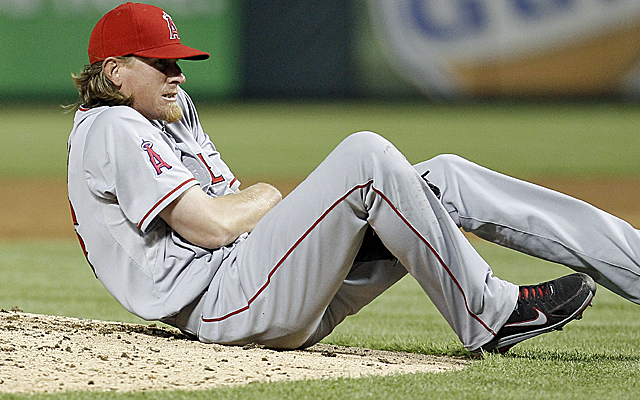 ARLINGTON, Texas -- The Angels lost two of three in Texas this weekend, and that might not be the worst of it.
Ace Jered Weaver suffered what the club is calling a "strained" left elbow and exited the game in the sixth inning.
More on Angels-Rangers
Related links
Though the Angels will make no determination on Weaver's next scheduled start until they see how the elbow reacts over the next couple of days, it sounds as if it is a real possibility that he may have to miss that next start.
"Even though it's his left elbow, you're still pulling down" during the delivery, manager Mike Scioscia said following the Angels' 7-3 loss to the Rangers. "We'll see where this sets up."
The injury occurred when two bad things happened on one delivery: Weaver slipped while making a pitch to Mitch Moreland, and the Rangers' first baseman rocketed the ball back through the middle.
When he saw the ball zooming at him, Weaver, already trying to brace his fall with his left arm, tried in the same motion to push off the mound with his glove and re-direct his body away from the line drive.
As it was, the liner whizzed just over him.
But Weaver still did not escape damage.
X-rays were negative. But Angels trainers told him there is some swelling in the elbow.
"I didn't feel anything pop or crack or anything like that, so that's a good sign," Weaver said. "When you jam your thumb real bad, that's how it feels."
Any missed time from Weaver would be a blow to the Angels, who are 2-4 heading into Tuesday's home opener against the Athletics.
The veteran right-hander went 20-5 with a 2.81 ERA last season and finished first in the American League in winning percentage (.800), opponents' batting average (.214), WHIP (1.018) and hits per nine innings (7.0).
In his eighth season, Weaver, 102-52, has produced the highest winning percentage (.662) in franchise history.
He already was out of sorts before the injury in Sunday's series finale, during which he surrendered five earned runs, seven hits and walked four (with only two strikeouts) in five innings.
"Something mechanical was a little off today," Weaver said. "Four walks isn't like me. I was falling behind hitters. I went to my off-speed stuff earlier than usual, and some of my off-speed pitches that I usually don't miss with were balls. I was missing bad."
Weaver and the Angels now can only hope he gets a chance to figure things out later this week. As he noted, Monday's off day gives him an extra day to heal. Weaver's next scheduled start is Saturday night at home against the Astros.