Dodgers fill big need with addition of Ricky Nolasco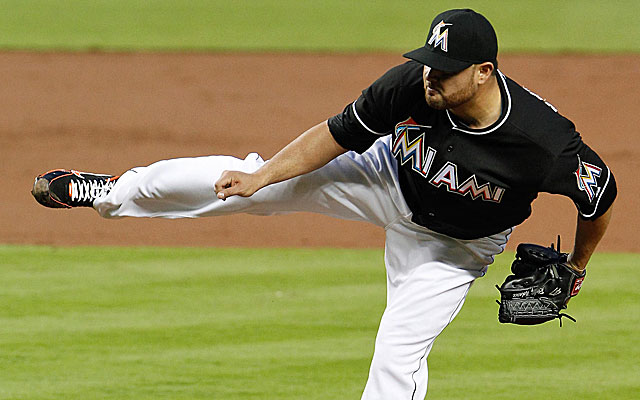 The team that couldn't hit Hollywood earlier this year if you spotted it a Map to the Stars' homes and a bus token suddenly -- and again -- is back at a marquee level.
The Dodgers can't do anything wrong, and Saturday night's acquisition of right-hander Ricky Nolasco from the Marlins is only the latest example.
They had won 11 of 13 games going into Saturday's contest with the Giants and they've gained six games in the NL West standings in the past 15 days. They've gotten both Matt Kemp and Carl Crawford back from the disabled list, Don Mattingly exacted revenge on Bruce Bochy in the first inning Saturday in a giant Giants' lineup miscue and, well, you may have heard of Yasiel Puig's exploits.
Now, Nolasco.
This does not guarantee the Dodgers anything except rotation depth … which just so happens to be the exact thing they need in this craziest of seasons.
Back in spring training, everyone wondered how the Dodgers could fit eight starting pitchers into five rotation slots. Well, they dealt Aaron Harang to the Mariners and then watched as Chad Billingsley went down for the season and Josh Beckett followed. Ted Lilly is back on the disabled list.
Basically, what the Dodgers have now is ace Clayton Kershaw, Zack Greinke and Hyun-Jin Ryu.
And an overtaxed bullpen that currently ranks 28th statistically in the majors.
Not only will Nolasco, 30, fit nicely into that rotation, his presence allows the Dodgers to add to that bullpen -- probably by moving Chris Capuano into a relief role.
Stephen Fife has been more consistent than Capuano, and Capuano can ease the burden on Paco Rodriguez and J.P. Howell, currently the Dodgers' only left-handed pitchers in the pen.
Of course Mattingly could opt to keep Capuano in the rotation -- and we all know by now that whatever move Mattingly makes will turn to gold. Right?
The best thing the Dodgers have done this season has been exercising restraint on their manager when, in late May, he appeared to be a dead man walking. Credit president Stan Kasten and general manager Ned Colletti with patience in the face of media (and fan) hysteria. Right now, that non-move is paying off.
As for Nolasco, 5-8 with a 3.85 ERA in 18 starts this season, this is the second time in just under 12 months the Dodgers have turned to the Marlins for reinforcements. It was last July 25 that they landed infielder Hanley Ramirez from South Florida, and after a slow start and a thumb injury early this season, Ramirez now is hitting everything hard.
Entering Saturday's game in San Francisco, Ramirez had a 16-game hitting streak, during which he's batted .492 with six homers, four doubles, 17 RBI and 15 runs scored.
This side of Puig, Ramirez is the hottest Dodger around.
They get even a little more pitching, they could become even more dangerous.
Hello, Nolasco. He's even a Southern California native, at that.
"Going to play for the Dodgers, the team that I have always rooted for, is a dream come true," the pitcher said in a statement Saturday night. "The team is packed with talent and an ownership group that is committed to winning, and I'd like nothing more than to play a part in bringing a World Series back to LA.
"I couldn't be more excited to play in front of my family and friends in Dodger Stadium during the season, and hopefully for many more seasons to come."
In acquiring Nolasco, the Dodgers sent three minor-league right-handers to the Marlins, none of whom are top prospects. They also acquired international signing bonus slot No. 96, valued at $197,000, from the Marlins as a part of the deal.
At mid-summer, the Dodgers are heating up at the right time. Right now, you might say, they're hitting to all fields.