Pierzynski: Never-say-die Rangers 'should be really proud'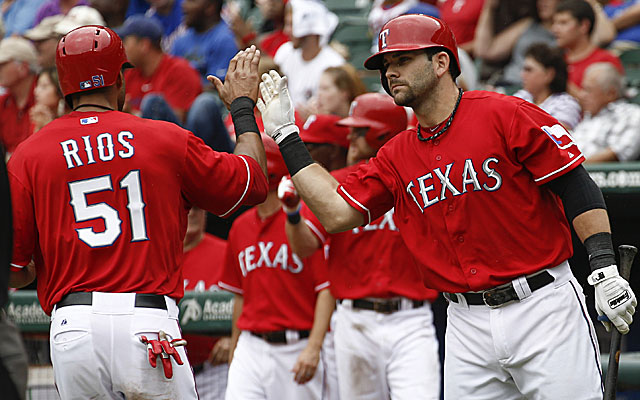 ARLINGTON Texas -- Look out, Indians and Rays. Not only are the Rangers playing terrific baseball again, they're so hot they're nailing weather forecasts, too.
How perfect -- and fitting -- that they took their penultimate game of the season and scooted the start time up eight hours Saturday. Severe thunderstorms were on the way? These guys have been dodging storms since last winter.
"But there were contingency plans for everything that would happen," one of those contingencies, catcher A.J. Pierzynski, was saying following Saturday's 7-4 spanking of the Angels.
Now, contingency-plan this: Two weeks after a seven-game losing streak … and after dropping 13 of 16 games overall at that point … the Rangers have positioned themselves to keep playing with one more win Sunday.
Win, and they're guaranteed either status as an AL wild-card entrant, or a play-in game to get there.
"We know we've got another game to play, and we know what our approach needs to be," manager Ron Washington said. "Go out with intensity."
Following a brief team meeting after Saturday's win to discuss logistics -- the Rangers will pack luggage in case they need to fly to Cleveland following Sunday's game -- intensity figures to be a non-issue.
Scenarios into what now is guaranteed to be a crazy Sunday: If the Rangers and Indians tie for the final wild-card slot, they will play a one-game tiebreaker in Cleveland on Monday. If the Rangers and Rays tie, they will play a one-game tiebreaker in Arlington on Monday. And if it's a three-way tie, the Rays and Indians will play Monday in Cleveland with the loser taking on the Rangers in Arlington on Tuesday for the final wild-card slot.
Texas' storm-dodging started last winter, in earnest, after the Rangers were swamped at the end of 2012, losing seven of their final nine to stunningly blow the AL West title to Oakland and lose the wild-card game to Baltimore.
"History is exactly that: History," closer Joe Nathan said. "There are a lot of new faces in here. Last year never crossed anybody's mind.
"We just had to get out of a funk. We've been in funks all year and had to turn things around."
They bid farewell to Josh Hamilton last winter, swung and missed at Zack Greinke on the free agent market and crash-landed attempting to swing a trade with Arizona for Justin Upton.
Last season's opening day starter, Colby Lewis, never threw a pitch in 2013. This summer's opening day starter, Matt Harrison, lasted 10 2/3 innings before going down for the season.
And then slugger Nelson Cruz was suspended for 50 games for his Biogenesis involvement.
"You can't expect Nellie to get suspended," Pierzynski said. "And the free agents [Hamilton and Greinke] got paid a ton. That was a lot of money to go to LA, both of 'em.
"Most teams, if they lose their last two opening day starters, they're going to struggle. We lost them, and then we lost [starter Alexi] Ogando.
"To be in this position, we should be really proud. And we are.
"But we need to win tomorrow."
The final two outs Saturday were played in a torrential downpour. Had closer Nathan not fanned Howie Kendrick with two Angels aboard to end the game, we still might be staring at a tarp-covered field.
"A pop-up would have been an adventure," Nathan said. "And a ground ball would have been an adventure, because it basically was a lake out there."
In the pouring rain during the top of the ninth, a boisterous voice worked hard to start a "Let's Go, Blue Jays!" chant in the second deck. At the time, the Jays were leading the Rays 7-1 in the fifth inning.
Earlier this month, as the Rangers were losing 13 of 16 and Washington's job security became a hot topic -- forget it, he isn't going anywhere, no matter what happens Sunday -- well … who could have foreseen this?
"I think we showed strength," Washington said. "We showed fight, we showed desire, we showed heart, and any other adjective you can find to describe it."
Said Nathan: "I feel like we've been playing Game 7 for the last week."
No wonder. Both he and Tanner Scheppers have worked in each of the Rangers' past three games … and you bet, Washington and Nathan both said, they absolutely will be available Sunday, too.
Yu Darvish, who leads the majors with 269 strikeouts, will start against Angels lefty Jason Vargas. The Rangers have won each of Darvish's past two starts after losing six in a row. But these Rangers now are different from those Rangers. Plus, it's the Angels: The Rangers are 14-4 against them in 2013, while going 17-2 against the Astros. Those two weak-sister AL West clubs alone may put Texas into the postseason.
"We've played great baseball this homestand," said Alex Rios, who reached base twice and scored another run after hitting for the cycle on Monday.
Then, speaking of the latest no-margin-for-error game, Rios said: "It was a very fun game. A lot of fun. The most fun I've had in awhile."
Around the clubhouse as they kept an eye on both the Indians and the Rays, he had 30-some Rangers that would back him up on that.
"This whole thing has been fun," Pierzynski said. "They always say you've gotta play 162.
"Well, game 162 is the most important of the year now. And I think we play later than the other teams, so we can keep an eye on what's going on and know our status."
It will be the best kind of scoreboard watching, too. The kind where you don't have to desperately root for someone else to lose. As they watch the Indians in Minnesota and the Rays in Toronto on Sunday, the Rangers will do so knowing that as long as they win, their season cannot end.
"Tomorrow is going to be fun," Pierzynski said, "for a lot of people."