This one's black and white: Gray right decision for A's in Game 5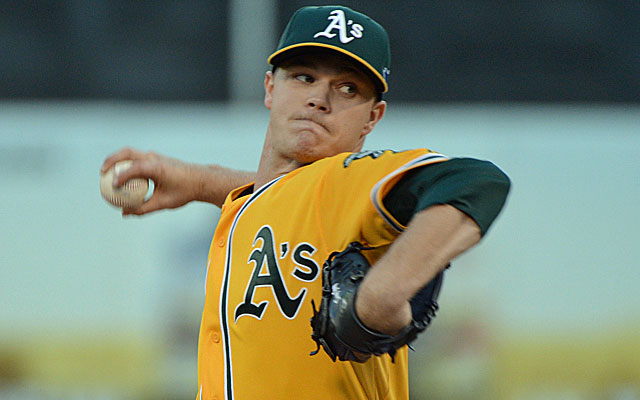 Apologies to Athletics fans who despise all things across the Bay, but where is former Giants manager (and Tigers pitching coach) Roger Craig when you need him? Humbaby! Emphasis on the baby.
The Athletics are going Sonny Gray in Thursday's advance-or-else Game 5. It is the bold choice. It is the right choice. It is … the only way to go in a postseason that should be sponsored by Pampers.
Did you watch Cardinals rookie Michael Wacha take a no-hitter into the eighth inning of St. Louis' Game 4 win in Pittsburgh the other day?
Did you see Pirates rookie Gerrit Cole dominate the Cardinals in Game 2 in St. Louis? And then get the ball for Game 5?
And most of all … were you watching Gray grab the Tigers by the tail in Game 2 Saturday in Oakland?
Oh, baby.
Absolutely, Gray is the way to go. And with Justin Verlander starting for Detroit, a nation of baseball fans will spend most of Thursday in early Thanksgiving as anticipation builds for Gray-Verlander II.
This is going to be some kind of fun.
A's manager Bob Melvin calls him "a bit of a bulldog" and notes that he's "scared of nothing." Put those two together, and he sounds far more junkyard dog than bulldog.
Even when Torii Hunter snarled at him after Gray chucked one up and in to the Tigers' right fielder in Game 2, Gray didn't back down. Afterward, Hunter admitted that the pitch wasn't overly close, he was simply trying to get into Gray's head. Because clearly, nothing else was working for Detroit.
Hunter's barking didn't either. Gray, 24, threw eight shutout innings, whiffing nine hitters, walking just two and allowing only four hits. Then he sat back and watched the A's scratch out the 1-0 win in the ninth.
"Right away, he established what he wanted to do in that game," Melvin says. "He's pitched in some big games. When you talk experience in these types of games, he really does have experience in that game five days ago.
"It was not too long ago, against the same team in front of the same kind of crowd we're expecting."
Every time you change the channel this month, it seems, another rookie is growing up in front of us. Peach fuzz matures into a full-on beard. Why, wasn't it only yesterday when he got his drivers' license? Now look.
Wacha, rocking a killer change-up.
Cole, throwing pure cheese.
Gray, with a curveball that is a hammer from the gods.
And all three showing poise and wisdom far beyond their years.
"I do believe this: Some of these young pitchers, young players come out of these major college programs and they spend time and get the experience and exposure they do in these programs, and they make the trip to Omaha," Pirates manager Clint Hurdle says. "I do think it just prepares them better for this type of environment, the major-league type of environment, of what they're going to be exposed to.
"I think that's helped."
Gray and Cole both went in the 2011 draft. Cole, 23, was the first pick overall by the Pirates. Oakland took Gray with the 18th overall pick.
Omaha? Cole pitched in the College World Series for UCLA. Wacha, St. Louis' first-round pick in 2012 (19th overall), did the same for Texas A&M. And Gray said over the weekend that the biggest start of his career prior to Game 2 against Detroit was for Vanderbilt University in the CWS.
After Gray blew through Detroit like a blizzard, skipper Jim Leyland, now in his 23rd year managing, said he cannot ever recall seeing so many young starters throwing so well – and being so leaned on -- in October.
"You at least expect to see a young guy like Gray show maybe not all that much composure in every situation," Leyland says. "But he was unbelievable.
"It's like they're coming up quicker. I guess, and they have no fear. … he looked like a guy that's pitched three games in the World Series already. I really don't know how that happens."
Not only is it happening, but the Athletics clearly are banking on it reoccurring in Game 5. At least, they have every confidence that it will, and watching Gray-Verlander I, there's no reason to doubt them.
Leyland admitted that both Gray's poise and stuff were the talk of the Detroit coaches' office. Oakland brought him along slowly (and smartly) this summer, giving him a taste of the bigs in a couple of July relief appearances before summoning him for good from Triple-A Sacramento in early August.
In 14 appearances (12 starts), Gray went 5-3 with a 2.67 ERA.
Now, the A's are placing their season in his right hand. They chose him over Bartolo Colon, who made the AL All-Star team at 40 this summer and started Game 1.
"We looked at it from a bunch of different angles," Melvin says. "We have a lot of smart people in our front office and baseball operations and, the short of it is, it came down to Sonny's last game that he pitched in similar conditions in our ballpark."
The way Melvin talked Thursday, though Colon is willing to pitch in relief, he may not get the call. Melvin says he's not sure Colon's "routine" is conducive to the bullpen, even in a Game 5 when it's "all hands on deck."
As for Gray, opposing scouts rave about his curve, but he also throws a fastball in the mid-90s and, as we saw the other night, is as cool as the air conditioning in an ice cream truck.
Melvin gave him the Game 5 news Wednesday and says Gray "was excited. Same type of look he had when we told him he was going to pitch the second game of the series.
"He's a confident guy, and he had a smile on his face and you could see his mind starting to do its preparation right then and there."
Kids these days. They even dive right into their homework.
Humbaby, bring on Game 5.