A's get F's in opportunities to clinch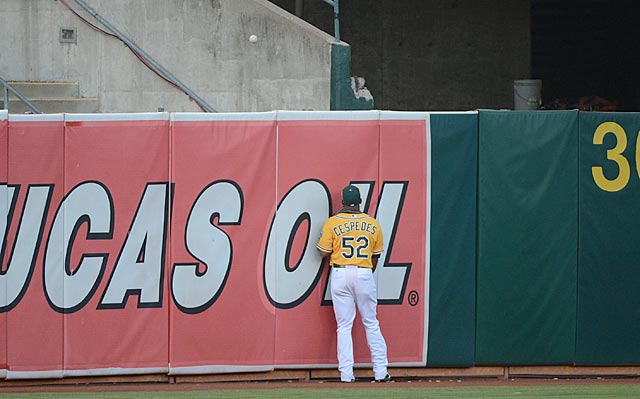 OAKLAND, Calif. -- Another October, another washout.
Poor Oakland does clinch games the way the Washington Generals play basketball: This latest Game 5 loss to the Tigers -- 3-0 on Thursday -- was the Athletics' 12th loss in their past 13 potential clinch games.
The A's do Game 5s the way Roseanne Barr does the national anthem: Since 2000, the A's now have lost six consecutive Division Series Game 5s.
"It's frustrating," A's catcher Stephen Vogt said. "Everything about it is frustrating.
"We're a better team than that. We deserve better. We just didn't get it done."
The A's will look back at plenty in this series and cringe, especially Game 4 when they held a 2-1 Division Series lead over the Tigers and a 2-0 lead in the fifth inning ... and were tied at 3 in the seventh ... and then loaded the bases with nobody out against starter-turned-reliever Max Scherzer in the eighth and failed to score.
"I think we'll look back on a lot of things," Vogt said.
Their nightmares will come in Tiger stripes. This is the second year in a row the A's took Detroit to the limit, the second consecutive year they lost Game 5 at home to Detroit.
Last year, it was 6-0 when Justin Verlander pitched a complete game.
This year, it was 3-0, with Verlander taking a no-hitter into the seventh inning.
Verlander now has thrown 30 consecutive scoreless postseason innings against the Athletics, the longest scoreless innings streak for a starter against one team in postseason history. Verlander passed Christy Mathewson's 28 consecutive scoreless innings against the Philadelphia Athletics.
What is it about the Athletics, goose eggs and the October record book?
Certainly these Athletics had nothing to do with those who failed against Mathewson in the 1905 and 1911 World Series.
Nor did they have anything to do with their more recent predecessors who lost Game 5 of the Division Series to the Yankees in 2000 and 2001, Game 5 of the Division Series to the Twins in 2002 and Game 5 to the Red Sox in 2003.
Some of them were, however, in uniform for last year's Game 5 loss to the Tigers.
"Neither one of them are fun," outfielder Josh Reddick said in an aggravated clubhouse. "Both times were at home against a guy who is one of the top five pitchers in the game.
"You don't want to lose in general, but at home, in front of your home crowd, it's not a fun experience.
"Same as last year."
These A's had a totally different feeling heading into Thursday night's latest dagger to the heart. They were another year older, the young guys gained experience last October and, truth be told, they thought they were a better team this year than last.
They were energized by rookie Sonny Gray, who earned the Game 5 start after a sensational outing in Game 2. This time, he wasn't as sharp, although he was still very good. The fourth inning was his downfall, particularly the one mistake he made not getting an inside fastball inside enough to Miguel Cabrera. The Tigers' slugger deposited it over the left-field fence for a two-run homer, delivering Detroit a 2-0 lead.
Behind Verlander, that was enough.
"It's tough," said Josh Donaldson, Oakland's MVP candidate who went 3 for 21 (.143) in the Division Series with eight strikeouts. "Tonight actually was one of my better nights. But I felt like I was swinging at everything because I felt so good. It was the first game [this postseason] where I actually felt like myself again."
But by game's end, it was the same ol', same ol'. Gray's left thumb was wrapped after he took a comebacker off of it, and word was it was broken. The Athletics' overall pain, though, was much worse.
"We're a great team," Vogt said. "We're a World Series-caliber team. But we didn't get it done."
To a man, they hated to see the season end. Especially, well, in the same way too many Oakland seasons have ended over the past decade.
"This was the most fun I've ever had," said Vogt, who joined the AL West champions when they struck a deal with Tampa Bay in April. "This team as a group loves the game, has fun, loves each other and plays hard until the last out.
"And that's what we're going to do in the future."