Cards not wasting youth on the young in seizing NLCS lead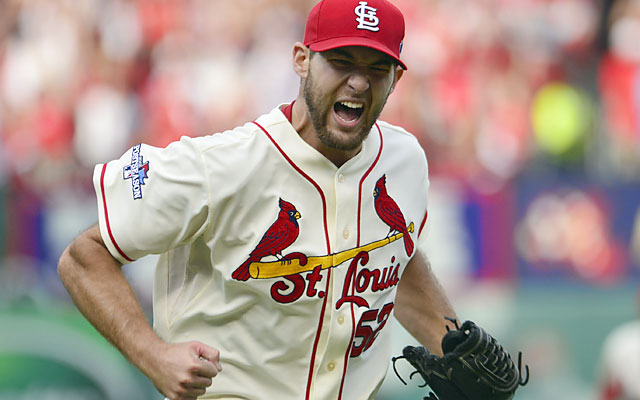 LOS ANGELES -- Truthfully, the Dodgers would be a whole lot better off right now if this National League Championship Series came with a bouncer out front who carded underage pitchers.
Not that the Cardinals are mowing through Los Angeles by stocking the mound with unspeakably young arms, but rumor has it that Gerber is lobbying hard to sponsor the World Series. Strained beets and protein-rich sliders for everyone.
As this series shifts to Hollywood, St. Louis stands only two wins away from advancing to its fourth Fall Classic in the past decade. Of the 66 outs obtained by Cardinals pitchers in Games 1 and 2, 61 have come from pitchers with less than three years in the majors and 55 have been recorded by pitchers with fewer than two years in the majors.
This reliance on kid arms was especially pronounced throughout Game 2: Behind Michael Wacha, Kevin Siegrist, Carlos Martinez and Trevor Rosenthal, St. Louis recorded 26 of 27 outs from rookie pitchers.
But it wasn't exclusive to Game 2. Behind Joe Kelly, Seth Maness, Martinez and Rosenthal, rookies recorded 29 of the first 30 outs for the Cards in the 13-inning marathon that was Game 1. Veterans John Axford and Lance Lynn finished that one up because, well, let's face it: The game ran past bedtimes.
Where are the teenage labor laws when you need them?
Maybe between now and Game 3, the Dodgers can induce the US Department of Labor to investigate the Cardinals for operating an underage sweatshop. At this point, it might be the best chance Los Angeles has.
"When you think about how this organization was set up, several years ago we made a conscious effort to make sure that our infrastructure was going to be strong so we could have a sustainable model to avoid always having to go to the free-agent market or trade market to get better," general manager John Mozeliak said. "Having said that, you don't necessarily know that you're going to have the assets or the resources down below to accomplish what we've been able to accomplish this year."
An astounding amount of this traces back to what history well may record as a draft for the ages for St. Louis in 2009. From that draft alone came Game 1 winner Kelly (third round), Rosenthal (21st round) and 15-game winner Shelby Miller (first round). Miller now is a long man in the pen because the Cardinals are trying to manage him through the finish line after a heavy workload in '13.
Also from the '09 draft came second baseman Matt Carpenter (13th round), who led the majors in both hits (199) and runs scored (126) and is a viable NL MVP candidate in 2013, and first baseman Matt Adams (23rd round), who is doing a fine job spelling the injured Allen Craig.
Most guys in charge of player development who oversee a draft like that might be rewarded with a spotlight seat next to Britney Spears or Christina Aguilera on one of those America's Got Talent-type television shows. Jeff Luhnow instead got a job fixing the Houston Astros.
"You're always optimistic the day of the draft, but as you lean into Day 2 it's a great unknown," Mozeliak said. "A lot of us in the game always talk about Christmas morning in the sense of you don't know what you're going to unwrap or find. It takes awhile to find out.
"I think the success of that draft really is a combination of all the sort of things we were doing in terms of building our processes to come together, and you see the success now, it's really quite remarkable.
"Usually if you get one or two impact players to help your major league ballclub, you feel pretty good about it. But to see five contribute the way they're contributing now, it's really set the tone and the stage for the future growth of this organization."
For the Cards' 25-man NLCS roster not only to include five players from that '09 draft, but to depend so heavily on them -- leadoff man, middle-of-the-order hitter, closer, Game 1 starter and long reliever -- well, it is the most impressive baseball accomplishment this side of all those Red Sox players keeping fleas out of their beards.
That singular draft may be as good an example of how analytics and scouting can harmoniously work together as there is.
"I do remember hearing about Joe Kelly. He was someone who didn't throw a lot in college, just didn't get many opportunities. Definitely somebody who was drafted based on arm strength and athleticism. And then to get thrown into our system, he was very raw. When you think about a draft, and think about diversity and talent, he was someone who had a lot to prove but was the right piece of clay to start with.
"I just remember people talking about him before the draft and during the time we picked him that he was going to be a project. He ended up being a very good project."
Miller, a schoolboy pitcher from Texas, was as obvious a first-round pick as Wacha (Texas A&M) was in 2012. Kelly (University of California-Riverside), though, had not pitched all that much.
"He definitely was somebody who was drafted based on arm strength and athleticism," Mozeliak said. "And then to get thrown into our system, he was very raw. When you think about a draft, and think about diversity and talent, he was someone who had a lot to prove. But he was the right piece of clay to start with.
"I just remember people talking about him before the draft, and during the time we picked him, that he was going to be a project. He ended up being a very good project."
Because of Miller's workload, the Cards named Lynn as their Game 4 starter. Miller is on the roster but has not yet pitched.
Wacha is on a roll, outdueling Dodgers ace Clayton Kershaw in Game 2, taking a no-hitter into the eighth inning against the Pirates in the NL Division Series and missing a no-hitter by inches -- literally --- against the Nationals in his final regular-season start. He's part of the legacy left behind by none other than Albert Pujols: The Cards drafted Wacha 19th overall in 2012 with the compensatory pick they were awarded when Pujols fled via free agency.
Rosenthal has not officially been named as closer, but that's the role he's filled since September. He throws pure gas: Of 14 pitches to retire three Dodgers in the ninth in Game 2 Saturday, none were clocked at less than 97 mph. Seven checked in at 99 mph, and one at 101.
Maness is a double-play specialist whose 16 ground-ball-induced twin killings in 66 outings led all rookie relievers. Martinez and Siegrist have carved out important niches for themselves, too.
Since its inception in 1969, until now, no LCS had seen one club use five rookie pitchers. The Cardinals don't need a bullpen, per se, so much as a Pack 'n' Play.
Which brings up one key component in particular: Veteran All-Star catcher Yadier Molina. All he has done this year is reinforce his reputation as the very best there is in the game behind the plate. Talk about leadership, smarts and nurturing, Molina has dished out equal parts of each in helping these youngsters burnish their games.
"Yadier deserves a lot of credit for shepherding that young staff," said his counterpart in this NLCS, the Dodgers' A.J. Ellis. "These guys are great. They're super-talented. But if you don't have a general back there. ...
"As an opposing catcher, you can't help but watch. That's why he's the best catcher in the game."
The Cardinals have mustered a mere four runs in this NLCS -- only three earned -- yet own a commanding 2-0 lead.
Forget the condition of Hanley Ramirez's ribs or the change in atmosphere Dodger Stadium will bring. Maybe the Dodgers' best chance is to push this NLCS past curfew.
"I do think that's unique, and it also speaks to how fragile a system can be," said Mozeliak, whose Cardinals' farm system was ranked No. 1 in the game this year by Baseball America. "Because when you have that kind of impact, the most natural thing is to think, Oh, this will just keep continuing.'
"It's not necessarily something that you can just replicate day-in and day-out. We've had a lot of success in that '09 draft. I don't think you can necessarily say that '10, '11, '12 will produce that same kind of output.
"But I think the one thing about this organization, that it does speak to, is that we're not afraid to give these guys opportunities. Some places may be reluctant to give younger players a chance to play. We are not."
Just be home by 10, kids. OK?