Ford makes slight changes to its 2013 Fusion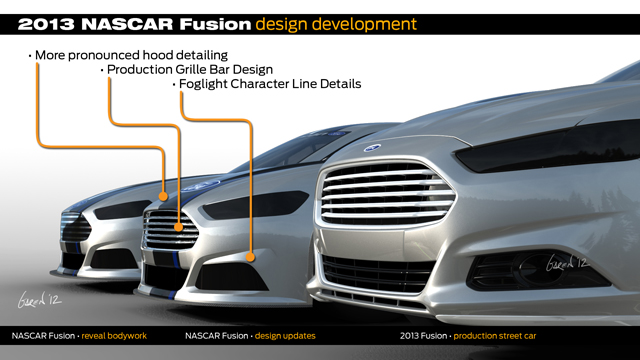 Ford announced there would be a couple of modifications to its 2013 Sprint Cup Series Fusion in first revealed in January.
Updates to the design of the car includes additional brand identity through enhanced design cues, including new grille work and hood lines.
Gone is the stickered front grille from the January reveal and in its place are actual grille bar, in addition to several other key tweaks to the front end of the car.
"We had an opportunity to add more personality and detail to the race car," said Garen Nicoghosian , Ford design manager in charge of the NASCAR project.
"We took advantage of this opportunity and sculpted a more aggressive front end and we added grille bars that are identical in design to the production car. We also added more detail to the fog light housings, and created a more detailed headlight area as well.
"In addition, we also sculpted a more aggressive hood, and were able to achieve a closer look to the production car. Our race car is even closer in design to the production car now, and we are very pleased with the results."

Ford will have the 2013 Sprint Cup Fusion on display during the Michigan NASCAR race weekend.